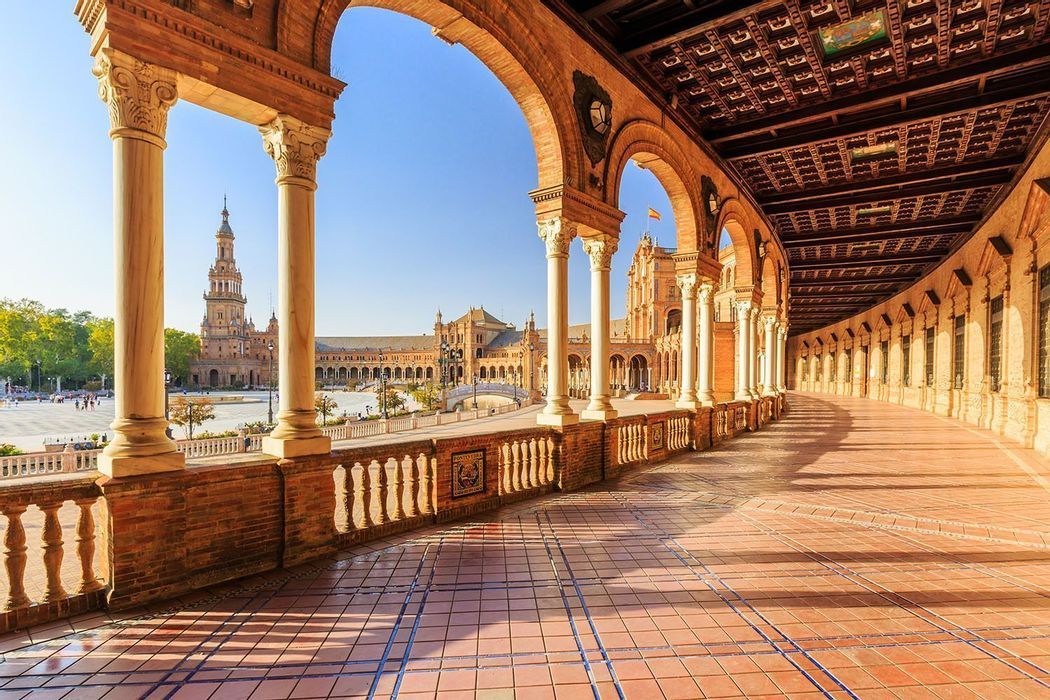 Andalusia: Seville and the Wonders of the South
Reserve your tour by paying a deposit of
£ 100
Andalusia: Seville and the Wonders of the South
Next departure
Sat 30 Oct
Frequently asked questions
Monuments and history
60%
Andalusia tour: an unforgettable journey to discover the true soul of Spain

Andalusia is the hottest and, according to many, the most beautiful region of Spain: from bullfighting to tapas and flamenco, this tour in Andalusia will take you to discover the favourite destination of many European and non-European writers in a breathtaking organised on-the-road trip. In all the cities of the region you can still breathe a strong Islamic tradition that at the same time intertwines with Spanish culture to create a unique and fascinating mix. Malaga, Seville, Cordoba and Granada: from the Costa del Sol to the mountains of Sierra Nevada, it will be a journey that will take us to distant lands while remaining in our beautiful Europe. All topped off with a few beers and a couple of glasses of sangria to experience the Spanish nightlife to the full.
Travel Mood
Willingness to drive is required. Although no days of pure relaxation are planned, the pace is fairly relaxed. A rucksack is compulsory and not a suitcase as there are 5 changes of hotel.
Travel Difficulty
Walking days are planned, so a minimum of physical effort is expected, but nothing particularly demanding beyond the normal walking to visit a city. The Caminito del Rey hike is about 7 kilometres long and is accessible for any level of fitness.
Spain

8 days

Next departure 30/10
The availability of the 'pay a deposit to secure your spot' option changes from tour to tour, and is dependent on the number of days remaining before the tour's departure.
Flights starting from £ 70
What's included
Accommodation in multiple rooms for the exclusive use of WeRoad participants

Entry to Mezquita di Cordoba day 3

Caminito del Rey excursion day 6

Entry to Alhambra di Granada day 6

Travel Coordinator services

Find out everything that includes the fee
Read all
---
Frequently asked questions
Cordoba: the wonder of the Mezquita and the bridge over the Guadalquivir
Granada: Discovering the Miradores and the Albayzin
Granada: under the Sierra Nevada to discover the Alhambra
Malaga: between bullfighting and the Costa del Sol
El Caminito del Rey: adrenaline rush
Seville: City Tour from the Real Alcazar to the Giralda
The travel coordinators
Our travel coordinators are chosen because they are people like you. Not only are they the best travel buddy you could hope for, but they're trained professionals guaranteed to show you a travel experience like never before
Info to know
Staff

You'll travel with a WeRoad Coordinator, which is more or less the best travel buddy you could wish for.

Visas and Vaccinations

Before booking, please ensure you check what documents, visas, and vaccinations are required to enter the country you are visiting. If you have any questions, please contact us.