Thailand 360°: Bangkok, Chiang Mai and Koh Tao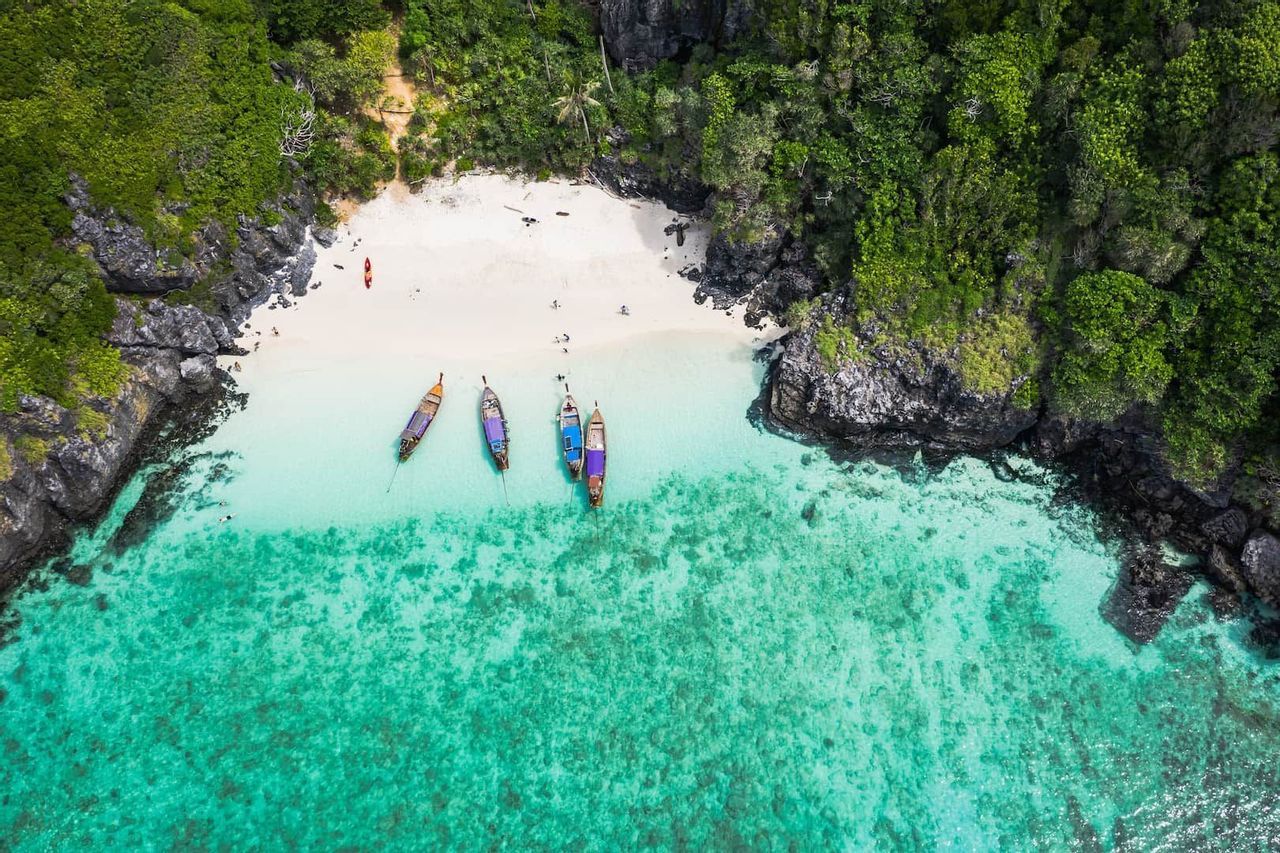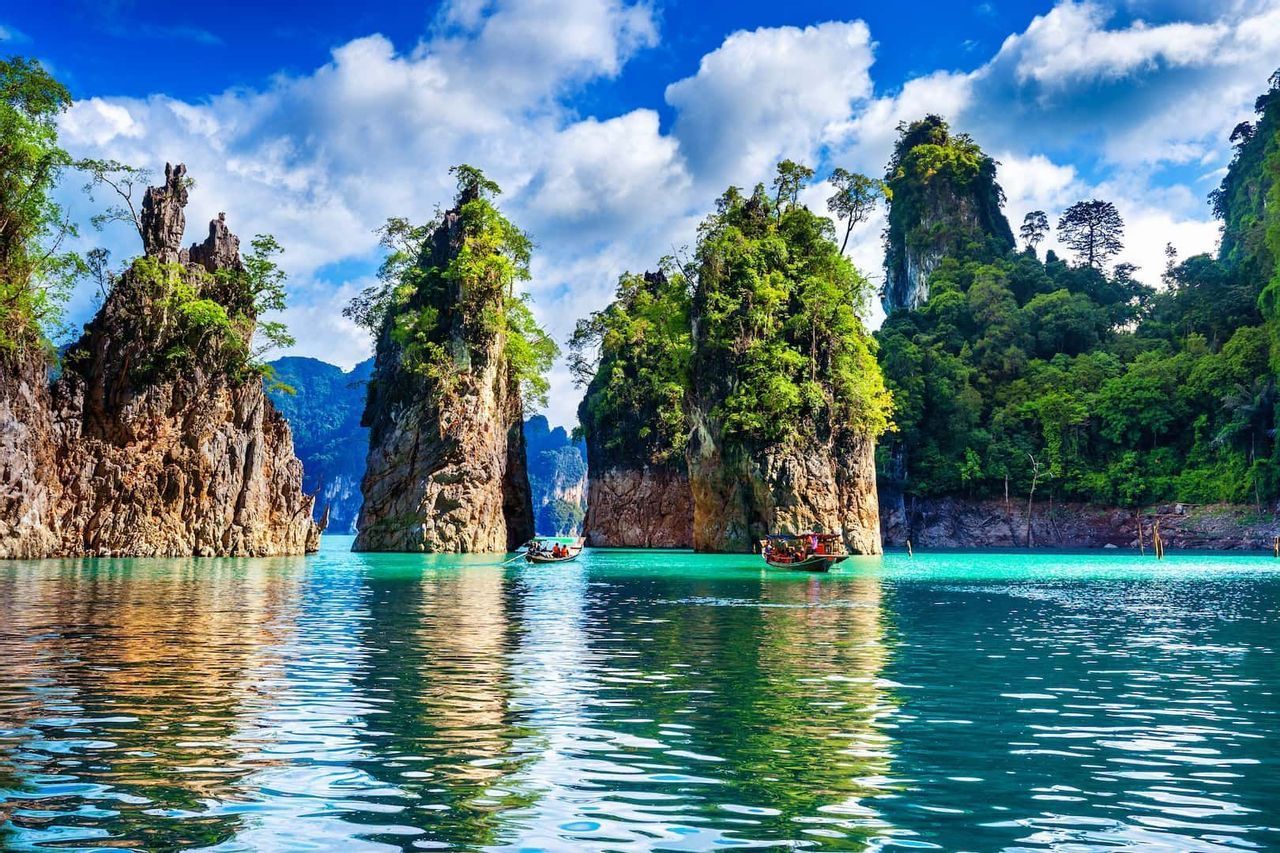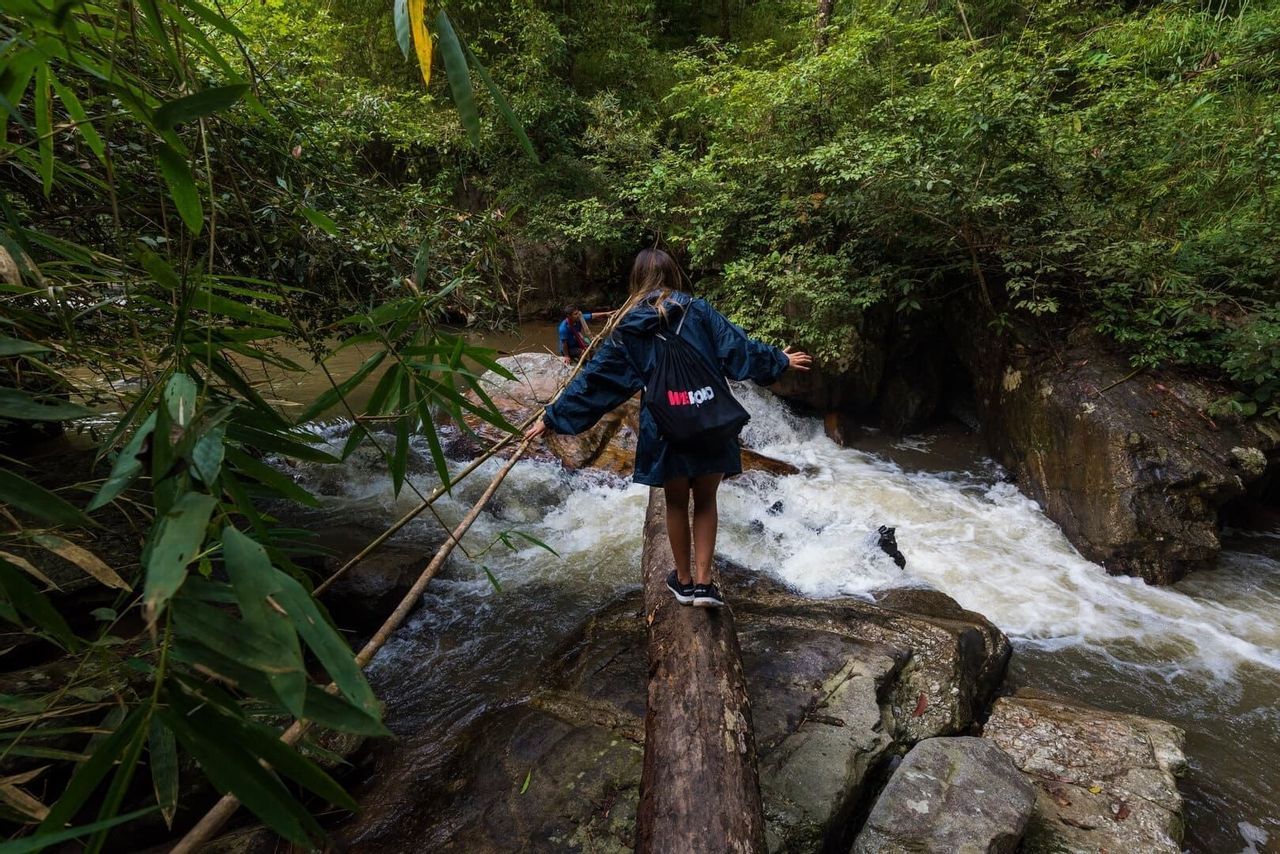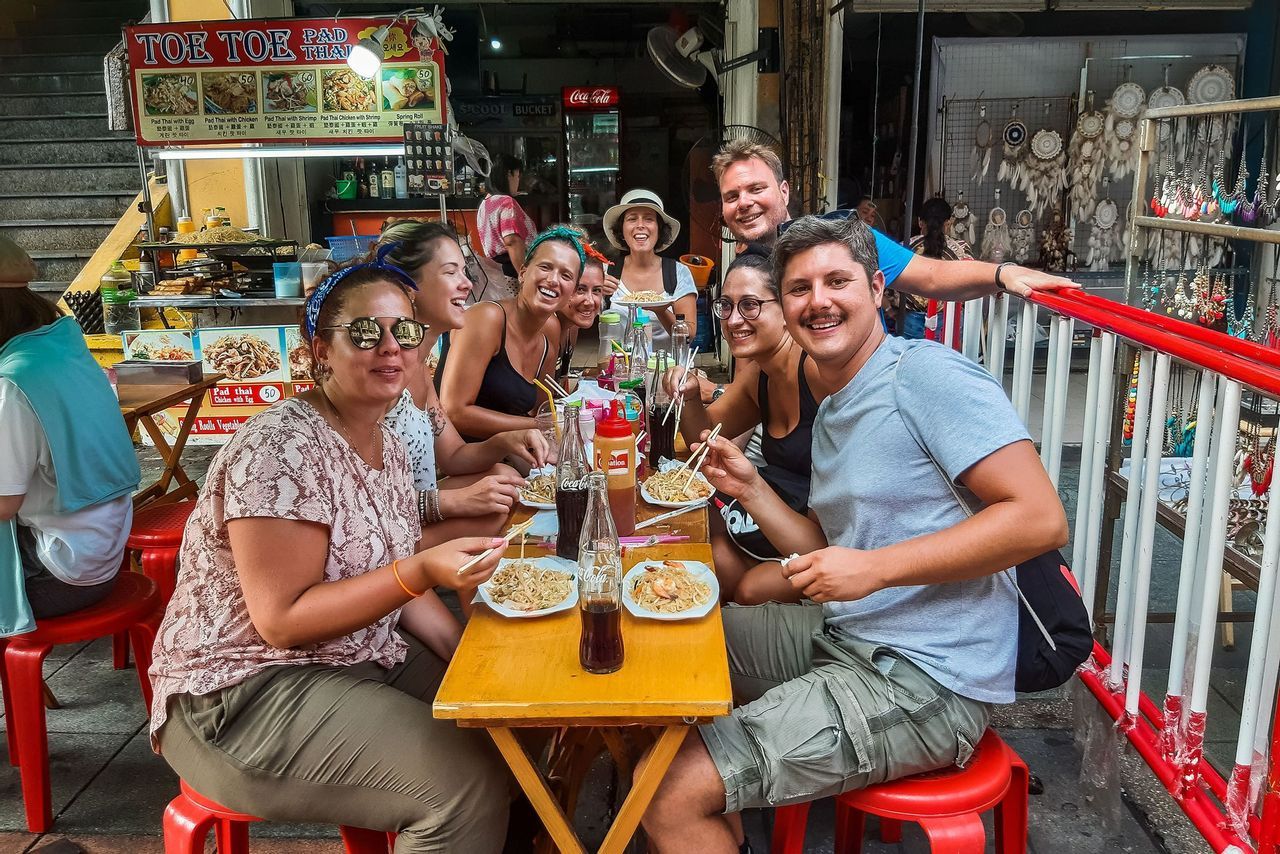 Klarna Available.
Thailand 360°: Bangkok, Chiang Mai and Koh Tao
Next departure
Fri 24 May
Frequently asked questions
Monuments and history
70%
The trip in a nutshell
This group trip to Thailand will take us from Bangkok to Koh Tao, passing through the northern cities of Chiang Rai and Chiang Mai. Along the way, we will immerse ourselves in the culture and traditions of this Southeast Asian country, as well as its natural beauty and renowned nightlife.
We will start in Bangkok, where we will be captivated by the bustling energy of the city and spend an evening exploring the Khao San Road district. Then, we will head north to Chiang Rai, where we will take in the sights of temples and Buddha statues, before continuing on to Chiang Mai where we will have a chance to interact with elephants. We will then travel south to Sukhothai, home to a UNESCO heritage site and the ancient Thai capital. After a night in Sukhothai, we will return to Bangkok and take the night train to Chumphon, where we will catch a ferry to the island of Koh Tao. There, we will spend two days relaxing on the beach and exploring the natural landscapes, as well as experiencing the island's lively nightlife.
Trip type
360º - it's our great classic that allows you to discover the destination in all its aspects. We recommend packing a backpack rather than a suitcase as there will be lots of moving around.
Physical rating
MODERATE - this itinerary may involve hiking or other activities that require a moderate amount of physical effort. Be prepared for some potential long transfers and early wake up calls!
Entry requirements
For UK nationals, please visit the gov.uk website. For all other passport holders, please refer to your national government website.
Arrival and departure
This trip starts and ends in Bangkok. On the first day of the trip we will aim to meet by 5pm. On the last day you can leave whenever you like.
Thailand

12 days

Next departure 24 May
The availability of the 'pay a deposit to secure your spot' option changes from tour to tour, and is dependent on the number of days remaining before the tour's departure.
Klarna Available.
What's included
11 nights accommodation in shared rooms

Flight from Bangkok to Chiang Rai on day 2

Bus to Chiang Mai on day 3

Elephant experience on day 4

Private van to Sukhothai on day 5

Private van from Sukhothai to Bangkok on day 6

Night train from Bangkok to Chumphon between day 6 and 7

Ferries to Koh Tao on day 7 and to Chumphon on day 9

Flight from Chumphon to Bangkok on day 10

Travel Coordinator services

Free cancellation with 100% refund up to 31 days before departure
Money pot?
Find out more!
---
Frequently asked questions
Among the temples of Chiang Rai
Chiang Mai: an experience at Doi Suthep
The ancient capital: discovering the monasteries of Sukhothai
From Sukhothai to Chumphon
Koh Tao: 2 days in paradise
Let's enjoy our last hours by the sea!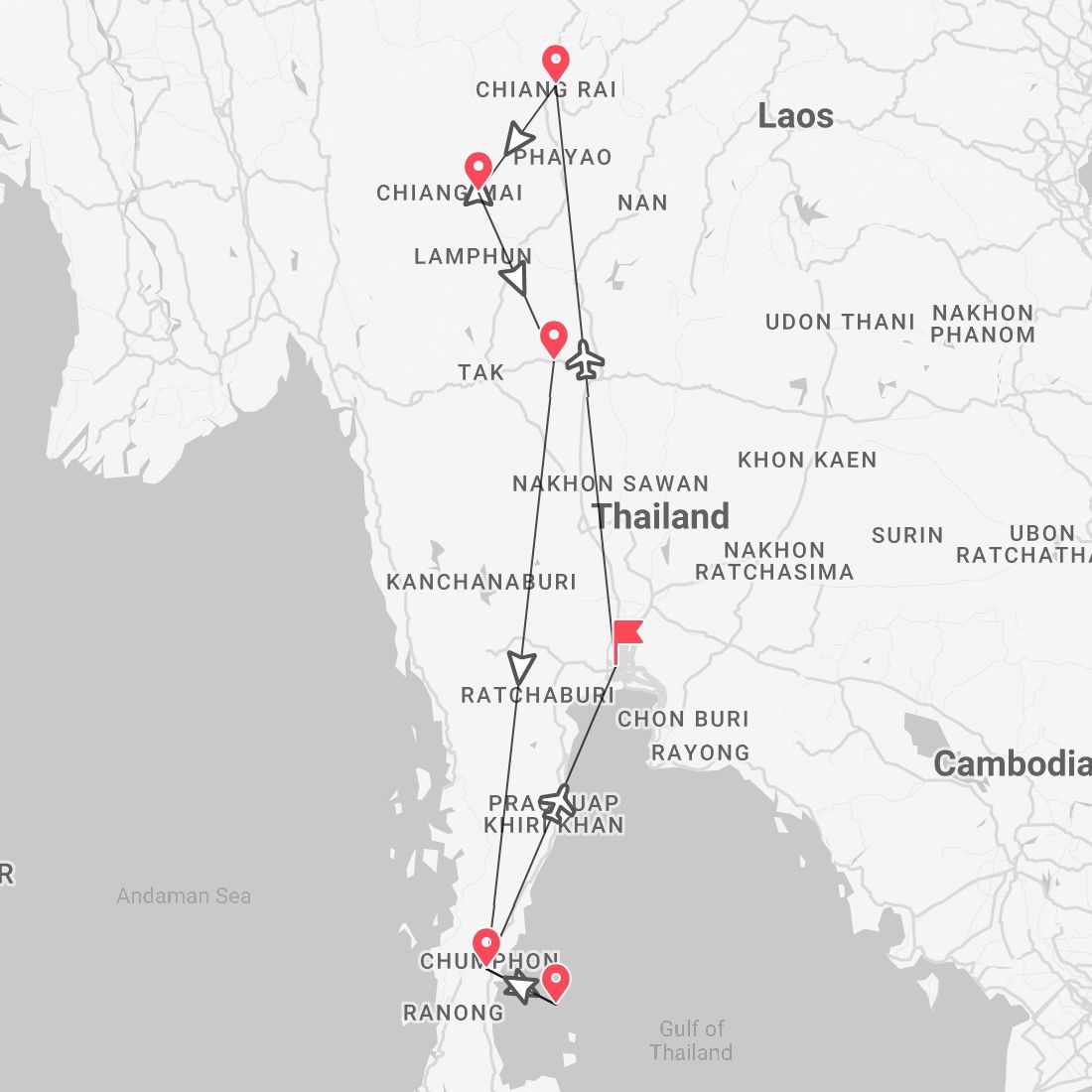 The travel coordinators
Our travel coordinators are chosen because they are people like you. Not only are they the best travel buddy you could hope for, but they're trained professionals guaranteed to show you a travel experience like never before
Info to know
Staff

Our trips are led by a Travel Coordinator who has been specifically trained by us to lead group travels to ensure you have the best time. A WhatsApp group with all travel participants will be created two weeks prior to departure by your Travel Coordinator.

Visas and Vaccinations

Before booking, please make sure to check what documents, visas and vaccinations are required to enter the country. If you have any questions, please contact us.


Arrival and Departure Times

We always advise trying to get to the meet-up point for the first day of your tour by 5pm. On the last day of the tour you are free to leave whenever you want!

Luggage

Backpacks are mandatory to allow easy transfers - we recommend a 45L backpack for our trips.
Available dates
Klarna Available.
Klarna Available.