Bolivia & Chile 360°: from Santiago to La Paz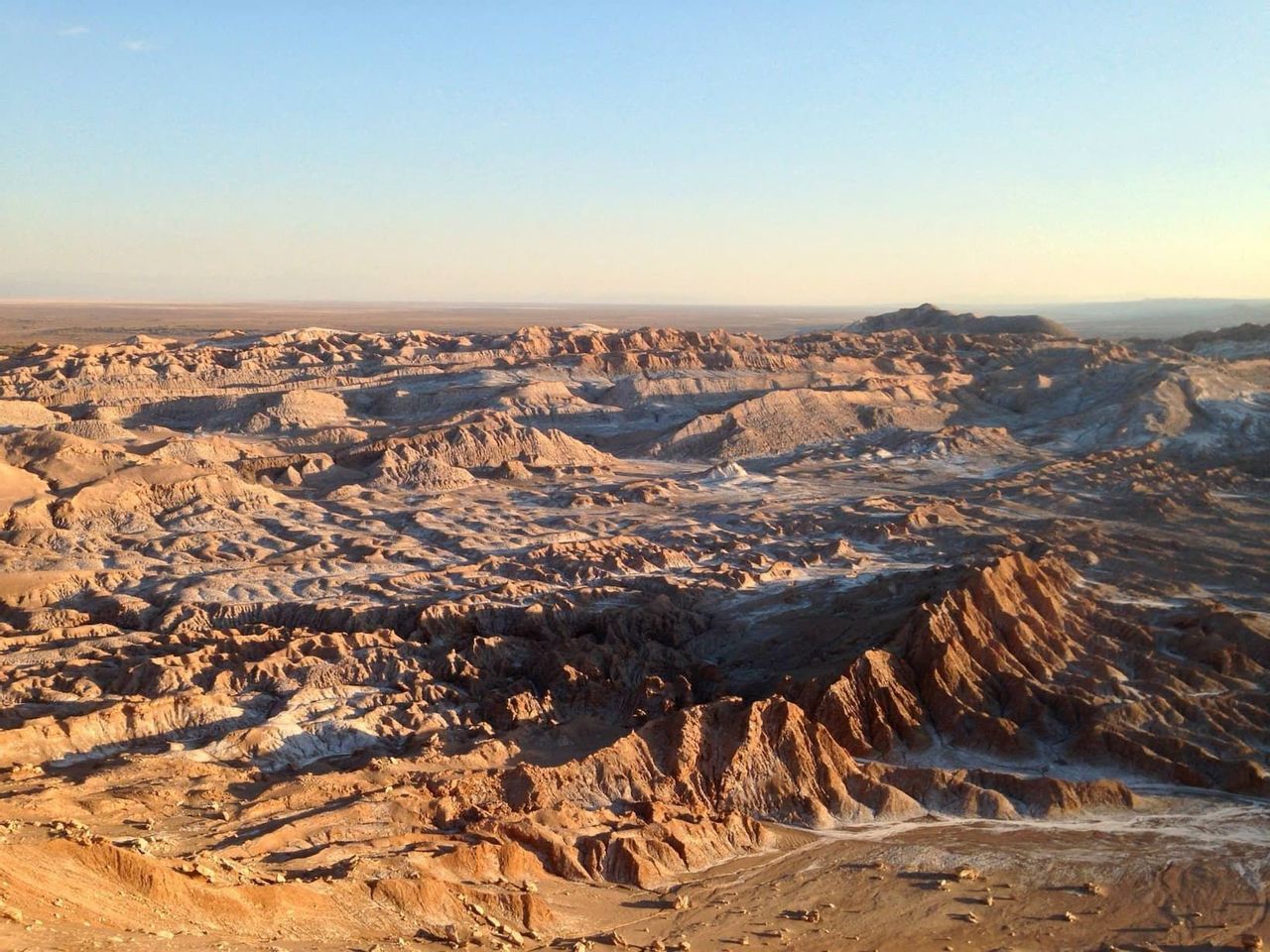 Klarna Available.
Bolivia & Chile 360°: from Santiago to La Paz
Next departure
Sat 27 Apr
Frequently asked questions
Monuments and history
50%
The trip in a nutshell
Multi-destination itinerary

This trip begins in Santiago in Chile and ends in La Paz in Bolivia!
Embark on an incredible journey through Chile and Bolivia, two iconic South American countries. From Chile's narrow expanse, historic cities, and otherworldly landscapes, to Bolivia's rich indigenous culture and breathtaking high-altitude destinations, this adventure promises endless emotions. Join us for an unforgettable experience!
Trip type
360º - it's our great classic that allows you to discover the destination in all its aspects. We recommend packing a backpack rather than a suitcase as there will be lots of moving around.
Physical rating
HIGH - this itinerary involves hiking or similar adrenaline-pumping adventures so a high level of physical effort and adaptability is required. Be prepared for an active trip, potential long transfers and adventures like no other!
Entry requirements
For UK nationals, please visit the gov.uk website. For all other passport holders, please refer to your national government website.
Arrival and departure
This trip starts in Santiago de Chile and ends in La Paz . Aim to arrive by 6pm on the first day.
Chile & Bolivia

12 days

Next departure 27 Apr
The availability of the 'pay a deposit to secure your spot' option changes from tour to tour, and is dependent on the number of days remaining before the tour's departure.
Klarna Available.
What's included
2 internal flights:

in Chile: from Santiago to Calama;

in Bolivia: from Sucre to La Paz

"Must See" : Salar de Uyuni, Eduardo Avaroa Park and Lagunas Coloradas, Incahuasi Island and Colchani Village

Private transfer from Calama airport to San Pedro de Atacama (day 3)

Jeep and private driver (day 5 to 7)

English speaking guide (day 5 to 7)

Private transfer from Uyuni to Potosi (day 8)

The private transfer from Potosì to Sucre (day 9)

All airport transfers (day 10)

Travel coordinator services

Free cancellation with 100% refund up to 31 days before departure
Money pot?
Find out more!
---
Frequently asked questions
Journey to Salar de Uyuni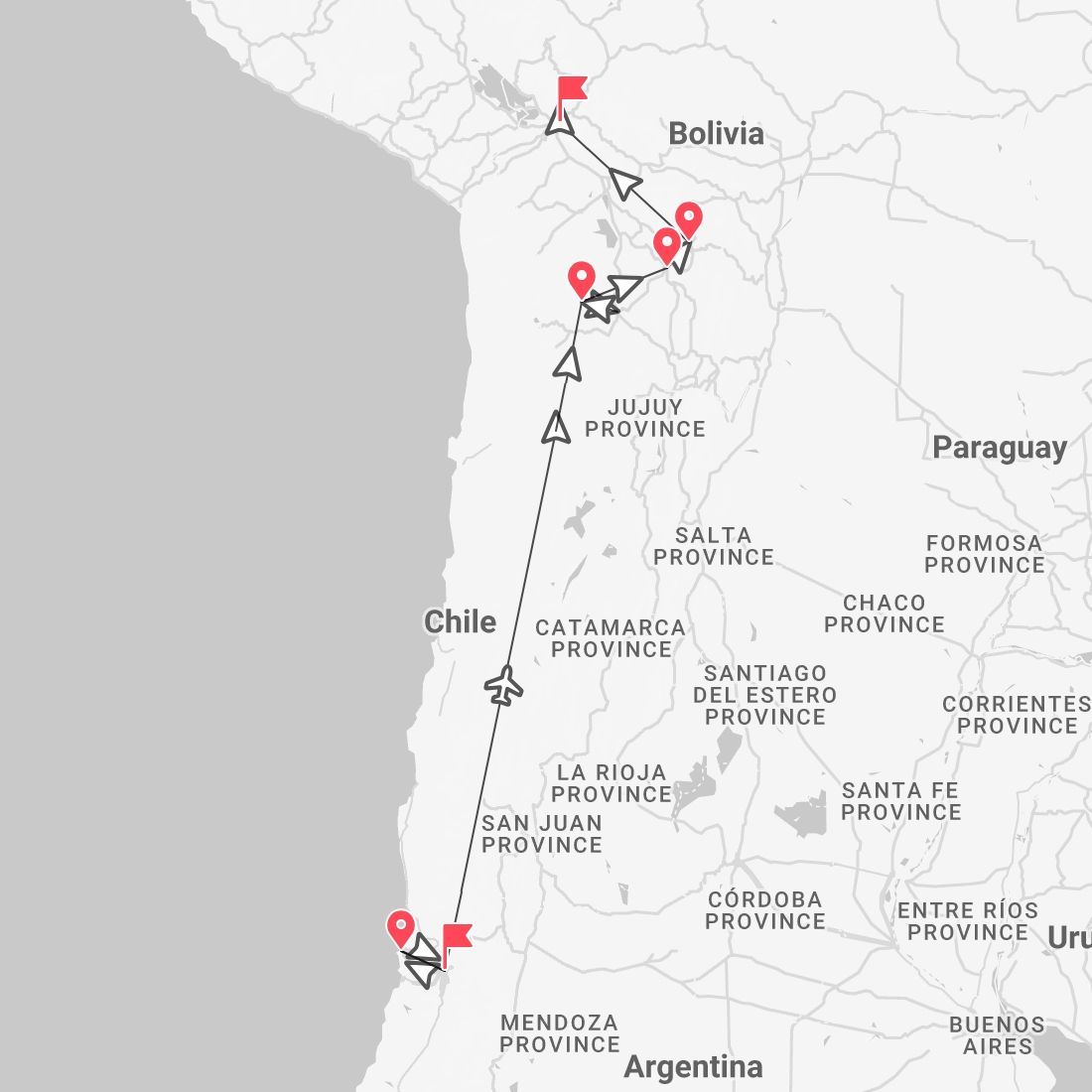 The travel coordinators
Our travel coordinators are chosen because they are people like you. Not only are they the best travel buddy you could hope for, but they're trained professionals guaranteed to show you a travel experience like never before
Info to know
Staff

Our trips are led by a Travel Coordinator who has been specifically trained by us to lead group travels to ensure you have the best time. A WhatsApp group with all travel participants will be created two weeks prior to departure by your Travel Coordinator.

Visas and Vaccinations

Before booking, please ensure to check what documents, visas, and vaccinations are required to enter the country you are visiting. If you have any questions, please contact us.

Arrival and Departure Times

We always advise trying to get to the meet-up point for the first day of your tour by 5pm. On the last day of the tour you are free to leave whenever you want!

Luggage

Backpacks are mandatory to allow easy transfers - we recommend a 45L backpack for our trips.
Available dates
Travel coordinator
Aneta Vizinová
Klarna Available.
Klarna Available.