South Africa 360°: Cape Town, Stellenbosch, and Kruger National Park
Klarna Available.
South Africa 360°: Cape Town, Stellenbosch, and Kruger National Park
Next departure
Sun 11 Feb
Frequently asked questions
Monuments and history
40%
The trip in a nutshell
Multi-destination trip

This trip starts in Cape Town and ends in Johannesburg - remember this when booking your flights!
Are you ready for a road trip like never before? This tour of South Africa is exactly that! We are going to explore the Southernmost region of the African continent, from its complex history all the way to the breathtaking natural beauty of these lands. Get ready for 13 days packed with fun and most of all, adventure!
The tour starts from Cape Town, one of the three (yup, three!) capital cities of this region. We'll head to Johannesburg following the coast from Cape of Good Hope to Plettenberg Bay and Port Elizabeth. You'll dive into the different cultures and traditions of the big cities, all the way to the characteristic wild nature of the African bush. To top it all off, we'll go on a wonderful game drive in Kruger National Park trying to spot the Big Five: leopards, lions, buffalos, rhinos and elephants!
Trip type
Safari - release your inner Indiana Jones and be ready to admire wild animals in their natural habitat. Bring a good pair of binoculars!
Physical rating
MODERATE - this itinerary may involve hiking or other activities that require a moderate amount of physical effort. Be prepared for some potential long transfers and early wake up calls!
Entry requirements
For UK nationals, please visit the gov.uk website. For all other passport holders, please refer to your national government website.
Arrival and departure
This trip will begin in Cape Town and end in Johannesburg. Aim to arrive on the first day by 5pm - on the last day we suggest a flight departure time no earlier than 7pm in order to give us time to get back to Johannesburg.
Accommodation
Typical local establishments, hotels and lodges.
The no-sharing room option is not available for all departures.
The first hotel will be shared with you at least 2 days before your departure by your Travel Coordinator!
South Africa

13 days

Next departure 11 Feb
The availability of the 'pay a deposit to secure your spot' option changes from tour to tour, and is dependent on the number of days remaining before the tour's departure.
Klarna Available.
What's included
12 nights accommodation in shared rooms

11 breakfasts - every day apart from the morning after our night spent in the Garden Route National Park. Given the exclusive location, it's totally worth it!

Minivan with driver from day 2 to day 13

Admission fees to the iconic Garden Route National Park and night sleeping in the park

The domestic flight from Port Elizabeth to Tambo

Entrance to Kruger National Park on day 11 with Game Drive in 4x4 Jeep to be able to spot the Big Five

Travel Coordinator services

Free cancellation with 100% refund up to 31 days before departure
Money pot?
Find out more!
---
Frequently asked questions
On the road to the Garden Route National Park
The best of Plettenberg Bay
From Port Elizabeth to Johannesburg
Graskop and Kruger National Park
Exploring Kruger Park, looking for the Big Five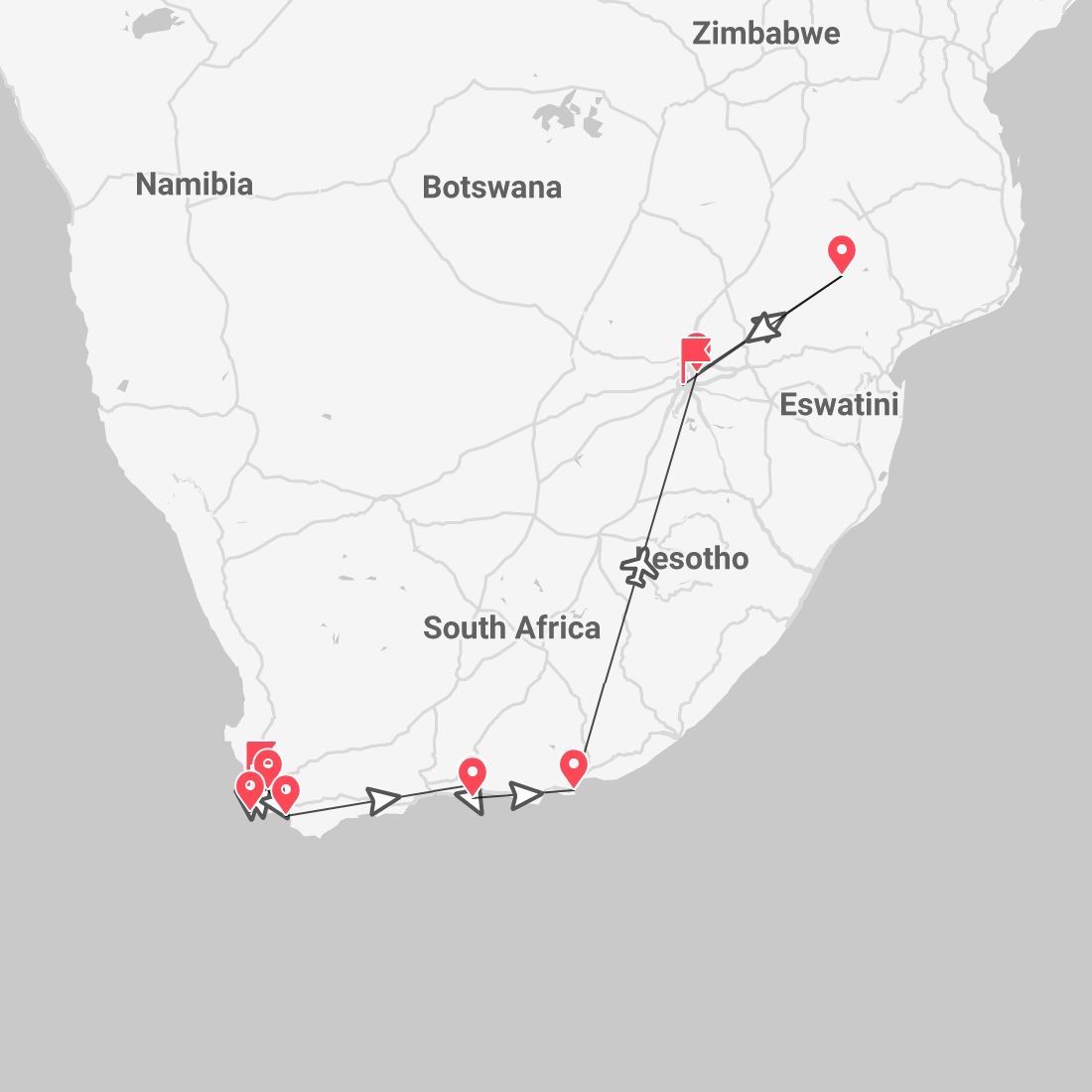 The travel coordinators
Our travel coordinators are chosen because they are people like you. Not only are they the best travel buddy you could hope for, but they're trained professionals guaranteed to show you a travel experience like never before
Info to know
Staff

Our trips are led by a Travel Coordinator who has been specifically trained by us to lead group travels to ensure you have the best time. A WhatsApp group with all travel participants will be created two weeks prior to departure by your Travel Coordinator.

Visas and Vaccinations

Before booking, please ensure you check what documents, visas, and vaccinations are required to enter the country you are visiting. If you have any questions, please contact us.

Arrival and Departure Times

We always advise trying to get to the meet-up point for the first day of your tour by 5pm. On the last day of the tour you are free to leave whenever you want!

Luggage

Backpacks are mandatory to allow easy transfers - we recommend a 45L backpack for our trips.
Available dates
Sun 11 February
Fri 23 February
Travel coordinator
Sicily Alice Clara Turner
Klarna Available.
Sun 24 March
Fri 05 April
Klarna Available.