Exclusive Tanzania: from the Savannah to Zanzibar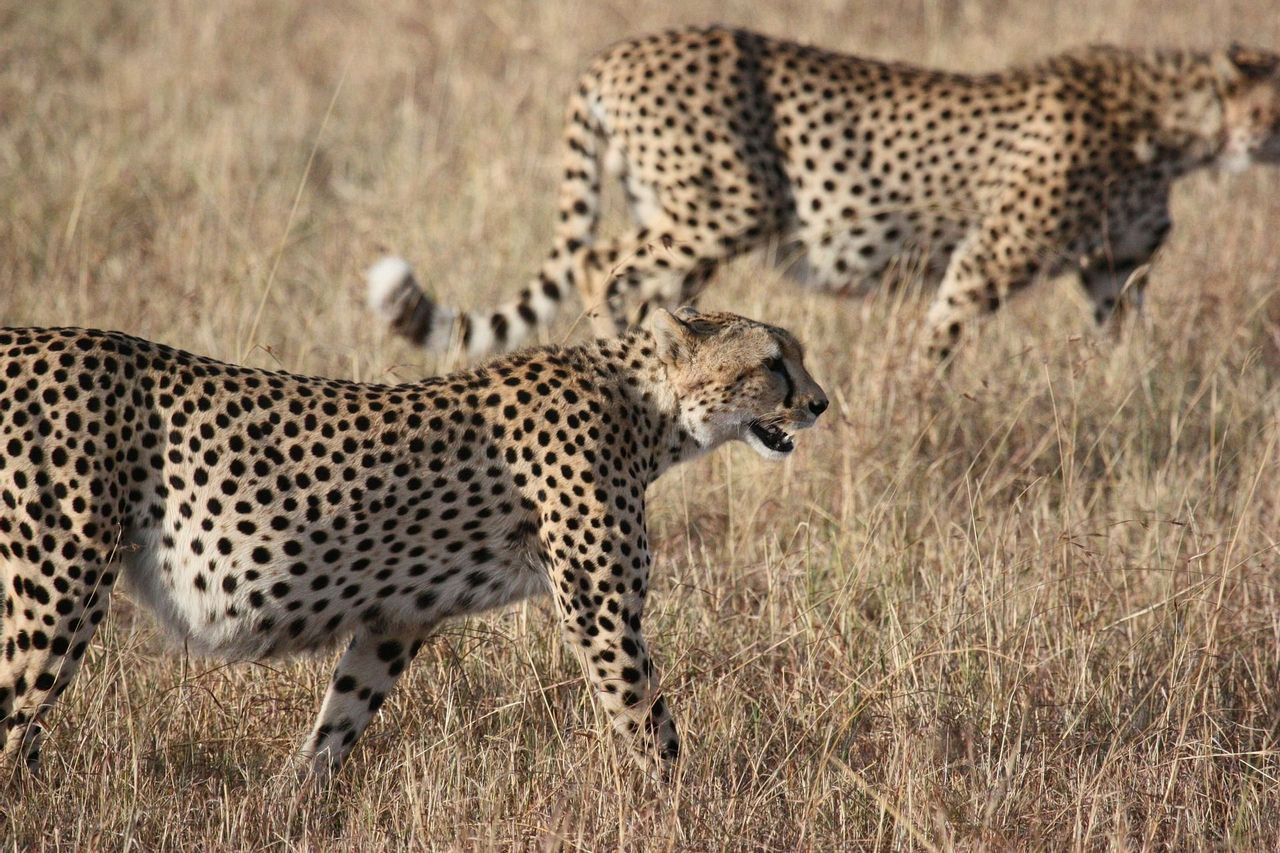 Exclusive Tanzania: from the Savannah to Zanzibar
Next departure
Sun 28 Jul
Frequently asked questions
Monuments and history
10%
The trip in a nutshell
Join us on an incredible 12-day expedition across Tanzania, discovering iconic national parks and locations such as the Ngorongoro crater, Lake Manyara, Tarangire, Serengeti, Arusha, and Lake Eyasi. Prepare for captivating encounters with the Big Five and a diverse array of wildlife thriving in these stunning reserves. Picture yourself in a luxurious camp nestled in the heart of the Serengeti, offering top-tier comfort and breathtaking views of the African plains.
From unwinding on Zanzibar's serene beaches to immersing yourself in the wilderness, our trip combines thrilling wildlife adventures with laid-back relaxation. Immerse yourself in Tanzanian culture, engaging closely with local traditions and communities. Come along on this unforgettable exploration of Tanzania's picturesque landscapes and vibrant heritage. Each day is filled with new experiences and sights, creating lasting memories of this incredible journey.
Trip type
Exclusive -> this is one of our ultimate travel experiences, filled with incredible activities and unique, exclusive accommodation. Prepare for the adventure of a lifetime!
Physical rating
MODERATE - this itinerary may involve hiking or other activities that require a moderate amount of physical effort. Be prepared for some potential long transfers and early wake up calls!
Entry requirements
For UK nationals, please visit the gov.uk website. For all other passport holders, please refer to your national government website.
Arrival and departure
This journey begins in Arusha and ends in Stone Town. On the first day aim to arrive around 6 pm, on the last day you can leave whenever suits you.
Tanzania

12 days

Next departure 28 Jul
The availability of the 'pay a deposit to secure your spot' option changes from tour to tour, and is dependent on the number of days remaining before the tour's departure.
What's included
11 nights accommodation in exclusive hotels and luxury camps

Spend two nights at Serengeti Heritage Luxury Camp, who have an exceptional reputation for Big 5 sightings within the Serengeti National Park

Breakfast, lunch and dinner every day from day 3 to day 7

Jeep rental and driver for 7 days

Visit Arusha national park, getting up close with the diverse wildlife

Entrance to Tarangire National Park, known for its large number of elephants and abundance of baobab trees

Visit Lake Manyara National Park for a day-long safari adventure

Visit the world-renowned Serengeti National Park, home to the "big five" - elephants, lions, leopards, rhinoceros, and buffaloes.

Discover the Ngorongoro crater, embarking on an epic jeep safari to spot some of the 30,000 animals that live here!

Explore Zanzibars pristine white sand beaches

Flight from Arusha to Zanzibar on day 8

Travel coordinator services

Free cancellation with 100% refund up to 31 days before departure
Money pot?
Find out more!
---
Frequently asked questions
Lake Manyara: A Bird and Wildlife Safari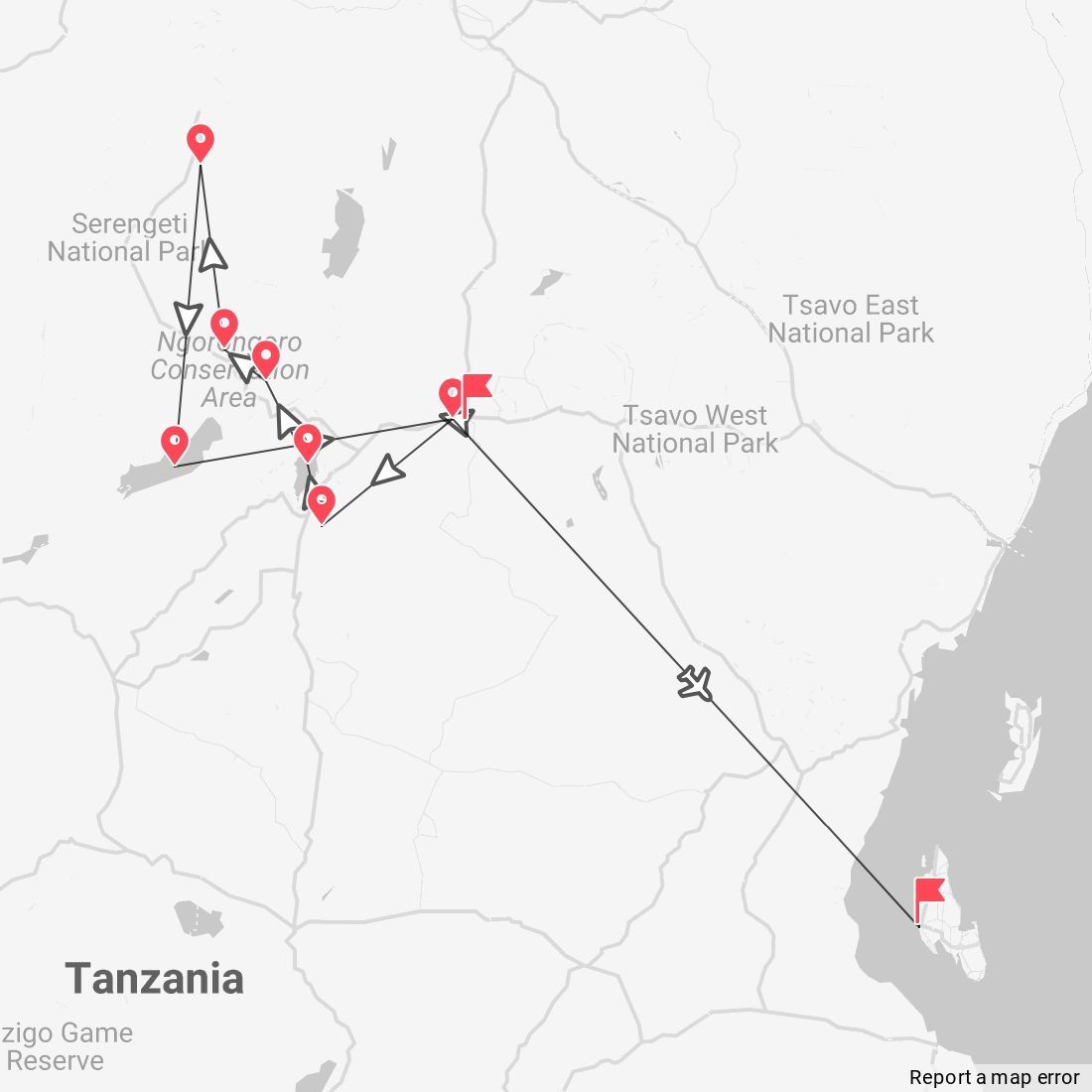 Show itinerary
The travel coordinators
Our travel coordinators are chosen because they are people like you. Not only are they the best travel buddy you could hope for, but they're trained professionals guaranteed to show you a travel experience like never before
Available dates
Sun 28 July
Thu 08 August
Sat 24 August
Wed 04 September