Itinerary - Miami Beach Life: South Beach and the Everglades
Welcome to Miami
100 %
Check in and meet your group!
Flights to/from the UK are not included in the package, so you can decide where to leave, at what time and with the airline you prefer. This is to give you maximum freedom of choice!
Check-in at your first hotel in Miami and meet the rest of your group! Chat and get to know each other over some food and drinks and cheers to your adventure beginning!
Included: overnight stay
Not included: meals and drinks
Exploring Miami
20 %
20 %
30 %
30 %
Little Havana
This morning, we take it easy. We head to downtown Miami, where the options for the morning are abundant. Two essential neighbourhoods stand out. First, there's Little Havana, an instant immersion into Cuban vibes and Latin beats. Then, there's Wynwood, Miami's street art hub, where world-renowned artists' graffiti adorns the streets.
The Art Deco district
Opinions on it may vary, but unquestionably, Miami's Art Deco District in South Beach is a must-see. Locals cherish this architectural gem, boasting numerous well-preserved Art Deco buildings, a rarity nearly a century later. This vibrant area encompasses a portion of Ocean Drive, a bustling epicenter of the city. So, why not indulge in a dinner stop as well?
Included: overnight stay
Money pot: any tickets / admission fees
Not included: meals and drinks
The Florida Keys
30 %
20 %
50 %
On the road!
Rise and shine, Weroaders! An early start as we grab our rental cars and kick off the road trip. Let's curate the perfect playlist – we've got around 2 to 3 hours ahead to reach today's stunning destination, Marathon! The journey promises excitement: we're cruising along the Overseas Highway, a stretch of road that actually bridges over the sea, linking the Keys islands all the way to the southernmost point of the US!
For the daring ones, an extra 3-hour drive can lead to the farthest tip of Key West... but be prepared, it's a considerable trek!
Beach time
Nestled in the heart of the Florida Keys, Marathon exudes charm, positioned midway between Key West and Key Largo. Renowned for its exquisite beaches, pristine waters, and thriving aquatic world, Marathon embodies the essence of our journey – beach life at its finest! And when it comes to beaches, let us introduce you to the idyllic Sombrero Beach. This picturesque haven stands as Marathon's premier attraction. Imagine soft, white sands, graceful palm trees, and alluring turquoise waters. Are you enticed yet?
Included: overnight stay, car rental
Money pot: any tickets / admission fees, petrol / parking
Not included: meals and drinks
The Everglades
70 %
30 %
Nature from Unesco heritage
The Everglades boasts an astonishing array of plant and animal species. It plays a crucial role in protecting endangered and threatened wildlife like the Florida panther, American crocodile, West Indian manatee, and even the lesser-known Florida slug. Were you aware of these creatures' existence?
A visit to the Everglades offers an unparalleled opportunity to immerse in nature in a way few other places can offer. The vast wilderness, unparalleled biodiversity, and the chance for up-close wildlife encounters make the Everglades an unmissable destination – and here we are! To ensure we don't miss a thing, we've included a delightful boat ride. After all, spotting the American crocodile is a must, isn't it?
Included: overnight stay, car rental, excursion to Everglades
Money pot: any tickets / admission fees, petrol / parking
Not included: meals and drinks
Miami Beach
50 %
50 %
Speed boat ride
Morning sees us bidding farewell to our cars, leaving us free to embrace the vast Miami Beach shoreline. The seemingly endless stretch of sand invites us to choose our sun-soaked spot wisely – remember, the sun's intensity demands sunscreen vigilance! Stroll the promenade, opt for a breezy bike ride, or surrender to the waves!
Time for lunch, with street food stalls tempting our taste buds. Brace yourself for mouthwatering fish tacos that will redefine street food satisfaction.
After unwinding, it's time to inject some thrill into our day – a pulse-racing speed boat ride awaits. As the cityscape fades in the distance, grip tight for a high-speed adventure, soaking in the stunning panorama!
Included: overnight stay, speed boat ride
Money pot: any tickets / admission fees,
Not included: meals and drinks
Last day in Miami
50 %
50 %
A free day
Today is at our complete disposal! Whether it's a day of shopping, rest, packing or adventure, the choice is exclusively ours! We'll all get together towards the late afternoon for a last beer in company before we all go to dinner together: here's a toast to us and to this fantastic adventure!
Included: overnight stay
Money pot: any tickets / admission fees
Not included: meals and drinks
Check out and goodbye
Check-out and goodbye – until your next WeRoad adventure!
End of services. The itinerary may undergo some variations that differ from what is stated above. These variations may not be predictable nor depend on WeRoad's will, i.e. climate conditions, national holidays, strikes, etc.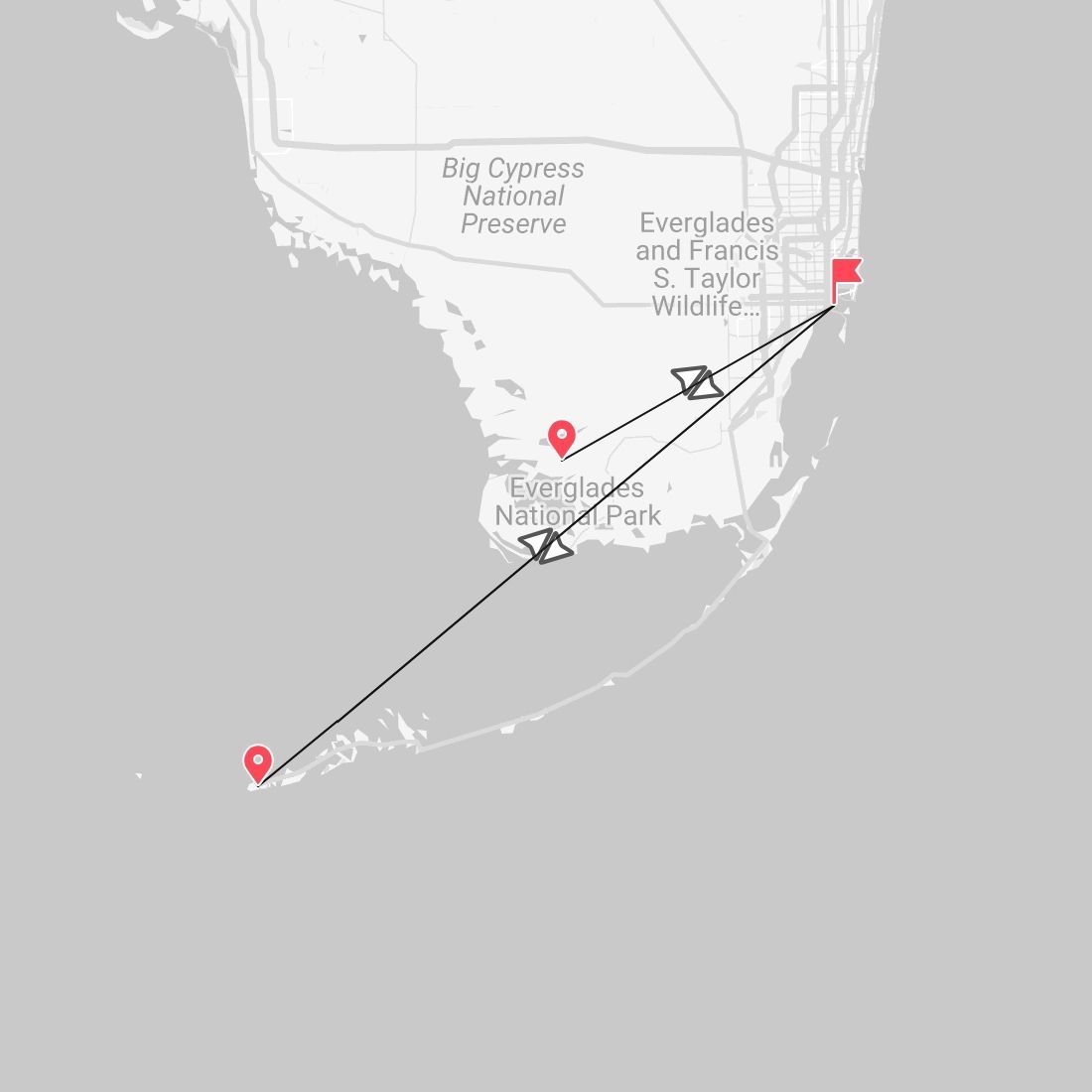 Show maps