First come, first served... and you just missed out!
That's right: World Backpacker Day is officially over. Maybe you're a bit pissed off, maybe you've stumbled here by chance, maybe you're thinking 'whatever, I'm sure there will be another promotion in a fortnight' - whatever the case may be, you can still have a look at our website and decide to go with us - and buy your own backpack.
Grab £100 off and a limited edition backpack by booking your trip now!
World Backpackers Day is coming up on March 10th, which is a celebration of all the adventurous travelers who explore the world by backpacking, just like us. To mark this occasion in style, we're offering a special deal until 23:59 on March 12th. Book a trip with us during this time, and we will give you £100 off and we'll gift you a limited edition DecathlonxWeRoad backpack. (£100 off only valid on trips that are not "express" trips)
LIMITED EDITION BACKPACK
Decathlon x WeRoad
Introducing the backpack every WeRoader dreams of having: spacious yet compact, comfortable yet functional, lightweight yet sturdy.
The DecathlonxWeRoad backpack from the Forclaz TRAVEL line has a 50-liter capacity, is highly abrasion-resistant, and can be easily adjusted to suit your needs. With its various pockets and front access, it's the perfect backpack for any type of trip.
The backpack comes in a sleek black colour, resembling the sand on the beaches of Iceland. And to make it even more special, it features the WeRoad patch, proudly showcasing its limited edition status and adding a touch of sexiness to your adventures.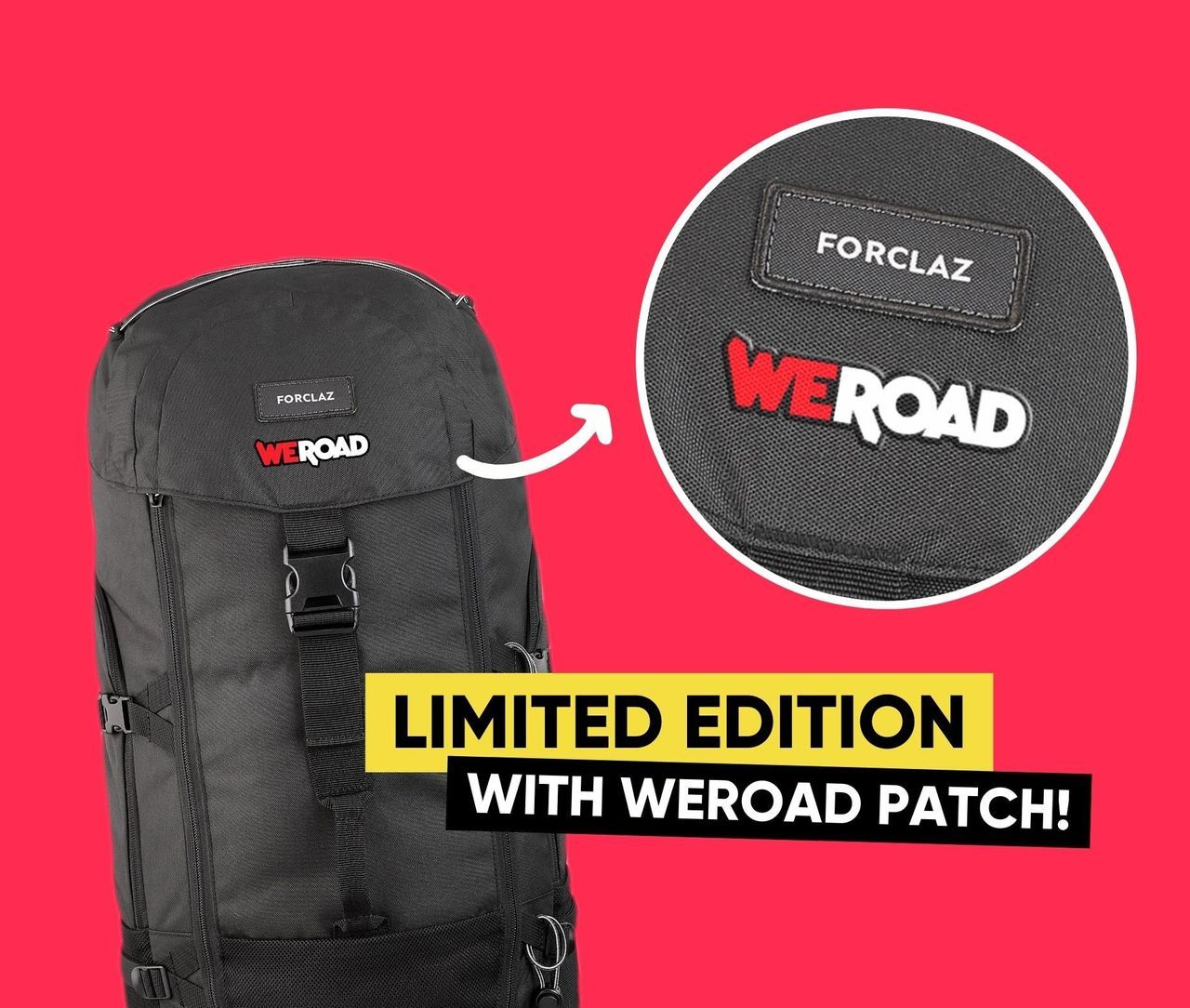 I want the backpack! What do I need to do?
So, where are you gonna go?
It is essential to note that the clauses for the promotion cannot be overlooked. The promotion is exclusively valid for new bookings and will be in effect from 00.01 on 10 March 2023 until 23.59 on 12 March 2023. For each trip booked, a backpack will be provided. If you book a trip for yourself and a friend, both of you will receive a backpack. Similarly, if you book four trips, you will receive four backpacks - congratulations!
After booking your trip, on 13 March, we will send you an email containing a Google Form to fill out with all the necessary shipping information. It is important to note that one form must be filled out per booking. Therefore, if you have booked for yourself and a friend, you will have to fill out two forms. Likewise, if you have booked four trips, you will need to fill out four forms.
It is important to mention that the backpacks will be dispatched only after the balance has been paid. You can expect to receive your backpack within three weeks of your trip's departure date. Once the backpack is dispatched by our partner, ShippyPro, you will receive an email from [email protected] (also known as Global Trading Srl a Socio Unico) containing a tracking code. You can use this code to monitor the shipment's progress and ensure that you receive your backpack on time.
Anything unclear?
Get in touch and we will get back to you as soon as we can!