Itinerary - Baltic Republics 360°: Tallinn, Riga and Vilnius
Welcome to Estonia
100 %
Tallinn, one of the most beautiful cities in Northern Europe!
International flights are not included in the package, so you can decide which airport to leave from, at what time and with the airline you prefer... This is to give you maximum freedom of choice.
Check in at the hotel in Tallinn and welcome meeting. We have just arrived in what is often referred to as one of the most beautiful capitals in Northern Europe and we will soon discover why: the capital of Estonia is a fairytale place, with a UNESCO World Heritage Old Town, a major port and a really lively nightlife...can we ask for more?
On top of that, Estonian cuisine offers ancient culinary traditions, so if you are a foodie you can try the restaurants in Tallinn and sample typical Estonian dishes, including stews, pies, meat dishes and sauerkraut and potatoes.
Not included: meals and drinks
Tallinn: Discovering the capital of Estonia
40 %
40 %
20 %
Toompea Castle and Hill
Good morning Weroaders and good morning Tallinn, it's time to get on the road!
After a hearty breakfast we will walk up Toompea Hill: here we will admire the views and enjoy Toompea Castle, or Toompea loss, the seat of the Estonian parliament and a national symbol.
The castle can be visited inside only one or two days a week so we'll probably have to settle for admiring it from the outside but it's still worth it... and a good way o get a few steps in!
We will then check the oldest church in Estonia, Toomkirik, which the hill is named after. We will also visit the Alexander Nevsky Cathedral and St Nicholas Church before stopping for lunch.
Tallinn's old town, a UNESCO heritage site
Let's start our tour of the old town along Pikk Street, one of the most beautiful and unusual streets in Tallinn! Remember this number: 71... because that's where we'll find the House of the Blackheads, one of the most beautiful buildings in the city and seat of the ancient brotherhood.
We will then continue along Vene Street, the ancient street of Russian merchants, before reaching St Catherine's Passage, in Estonian Katariina käik, one of the most fascinating places in town.
SPOILER ALERT: this area is full of artisan shops where you can look for the perfect souvenir!
Last but not least is St Olaf's Church, one of the oldest buildings in the city. Built way back in 1267 and dedicated to King Olaf II of Norway, it was for a long time the tallest building in Europe. We will also go up the bell tower to admire a splendid view of the city after climbing 256 steps: who's up for it?
Money pot: admissions and tickets
Not included: meals and drinks
One day trip to Helsinki
40 %
30 %
30 %
Finland here we come
The port of Tallinn is one of the most important in the region with ferries leaving to numerous destinations: one of these connects the Estonian capital to the Finnish capital, Helsinki. In just two hours we can fully cross the Gulf of Finland and reach a bonus country on our travels – so let's do it!
Helsinki is a walkable city, lively and full of things to see. First stop is Kauppatori, the beautiful port market where we can have a morning break once we get off the ferry.
We can then visit the stunning Temppeliaukion Church, a Lutheran church carved into the rock, before making our way to Senate Square with its beautiful cathedral. We clearly cannot miss a taste of some traditional Finnish food before returning to Tallinn for another unforgettable evening together!
Included: ferry to/from Helsinki and entrance fees i
Not included: meals and drinks
From Estonia to Latvia: Hello Riga!
40 %
40 %
20 %
From Estonia to Latvia
See you next time Tallinn, it was a real pleasure!
Time to get on the coach that will take us to Riga, the beautiful capital of Latvia. The journey will last about 4 hours so let's get comfortable, get our headphones out of the backpack and dust off the old playlists!
Welcome to Latvia: exploring local traditions
Riga is a historic city – but its ancient charm coexists with a young heart: with over 800 buildings in Art Nouveau style, the capital of Latvia is an absolutely unmissable destination for architecture enthusiasts.
Famous for its charming old town, declared a UNESCO World Heritage Site, its cafés and restaurants are always full of people. This city has enough to steal our hearts and... our tastebuds!
To start off on the right foot, we have to start from the local traditions – beer, for example! And we will do it in a very particular way :-)
Included: bus and beer tasting included
Money pot: tickets and entrance fees
Not included: meals and drinks
Riga: discovering the Latvian capital
40 %
40 %
20 %
Old Town and House of the Black Heads
After a good night sleep we are ready to explore beautiful Riga. We will start with one of the most iconic and famous buildings in the city – the House of the Black Heads! Built way back in the 14th century, when it was the headquarters of the German merchants' guilds, it was completely destroyed during the Second World War, so the one that can be visited today is actually a faithful reconstruction of the original.
We will then enter the old city, a UNESCO World Heritage Site, and after navigating through characteristic narrow streets, buildings with extraordinary architecture and small clubs and shops we will finally arrive in Cathedral Square, the true heart of the old city and one of the most important and beautiful squares in all of Riga.
Lunch at Riga Central Market and street art tour
For lunch we can't miss the Central Market. Arranged around 5 different hangars, where Zeppelin airships were once built, today this is the perfect place to get lost and observe Riga's everyday life go by. We'll find something for everyone here: clothes, souvenirs, products of all kinds and, last but not least, food!
And now that we have a full stomach, how about some street art? Riga has quite a few walls to see, especially made during the Blank Canvas Street Art Festival… will we be able to find any? And following in the footsteps of street art, we can't help but end the day in Miera Iela, the city's most hipster neighbourhood, full of vintage shops, art galleries and multi-purpose businesses that combine bookshops with barber shops and cafés. A young and constantly buzzing neighbourhood, the ideal place for a beer!
Money pot: tickets and admissions
Not included: meals and drinks
From Latvia to Lithuania: welcome to Vilnius
40 %
40 %
20 %
Coach journey
Morning, it's time to get going again!
It only takes a few hours by coach to reach Vilnius, the capital of Lithuania. Its magnificent Baroque centre (a UNESCO World Heritage Site) as well as its wealth of monuments and works of art and a lively international community make Vilnius a favourite amongst backpackers and all those who love culture and history but who don't want to give up on fun and good time. It sounds just like us, so here we go!
The Independent Republic of Uzupis
Before entering the old town of Vilnius it is worth visiting one of the peculiarities of this city: the Independent Republic of Uzupis!
In 1997, the Uzupis district of Vilnius declared its independence, complete with postage stamps, passports (will we get it stamped?) and a Constitution with 41 clear articles.
In the Republic of Uzupis – a real city within a city – cats and dogs are free to do as they please and the army is made up of a group of twelve artists.
The neighbourhood, once rather seedy and dangerous, has been then transformed following and invasion of intellectuals and artists: it is a picturesque place, full of cafés and art galleries, which many compare to Montmartre in Paris.
Included: bus included in the travel fee
Money pot: tickets and entrance fees
Not included: meals and drinks
Vilnius: discovering the Lithuanian capital
40 %
40 %
20 %
Free time
This afternoon is completely free: we can decide to extend the visit of Vilnius – there is so much more to see! – or we can hit the shops searching for souvenirs or spend some time chilling. We will all meet tonight for our last evening in order to toast to this cool adventure. Cheers!
Money pot: admissions and tickets
Not included: meals and drinks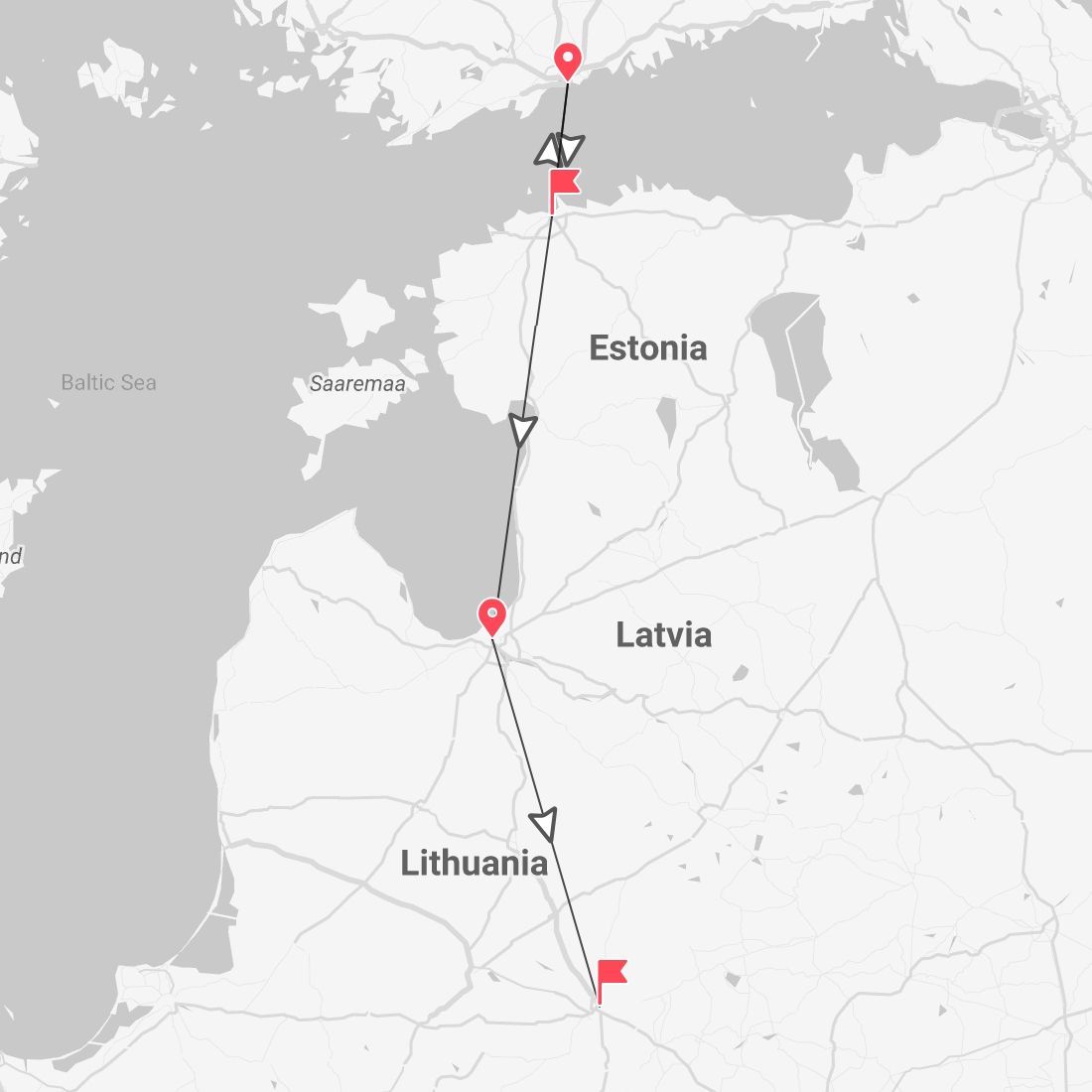 Show maps