Itinerary - Italy: trekking through the Dolomites
Welcome to Italy!
100 %
Check-in and welcome meeting in Treviso
Roundtrip flights are not included in the package, so you can choose from where and when you want to fly.
Treviso is a charming city full of history in the Veneto region of Italy. It was once called the "little Venice" of Italy, and you'll definitely see why once you get here. We'll have a walk along the old Roman walls surrounding the city and then immerse ourselves in the local traditions – it'll soon be 'aperitivo' time, what a better way to get to know each other than over a glass of Aperol Spritz. A true Veneto-style wecome!
Zumelle and Cison
30 %
50 %
20 %
A dive into the Middle Ages
Buongiorno, let's get ready to embark on a medieval adventure as we visit the 2000-year-old Zumelle Castle near the village of Mel. Its strategic location made it a constant target of disputes throughout history. After a remarkable renovation, the castle now shines in all its medieval splendour. Inside we have the opportunity to indulge in a themed lunch, immersing ourselves in the tastes and atmosphere of the time. We can't miss the spectacular Blue Cave, nestled amidst the Belluno pre-Alps, with its stunning turquoise water. Let's dive into history... and nature!
Cison di Valmarino
In the afternoon, we'll venture towards the enchanting village of Cison di Valmarino, one of Italy's finest. Surrounded by the natural beauty of the Venetian pre-Alps, it presents picturesque trails, horse rides and charming farmhouses offering delectable local delicacies. Our next stop is Castelbrando, a magnificent castle overlooking the village. The castle also provides a perfect setting to savour a delightful 'aperitivo' featuring regional delights.
Included: overnight stay, car rental
Money Pot: petrol and entrance fees to the castles
Not included: food and beverages
Mount Lagazuoi
50 %
50 %
High altitude
Today we go up to the highest point on our itinerary! By hiking Mount Lagazuoi we'll venture through a historic tunnel carved during World War I, ascending to an altitude of 2752m. This 1km journey blends captivating history and stunning nature, with awe-inspiring landscapes along the climb. It takes around 2 hours and demands some physical exertion, though a cable car option is available. Once on the mountain's peak, we'll enjoy a delicious lunch at an authentic alpine hut.
Pearl of the Dolomites
The second stop of the day will be one of the most famous mountain towns in Italy: Cortina d'Ampezzo. A top destination for many celebs, sportsmen and nature lovers, this is the perfect spot to be mesmerised by the beauty of the Dolomites surrounding it.
Included: overnight stay, car rental
Money Pot: petrol, entrance fees (if any)
Not included: food and beverages
Lake Braies
100 %
A jewel in the mountains
Good morning! Today we enjoy another feast of beautiful panoramas as we reach an enchanting place cradled in the middle of the Dolomites, Lake Braies! The landscape is breathtaking from every angle and we can decide to fully enjoy it with a simple walk around its perimeter or cross it by renting a wooden boat. One thing is guaranteed: the clean mountain air will help us feel refreshed!
Included: overnight stay, car rental, traditional dinner at refuge
Money Pot: petrol and parking
Not included: food and beverages
Tre Cime di Lavaredo
100 %
A postcard-like place
Our journey through the Dolomites brings us to the iconic Tre Cime di Lavaredo. Starting from the Auronzo Retreat at 2400m, we'll embark on a breathtaking 9km panoramic walk around these majestic peaks. With mostly flat terrain and occasional gentle slopes, it's suitable for all. We'll then enjoy a picnic on the lush meadows or have dinner at a cosy hut along the trail, soaking in the spectacular views at every turn.
Included: overnight stay, car rental
Money Pot: petrol and road tolls
Not included: food and beverages
Possagno and Valdobbiadene wine cellars
30 %
20 %
30 %
20 %
Possagno
Today we descend in altitude to make a cultural stop in Possagno where the house-museum of one of the most famous Italian sculptors and artists of the 19th century, Antonio Canova, is located. Among the many memorabilia, the historic building also houses a magnificent collection of plasters used by the artist as models for his sculptures. In the late morning we continue towards Asolo, another of the most beautiful villages in Italy, where we can enjoy an 'aperitivo' in the castle garden and a typical Venetian lunch in a local inn.
The land of prosecco
We'll spend the afternoon discovering the vineyards of one of Italy's most renowned areas for wine production: the hills of Valdobbiadene. We will go to visit some cellars, where the friendly staff will show us the production process, the difference in the various types of wine... and obviously let us taste their best products, accompanied by typical salami and cheese: a very Italian way to spend the afternoon!
Included: overnight stay, car rental, visit to wine cellar
Money Pot: petrol, entrance fees and tastings (if any)
Not included: food and beverages
Back to Treviso
70 %
30 %
Exploring the city
Today we make our way back to beautiful Treviso, as we now have enough time to get lost through the enchanting streets of the old town, visiting the squares of Piazza dei Signori and Piazza del Duomo before admiring the famous Fontana delle Tette – and hopefully learn all the legends that surround the fountain! After dinner we'll do what the locals do – engage in the Treviso nightlife, raising our glasses to a memorable last few days and the adventures we have shared.
Included: overnight stay, car rental
Money Pot: petrol, entrance fees (if any)
Not included: food and beverages
Time to go home
100 %
Check-out and goodbye
We have to say 'arrivederci': see you on your next WeRoad adventure!
End of services:
The itinerary may undergo some variations that differ from what is stated above. These variations may not be foreseen or dependent on WeRoad's control, i.e. climate conditions, national holidays, strikes, etc.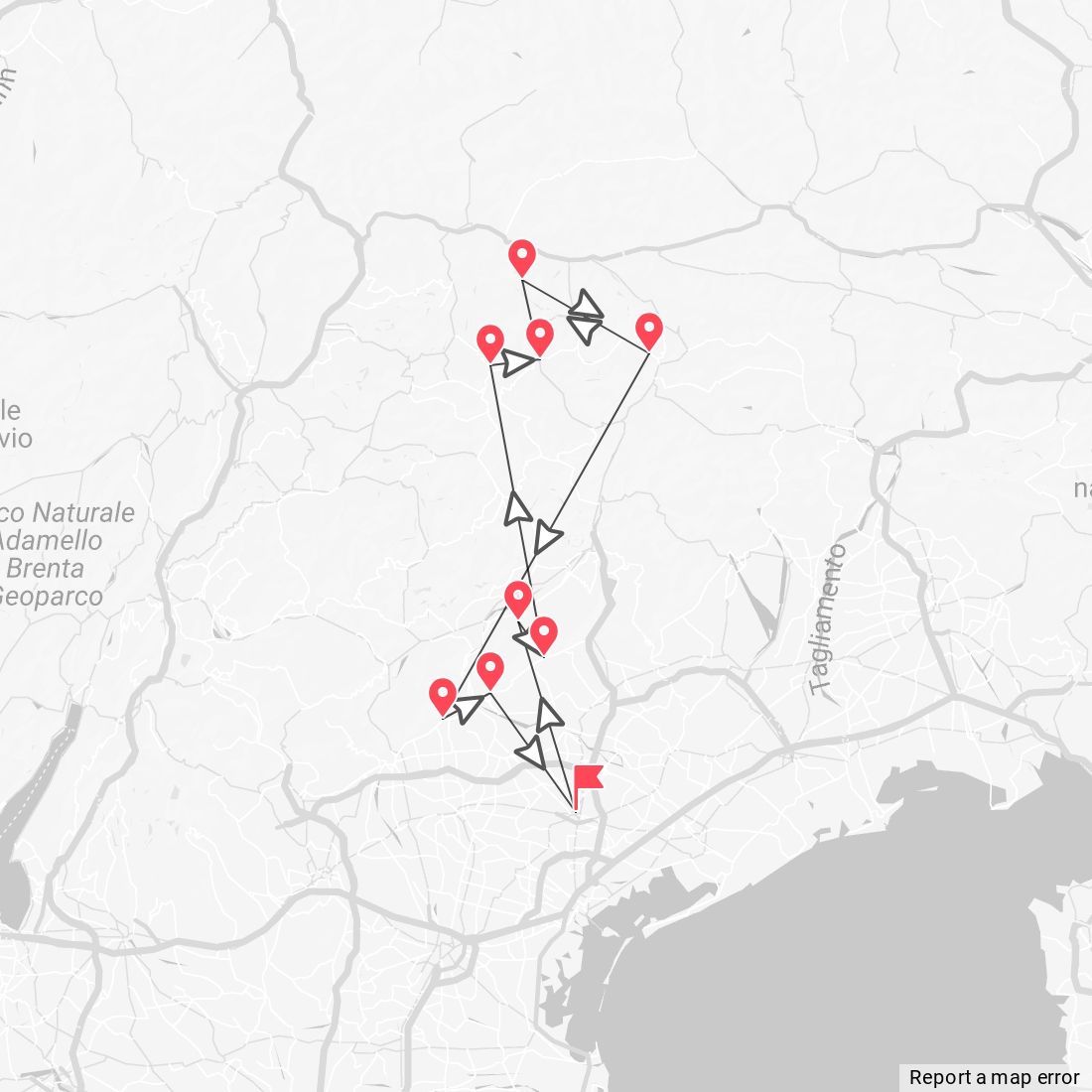 Show maps