Itinerary - Indonesia 360°: Java, Bali and the Gili islands
Jakarta
100 %
Check-in
Round trip flights are not included in the package, so you can choose from where and when you want to fly. This is to give you maximum freedom of choice!
Hotel check-in in Jakarta. Time to start this trip right: time for food! We'll be able to try out some specialties of the local cuisine. The best way to get to know each other and get ready to experience an amazing adventure.
Java: Yogyakarta and the Borobudur temple
50 %
50 %
Discover Yogykarta
We are heading to our first stop, Yogyakarta. This morning the first transfer awaits us: we reach the central part of the island of Java with an internal flight. One thing is certain: once we arrive in the accommodation we'll be ready to kick off our adventure among the Indonesian islands!
Prambanan and Borobudur
The first stop is Prambanan, a Hindu temple complex that stretches for miles - it takes a while to explore it completely but it's worth it! Let's get ready to visit the complex up to the Shiva temple, the greatest Hindu monument in Indonesia. Brahma temple and Vishnu temple to follow - they are a must too. Not too far away from Prambanan, we'll be able to see the magnificent Borobudur, the world's largest Buddhist temple. Built-in the 9th century, the ancient site is one of Indonesia and the world's most valuable treasures. In the 1970's Borobudur became a UNESCO World Heritage site.
Included: Overnight stay, domestic flight
Money pot: Entrance fees to the sites, optional local guide
Not included: meals and drinks
East Java
20 %
40 %
40 %
On the road
Rise and shine dear WeRoaders: we have some traveling to do! We get in our minivan to reach Mount Bromo. Tomorrow we'll be mesmerized by one of the most wonderful sunrises you've ever seen, we promise. We stop for a lunch break along the way to grab a quick bite and stretch our legs! We then continue the drive until we arrive at our accommodation near Mount Bromo. Here we have a nice dinner but don't forget to go to bed early: the alarm is set for 2 in the morning - yes, you read that right ... but hey, it'll be worth it!
Included: minivan with private driver
Money pot: any admission fees
Not included: food and drinks
Enjoy a breathtaking sunrise on Mount Bromo
100 %
Sunrise on the volcano
Get up, sleepyheads! I know, the alarm goes off at 2am and we don't have much time to stay under the covers. So let's put on some warm clothes (you know, it's quite cold) and we are ready to go. We get in a jeep that will take us almost to the top of the mountain in less than 30 minutes. We have more or less half an hour of easy walking ahead - and guess what? The sun is rising - we will admire Mount Bromo slowly lighting up...it's a a jaw-dropping view! Let's fully experience this magic moment in contact with nature. We then return to our base camp with our eyes still lit up by this incredible sunrise. Now it's time for our next stop, Banyuwangi. Are we tired from this morning's wake up call? It's all set: we have plenty of time to rest during the transfer! We're sure you want to take advantage of it because we'll have another early alarm - but again, it will be worth it!
Included: local transport, Mount Bromo excursion
Money pot: any admission fees
Not included: food and drinks
Bali: discovering a new island
100 %
Kawah Ijen
Another early wake up call to to climb the Ijen volcano. This place is famous for two unique peculiarities: here is the largest acid lake in the world and the blue will-o'-the-wisps! Getting to the top of the volcano is not difficult but the second part of the route becomes much more demanding. At this point, we can venture down into the crater to reach the acid lake and admire the surreal wisps of blue flame far below and the sulphurous fumes rising from the depths of the volcano. Just be careful - as we go down the path is not so visible because of lake gases. We'll wear masks but don't worry...if you believe this is too difficult we have good news for you: the descent is optional. However, if we are brave enough to go into the heart of the volcano we'll be rewarded: the dawn here has a completely different colour!
Arriving in Bali
Now that we are back to the starting point, we can take our backpacks and set off to Bali. What are we waiting for? We first take a minivan and then jump on a ferry towards the most famous Indonesian island! After regaining some strength, we can decide how to spend our morning: do we want to visit the famous Ulun Danu Beratan temple, or do we feel like going on a swim in the Git Git waterfalls? One thing is certain: we'll arrive in Ubud in the evening, where we can begin to relax…maybe with a nice massage!
Included: minivan with private driver and ferry
Money pot: Any admission fees
Not included: food and drinks
Ubud: Monkey Forest
30 %
50 %
20 %
Sacred Monkey Forest
We'll visit a rainforest oasis on the edge of Ubud this morning. We'll be fascinated by the Sacred Monkey Forest Sanctuary - such a wonderful and bizarre temple for the statues of animals and mythological creatures we'll have the chance to see.
Relaxing afternoon
We spend the rest of the day relaxing. Ubud is one of the world capitals for yoga and spirituality, so what better place than this to take a class or enjoying a cooking class? Or we can take a walk among the rice fields: if you aren't too tired of moving around, the surroundings of the city are full of forests, temples, and waterfalls!
Money pot: any admission fees, local transport
Not included: food and drinks
From Ubud to Kuta: a relaxing day!
40 %
30 %
30 %
Yoga, temples or swings?
Good morning Bali! Today we will visit a local village to discover local customs and traditions. Then, it's time for the cooking class! We will discover traditional Balinese cuisine with the help of the locals. In the afternoon we can take it easy. For those who wish to relax, a yoga class awaits them, while for history lovers there is certainly no shortage of temples to visit in the surrounding area. Are we looking for the right spot to take the perfect photo? We have time for that too! In the evening we move to Kuta, where we will spend the whole day tomorrow.
Included: local food experience
Money pot: any admission fees
Not included: food and drinks
Kuta, between beach life and nightlife
40 %
40 %
20 %
Surf and sunset
Welcome to Kuta! We are in this little surfer's paradise, let's put our swimsuit on and surf the waves! Here it won't be too difficult even if we are just starting out surfing for the very first time. If we don't feel like surfing, we can take it easy. We can spend the day relaxing on the beach until sunset - the best time to enjoy a nice cocktail overlooking the wonderful sea on comfy beanbags. Let's get started with a few Balinese cocktails (we suggest the typical Arak) and then let's cut some shapes!
Money pot: any admission fees, local transport
Not Included: food and drinks
Sea, relax and trekking: time to visit the Gili Islands
70 %
30 %
Paradise on earth
After three days in Bali we are ready to go: today we take some transfers to finally reach the archipelago of the Gili Islands. If you wonder what a paradise on earth looks like, here we are! No picture will be able to catch the incredible beauty of the infinite white beaches and bright blue waters.We get to the Gili Islands, we can decide what to do: do we want to enjoy the sun and relax on the beach all day, or are we feeling adventurous and ready for snorkeling or scuba diving? Or are we ready for a trek in the jungle? We'll be at the beach till late where we'll see a different side of the Gili Islands: here the chiringuitos invite us to enjoy some cocktails and dance barefoot on the sand all night long. Cheers!
Included: ferry to Gili Trawangan
Money pot: any admission fees, local transport
Not included: food and drinks
Gili Islands: time to discover the coral reefs of Trawangan
70 %
30 %
Relax and fun
It's time to enjoy the beautiful Gilis today: three small islands that attract travellers from all over the world for their immense beauty. Let's explore the paradisiac tropical coral reefs in Gili Trawangan. If you're looking for something even more unique, be sure to make your way to Gili Meno. Here you can have a swim among the beautiful underwater sculptures and take the most epic travel photos - we are sure you won't regret it!So why don't we spend the rest of the day on the beach relaxing and enjoying this peaceful place?
Money pot: any admission fees, local transport
Not included: food and drinks
A day in Lombok: time to enjoy Sengiggi beach one last time
100 %
Last day on the beach
That's the last day on the beach between Gili and Lombok - so let's make the best of it! Luckily we still have time to appreciate the beauty of the Gilis in the morning. So why not swimming one last time in these wonderful crystal clear waters? We'll move to Lombok in the afternoon where we'll enjoy the rest of the day on a beach just off the tourist trails. Here we'll experience the very essence of this new island and fully experience silence and relaxation. We'll be at the beach until late so that we can enjoy our last sunset on Sengiggi beach!
Money pot: any admission fees, local transport
Not included: food and drinks
Back to Jakarta
60 %
40 %
The capital
Today we fly back to Jakarta and try not to think too much the wonderful ocean we left behind. Today we can have a relaxing afternoon in the hotel or we can spend some time exploring the capital. This is always a great chance to visit the city highlights and buy some souvenirs to take home. So here we are, at the end of our trip: tonight we share our favourite memories over the last 12 days!
Included: domestic flight
Money pot: any admission fees, local transport
Not included: food and drinks
Check-out and goodbye
Check-out and goodbye – until your next WeRoad adventure!
End of services. The itinerary may undergo some variations that differ from what is stated above. These variations may not be predictable nor depend on WeRoad's will, i.e. climate conditions, national holidays, strikes, etc.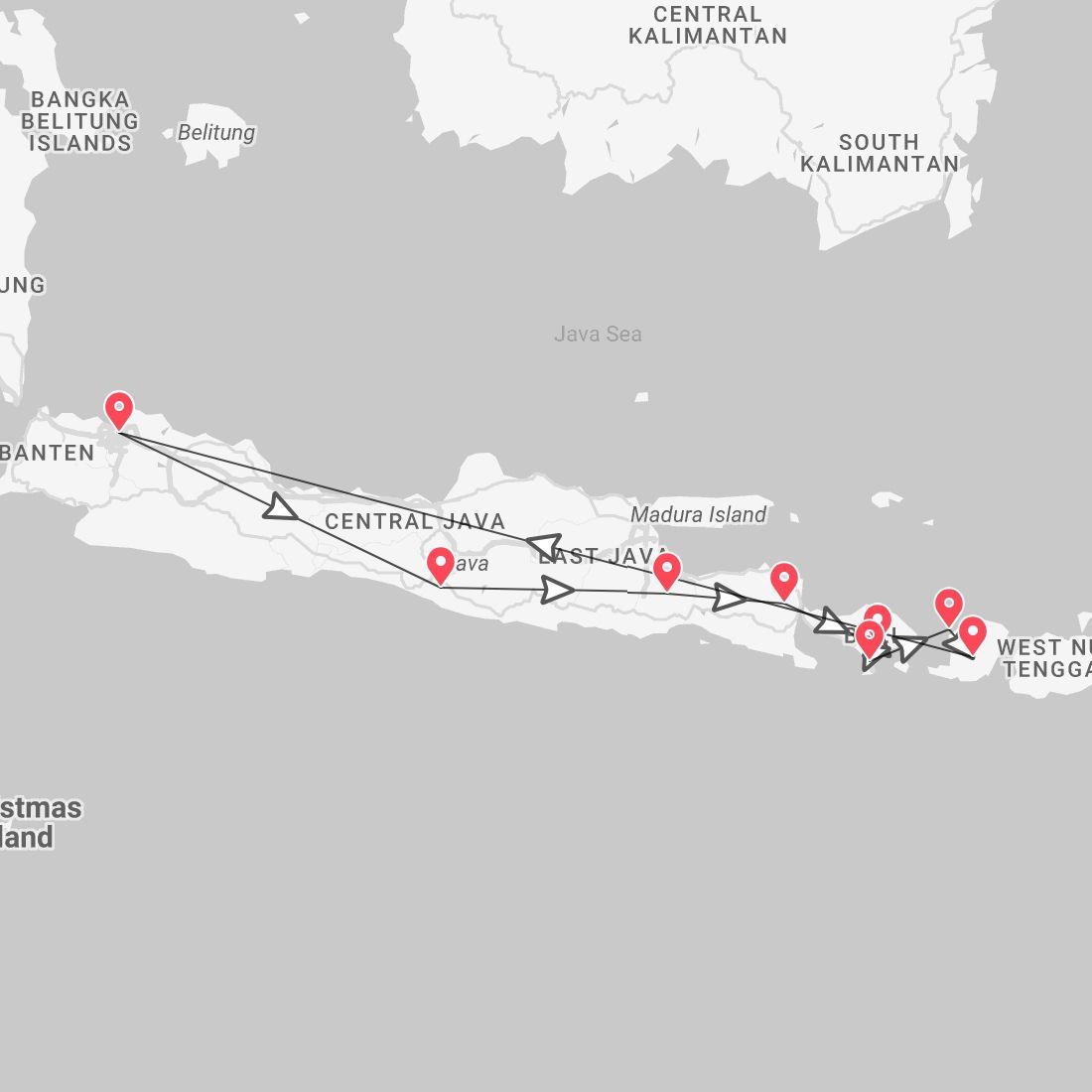 Show maps