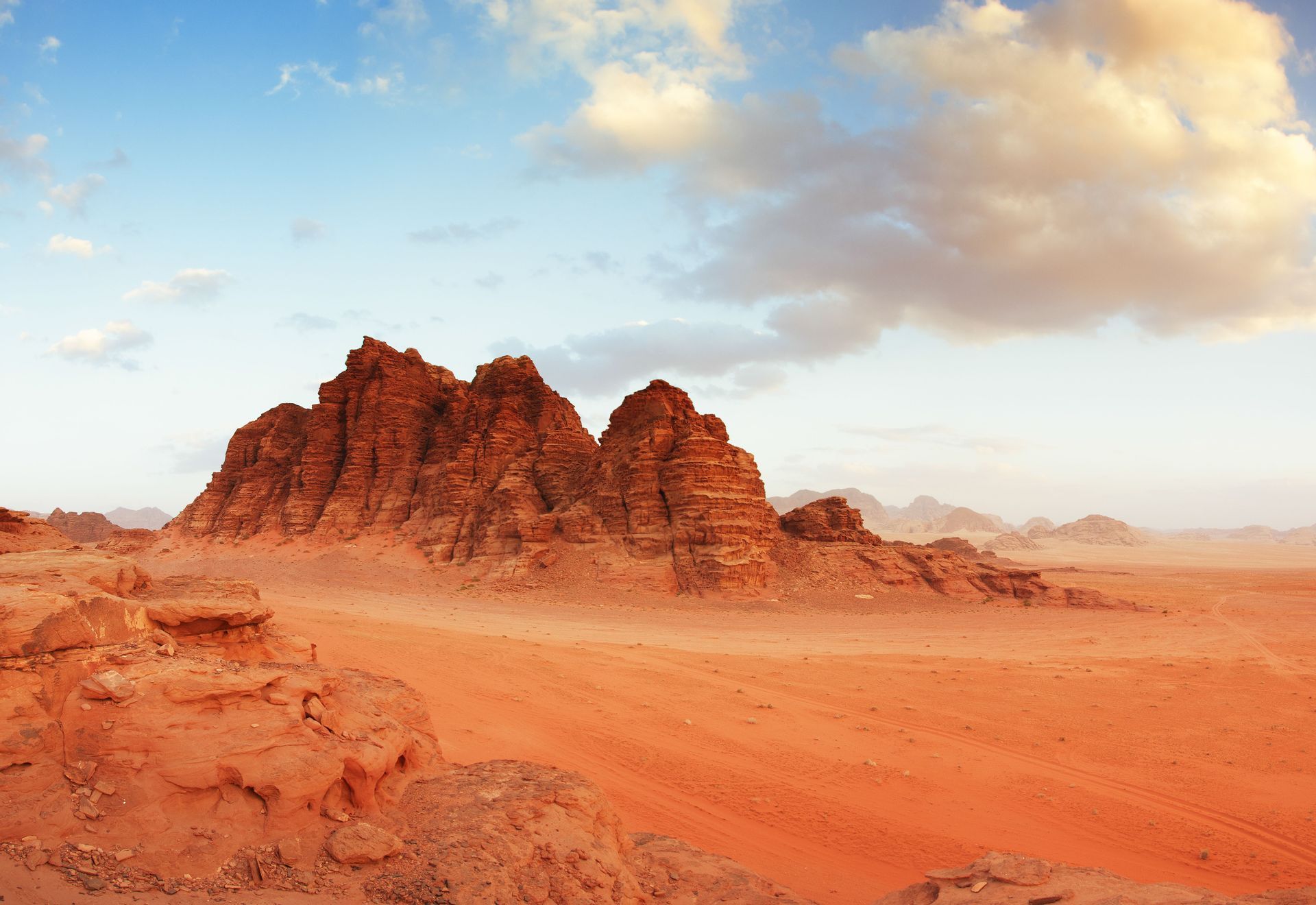 Jordan: land of history and desert
Check out all our itineraries
Our trips to Jordan
This is Jordan: a leap into antiquity in the Roman ruins of Jerash and the Nabatean ruins of Petra, an adventure in the Wadi Rum desert, a float in the Dead Sea and a dive in the Red Sea, chickpea hummus and falef, smiles and great hospitality.
Jordan: a land of trade
Everything you need to know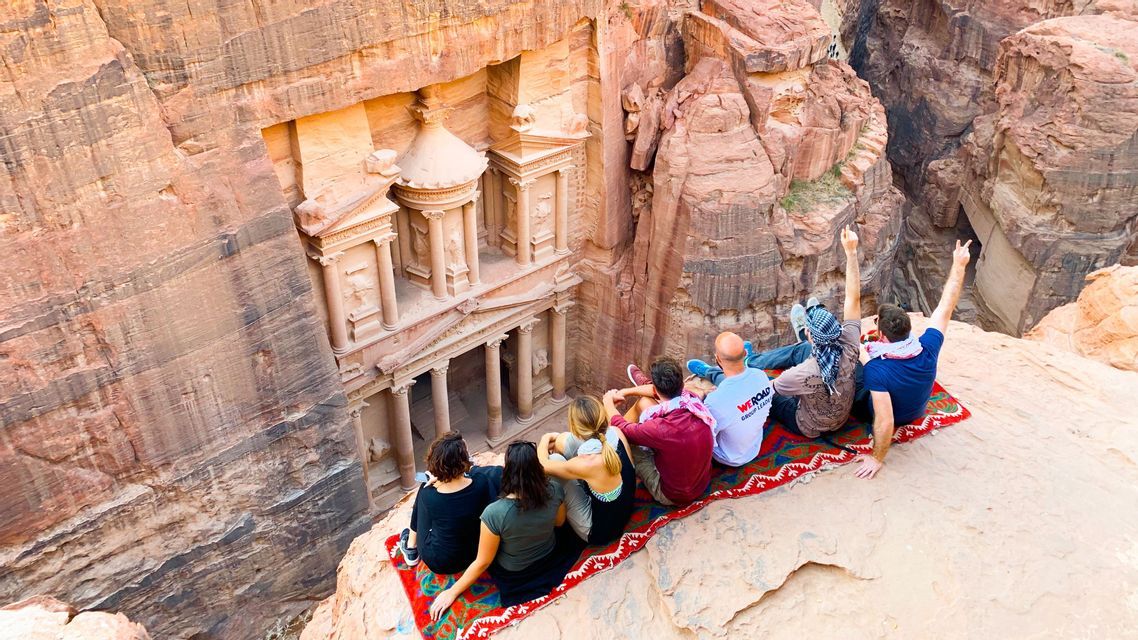 Find out our trips to Jordan
A country that extends in longitude, dividing the European continent from the Asian one, touching the main salidas to the sea: this is Jordan, from the ancient land of trade of traders who bring specialities, tejidos, artesanías to Europe from this country. As you explore Jordania, this mix of cultures will burn and lift you from the Roman ruins of Jerash to the Nabatean ruins of Petra. A mostly rocky and sandy land will welcome you, with the desert of Wadi Rum that has been converted into film platforms like Mars, Indiana Jones or Dune, but whose people are extremely comfortable. Its coasts are bathed by the Dead Sea and the Red Sea, the first - a lake to be told verdad - deprived of life, neither viruses nor bacteria bear its salinity, the second vibrant with colorful fish that inhabit the coral barrier.
When in Rome do as the Romans do
We often tend to associate the political situation of Jordan with that of neighboring Israel and ask ourselves: is it safe to go to Jordan? The answer is yes, for centuries Jordan has been a land of passage for merchants who imported spices and fabrics from the East: coexistence between people of different ethnic groups and religions is a centuries-old local tradition for this very reason and tourists are always welcomed with open arms. In Amman you will see Muslims, Christians and Jews coexist, despite the fact that the majority of the population is of the Islamic faith. Female tourists are not required to wear clothing other than what they are used to, but as guests of this country, it is always nice to remember that it is good practice to show respect for the local culture and tradition and small precautions such as avoiding exaggerated necklines, bare shoulders and short skirts or shorts are always appreciated.
You will not be able to return from Jordan without a red and white checked keffiyeh (the typical Jordanian decorative motif called shmagh). Bedouin men and women, i.e. the nomadic populations who live in the desert, wear it to protect themselves from the sand and wind - it will come in handy for you too during your jeep excursion in the Wadi Rum desert. We already learn one word that will be key on a trip to Jordan: Shukran - Thank you!
Jordan's traditional dishes
But what do you eat in Jordan? Those who have already visited other Middle Eastern countries will not find anything particularly new; in terms of ingredients, Middle Eastern cuisines are very similar to each other, but each one has cooking methods and spices that give a different touch to each dish.
Get ready to eat an avalanche of kobhz, the unleavened Arab bread that is never missing from Jordanian tables. Usually, near the basket with the kobhz, you should find a small bowl with a beige mousse and a drizzle of raw oil, that is chickpea hummus. We assure you that it will have a completely different flavor compared to what you are used to eating here: a cream of boiled, blended or crushed chickpeas combined with tahina, a white sesame cream.
On a decorated ceramic plate, next to the hummus, there could be fried meatballs, very golden and fragrant, also made with chickpeas and broad beans, with parsley, garlic, coriander and onions: these are the famous falafel.
As a main course, in the desert you could try an unusual barbecue - zarb. In this typical Bedouin cooking method, meat and vegetables are placed on a special vertical grill, placed in a special "oven" under the desert sand and cooked slowly for hours, then garnished with sauces and spices that are a real treat.
In the city instead of Amman or Madaba, you have to try the maqluba, which literally means "overturning". Yes, because this dish is prepared by cooking a layer of chicken meat in a huge pot, after a few hours of cooking, add the vegetables and finally the rice, creating three layers. When the dish is ready, after hours of cooking, it is served by bringing the pot to the table and turning it upside down on a plate placed in the center of the table. As in many oriental cuisines: sharing is one of the cornerstones of the Jordanian culinary tradition!
What to pack
What to pack for a trip to Jordan? Trivial to say, but it changes between summer and winter. In general, the onion dressing technique is the winning one: from March to October during the day you can wear sporty, comfortable clothes, possibly in natural fabrics such as cotton or linen to stay cooler. For the evening, remember to bring an extra sweatshirt, given the significant daily temperature range. In winter, on the other hand, always carry a sweatshirt and a waterproof windbreaker with you even during the day, there may be times when it can come in handy. Unfortunately a few hours of rain in the winter season can happen. For the night, especially the one in the desert, equip yourself with a sweatshirt, a jacket and, if you feel chilly, a sweater, woolen socks and thermal trousers to ensure a more peaceful sleep. Trekking shoes, walking shoes or in any case with non-smooth soles are essential, perhaps bringing a second spare pair is not a bad idea. Obviously always remember to bring the travel pharmacy with you with our faithful friend: the Imodium, better not to be caught unprepared.
What shouldn't be forgotten?
- Sunglasses
- Sunscreen
- Hat
- Swimming suit
- Flip flops
- Beach towel
- Trekking shoes or sneakers (no smooth soles)
- Light and clear sporty clothes for summer
- Sportswear of various weights and anorak for the winter
What to know before leaving
When planning your trip to Jordan it is important to know that cash payment is more common on the spot than by card, for this reason, calculate how much you plan to spend on the trip and once in Amman, change the amount you will need for the days come to one of the many exchange offices in the city. They are not present everywhere, so calculate well which will be the next stage in which you can make a new change to decide the right amount of euros to change from time to time. In the most touristic places they also accept euros, but they will apply an unfavorable exchange rate and you can try to haggle the price a bit if negotiation is your thing.
Remember that we are in a Muslim country, so alcohol is not served in the majority of restaurants, however, in the main cities, there are minimarkets where it is possible to buy it and restaurants that still serve it, albeit at a high price.
When we greet a Jordanian, it is better to expect him or her to make the first move by extending their hand or opening their arms, if they don't, don't take it as a snub, smile and say hello... it's a form of respect towards your spouse.
Last thing to remember: one month a year the country celebrates Ramadan, a sacred period for the Muslim religion dedicated to fasting, prayer, meditation and self-discipline. If you visit the country in this period - remember that it changes every year, check the calendar - you may find restaurants and bars closed during the day in the smaller villages and it is a form of respect not to show yourself while eating in public spaces, remember this when you get organized to have your packed lunch.
Visa, SIM, cost of living: more useful infos
Visa: don't forget to buy the Jordan Pass before departure, it can be easily purchased online and includes both the visa and access to the main archaeological and naturalistic sites in the country; its cost varies according to the length of your stay.
SIM card: at the airport or in the city you can buy a local SIM to have internet access throughout the journey, at the airport you will find various exhibitors of local telephone operators where you can buy it just before leaving; if, on the other hand, wi-fi is enough for you from time to time, most hotels provide the connection.
Payments: the local currency is the JOD, we recommend that you bring cash with you and exchange it at your destination.
Cost of living: it is lower than in Italy, having lunch and dinner in typical restaurants or street food you can spend an average of €20/25 a day, obviously then, especially in cities like Amman, there are also more luxurious options and therefore closer to Italian prices.
Electrical sockets: the electricity in Jordan is 230V at 50Hz, the plugs mostly are socket C; you should bring the universal adapter.
The weather during the year
Jordania has a dry and arid climate during most of the year, generally from February to November, but the temperatures vary from one area to another; in winter, in exchange, the climate is harder and can produce storms. In the middle of Amman in black it is 5 degrees, while in July it is 30 degrees. In the Jordan Valley, in the Dead Sea and in the South, the temperatures are in the middle 10 degrees higher. Between the day and the night the thermal amplitude is important, including in summer. Continuation of data is for the Amman area.
What to see in Jordan? The 5 places not to be missed