Itinerary - Thailand 360°: Bangkok, Phuket and Chiang Mai
Welcome to Thailand!
70 %
30 %
Check-in
Round trip flights are not included in the package, so you can choose from where and when you want to fly. This is to give you maximum freedom of choice!
Ready to start this trip the best way possible? We're talking about food and drinks, obviously. Tonight we'll have dinner and get the chance to have a first taste of the local cuisine - maybe we'll try pad thai (the real one though!) or khao pad (fried rice that sounds delicious)? The night doesn't end here though: it continues in Khao San, one of the best streets to enjoy Bangkok's nightlife.
Discovering Bangkok
50 %
50 %
Bangkok
Bangkok, the vibrant capital of Thailand, pulsates with a fascinating blend of old and new, sacred and worldly, tranquility and frenzy. It's an absolute must-visit on any respectable trip to Thailand, and today we'll dedicate the entire day to exploring this captivating city. Time may not be on our side, but we'll make every moment count!
Just a stone's throw away from the famous Khao San Road, the ultimate party street, lies the magnificent Wat Pho. This sprawling religious complex houses the world's largest reclining Buddha statue. Nearby, we'll discover the awe-inspiring Wat Phra Kaew, known as the Temple of the Emerald Buddha, and the majestic Grand Royal Palace, once the residence of Thai rulers. And just across the Chao Phraya River, which gracefully flows through Bangkok, we'll find the enchanting Wat Arun, also known as the Temple of Dawn.
By now, our tired feet deserve a break, don't you agree? Well, you're in luck! A night bus awaits us to transport us to Chiang Rai. What better way to rejuvenate while traveling than to rest comfortably on the bus? It's the perfect opportunity to recharge for the next leg of our adventure!
Included: night bus to Chiang Mai
Money pot: other transportation, entrance fees to sites and any tickets.
Among the temples of Chiang Rai
70 %
30 %
Welcome to the North
After a refreshing night's rest, we're all set for the true adventure to begin! We've arrived in Chiang Rai, the vibrant capital of Thailand's far north. Exploring the city's temples should be at the top of our list. Alongside the renowned White Temple, Temple of the Emerald Buddha, and Blue Temple, there are numerous smaller temples waiting to be discovered, and we have ample time to uncover the hidden gems!
Like any bustling Asian city, Chiang Rai boasts a vibrant night market that serves as the city's focal point. This bustling market, frequented by both tourists and locals, will be our evening destination. Here, we'll indulge in the exquisite flavours of Khao Soi, a delectable curry soup with chicken and noodles, before immersing ourselves in the local culture through captivating musical performances by talented local bands. It's an opportunity to fully immerse ourselves in the vibrant local atmosphere and embrace the essence of Chiang Rai.
Money pot: Entrance fees to the sites and any tickets
Not included: food and drinks
We arrive in Chiang Mai
50 %
30 %
20 %
Let's explore the city
Today, we have a local adventure planned. Hop aboard a local bus as we make our way to Chiang Mai. Before we dive into our walking tour, let's brush up on some history. Chiang Mai, meaning New City, was established in 1296 by King Mengrai and became the capital of the Lanna kingdom, succeeding Chiang Rai. Today, it stands as Thailand's second most important city.
Chiang Mai is a beloved destination for digital nomads, thanks to its affordable cost of living, thriving professional network, vibrant atmosphere, and its proximity to nature. It's a place we absolutely adore!
We'll wrap up the day at the renowned night market, where we'll indulge in authentic Thai street food, making it our delightful dinner for the evening. Get ready to tantalise your taste buds and experience the lively ambiance of the market.
Included: bus from Chiang Rai to Chiang Mai and local guide in Chiang Mai
Money pot: Entrance fees to the sites and any tickets
Not included: food and drinks
Forest and elephants
70 %
30 %
In contact with nature!
Today, we bid farewell to the hustle and bustle of Chiang Mai and venture deep into the enchanting Thai jungle. Embraced by lush greenery, we'll find ourselves in a serene and refreshing atmosphere, perfect for immersing ourselves in nature. Donning traditional Karen attire, we'll embark on an extraordinary encounter with Thai elephants. With utmost respect for their well-being, we'll have the incredible opportunity to feed them, play with the adorable elephant calves, and enjoy a memorable group bath in the river. This experience will leave an indelible mark in our hearts, forever cherished.
Cooking class
After lunch we say goodbye to the elephants. This afternoon we have a mission to complete, learn how to cook some typical Thai dishes! Before starting our cooking class , however, we need to get the ingredients and the market is the right place! And of course, after cooking… We will also be testers of the dishes we have prepared. So better get busy!
Included: transfer, elephant experience, cooking class, lunch and dinner
Money pot: entrance fees to the sites and any tickets
Not included: drinks
Phuket
30 %
70 %
We reach Phuket
Today we leave the green of the forest to reach the blue of the sea: a quick and painless internal flight and we have arrived in Phuket ! Do you have the swimming suit ready? Time for a dip!
Then tonight we will discover all the hidden sides of Thai nightlife: this town is the most famous when it comes to partying and we don't hold back!
Included: domestic flight to Phuket
Money pot: entrance fees to the sites and any tickets
Not included: food and drinks
Relax in Phuket
50 %
50 %
Chill time
2 days of well-deserved relaxation await us in one of the most spectacular islands in Thailand!
These days have the stamp of both relaxation and adventure because those who want can continue to chill on the beach, otherwise it is possible to go sailing, diving, snorkelling or canoeing! We can take tour of the peninsula of Phuket via Freedom Beach - a pearl surrounded by greenery and blue - where we can enjoy the sea and finish the day at the Big Buddha located on top of a hill. We reach it for the sunset: from up here we will enjoy a unique panorama of the whole peninsula.
And the evening? It starts with a bars for sunset and who knows where the night will take us...
Money pot: entrance fees to the sites and any tickets
Not included: food and drinks
From Phuket to Krabi
70 %
30 %
Another day, another island!
Another day in Thailand, another island to reach: this time we move to Krabi. This locality boasts spectacular rock formations that draw an extremely suggestive landscape.
Included: ferry from Phuket to Krabi
Money pot: Entrance fees to the sites and any tickets
Not included: food and drinks
Phi Phi islands
100 %
Like in a movie
It's our second day in Krabi so we want to make it unforgettable and a boat trip to Koh Phi Phi seems like the best way to do it! Made world-famous by Leonardo DiCaprio in 'The Beach', this archipelago of six islands is located 42 km from the mainland in the middle of the Andaman Sea. We can spend the day sunbathing, swimming and snorkelling as we hop from one picture-perfect stop to the next, including Pileh Lagoon , which is surrounded almost entirely by huge cliffs and Maya Bay, the perfect crescent beach you'll recognise from the movie .Back on dry land, we want to make sure we celebrate the day in style: drinks on the beach as the sun sets anyone?
Included: private excursion to Koh Phi Phi islands
Money pot: entrance fees to the sites and any tickets
Not included: food and drinks
Last day in Krabi
100 %
Our last day by the sea
Today's plans are in your hands! You can choose to try rock climbing on the famous cliffs or hop on a boat to explore the nearby islands. Alternatively, we can head to Tiger Cave, a forested area with a challenging hike of over a thousand steps. The reward? A breathtaking panoramic view of the entire region. The choice is yours for an unforgettable adventure!
Money pot: entrance fees to the sites and any tickets
Not included: food and drinks
Back to Bangkok
100 %
Bangkok
After 3 wonderful days of relaxation, snorkelling, swimming and beautiful beaches, we reluctantly say goodbye to Krabi and get ready to return to Bangkok . An internal flight and we are back where we started!
Included: flight to Bangkok
Money pot: entrance fees to the sites and any tickets
Not included: food and drinks
Check-out and goodbye
Check-out and goodbye – until your next WeRoad adventure!
End of services. The itinerary may undergo some variations that differ from what is stated above. These variations may not be predictable nor depend on WeRoad's will, i.e. climate conditions, national holidays, strikes, etc.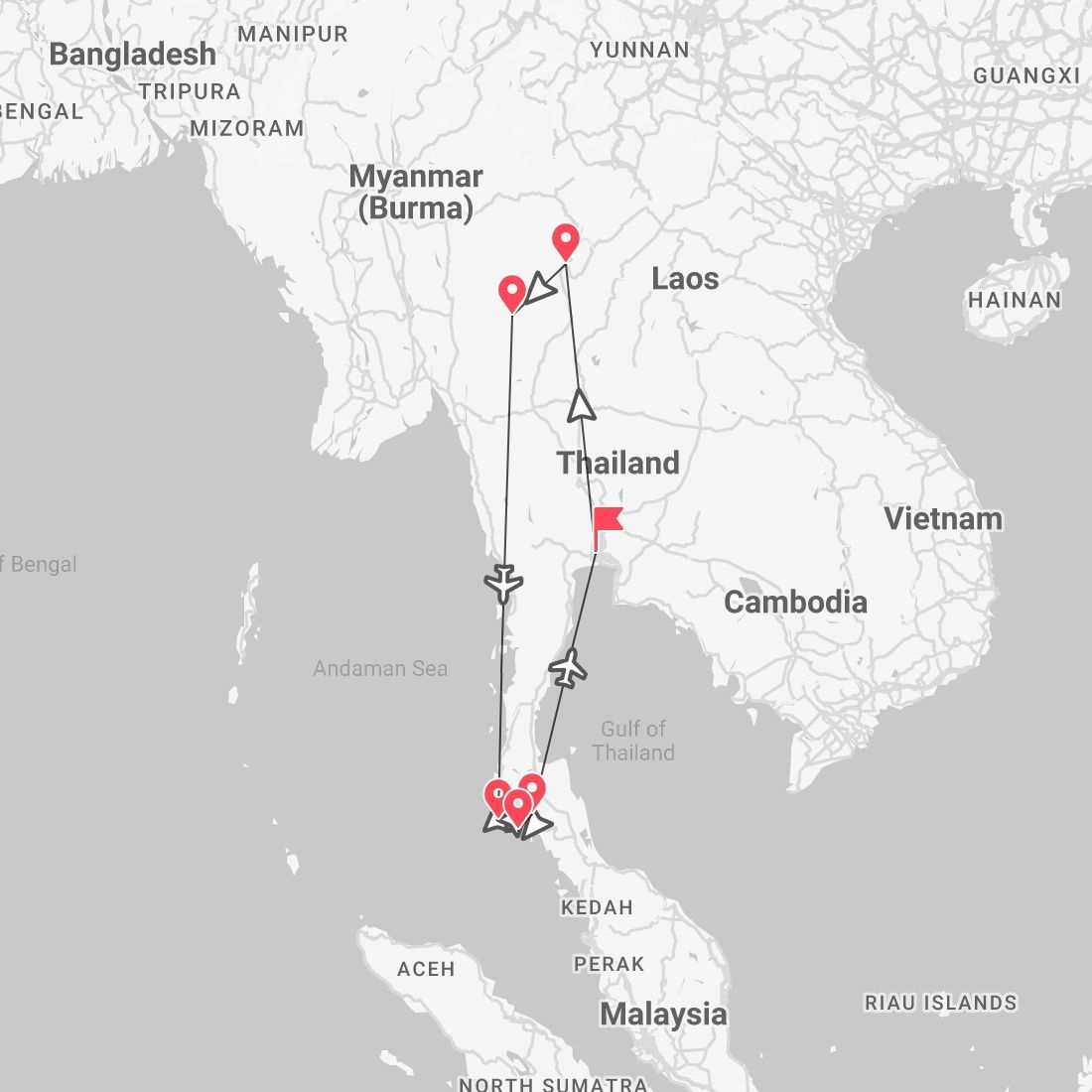 Show maps