Itinerary - Slovenia 360°: between breathtaking lakes and mountains
Check in
Roundtrip flights are not included in the package, so you can choose from where and when you want to fly. Check in to your hotel in Ljubljana and it's time to start our tour right… with food of course! Tonight is your welcome dinner. On the menu, kranjska klobasa with Žganci (traditional sausage with polenta), or maybe baked trout. Whatever the choice, this will be the perfect opportunity to break the ice and get to know your fellow WeRoaders!
Hiking and nature
100 %
The village of Velika Planina and Logarska Valley
After a hearty breakfast, it's time to pick up the rental cars and head out into nature. Our first stop is Velika Planina, one of Europe's few surviving high mountain herdsmen's villages where traditional Alpine herdsman's culture is still alive. We could hop on the cable cars to reach the top of the mountain and enjoy a beautiful hike on the green pastures, surrounded by cows! We'll then continue towards the Logar Valley, where you can choose how to spend the rest of your day. Relaxing in the sun? Hiking to Rinka Waterfall? A bike ride in the mountains? One thing is sure: we cannot miss the opportunity to taste the local products of this valley! The choice is yours, but you'll definitely come home completely refreshed!
Included: car rental and local food tasting experience
Money Pot: petrol
What's not included: food and beverages
Between the two lakes
100 %
Lake Bohinj and Lake Bled
Good morning WeRoaders! Our day starts with a visit to Lake Bohinj, the largest permanent lake in Slovenia. We can hike a short distance to reach Savica Waterfall, or maybe head to Vintgar Gorge, a canyon carved by the Radovna River. Then it's time for a picnic surrounded by this beautiful landscape to refuel for the rest of the day!
After lunch we'll head to the more famous Lake Bled. The lake is encircled by the Julian Alps, which are reflected in the clear waters. It will honestly make you feel like you are standing in the middle of a postcard! We can take a hike around the lake, or maybe a boat ride to the little island right in the middle of the lake, to visit the beautiful castle.
Included: car rental
Money Pot: petrol
What's not included: food and beverages
More nature… and a bit of adventure!
100 %
Bovec and the Soča River
Let's have a light breakfast today because we are about to drive up a winding mountain road through Vršič Pass, and finally reach Bovec. If we don't feel like taking this winding, panoramic route, we can always opt for an easier alternative road. Bovec is a lively town surrounded by the beautiful Julian Alps. The Soča River runs through the valley and with its vibrant emerald green colour, it gives the whole landscape a picture perfect look!
Ready for some rafting?
The Soča River will be the backdrop for our next adventure. Have you ever been rafting? It's the best way to descend the river so get ready for a day full of fun and adrenaline!
Included: car rental and rafting
Money Pot: petrol
What's not included: food and beverages
Vintgar Gorge and Ljubljana
50 %
50 %
Making the most of our last day
It's our last day to roam around Slovenia and Vintgar Gorge is on the itinerary!
It's one of the most magical places in Slovenia. The gorge was carved by the Radovna River and is considered to be amongst the most beautiful in Europe. The hike only takes an hour, and we'll follow a trail through tunnels and across wooden bridges, pools, and river rapids.
The hike ends at the incredible, 13-meter-high waterfall on the Šum River, one of only three river waterfalls in Slovenia!
Then it's back to Ljubljana to return our rental cars and celebrate our adventure with an epic farewell dinner, one last chance to taste delicious local dishes!
Included: car rental
Money Pot: petrol
What's not included: food and beverages where not specified
Until next time
50 %
50 %
Check out and goodbye
We have to say goodbye: see you on your next WeRoad adventure!
End of services:
The itinerary may undergo some variations that differ from what is stated above. These variations may not be foreseen or dependent on WeRoad's control, i.e. climate conditions, national holidays, strikes, etc.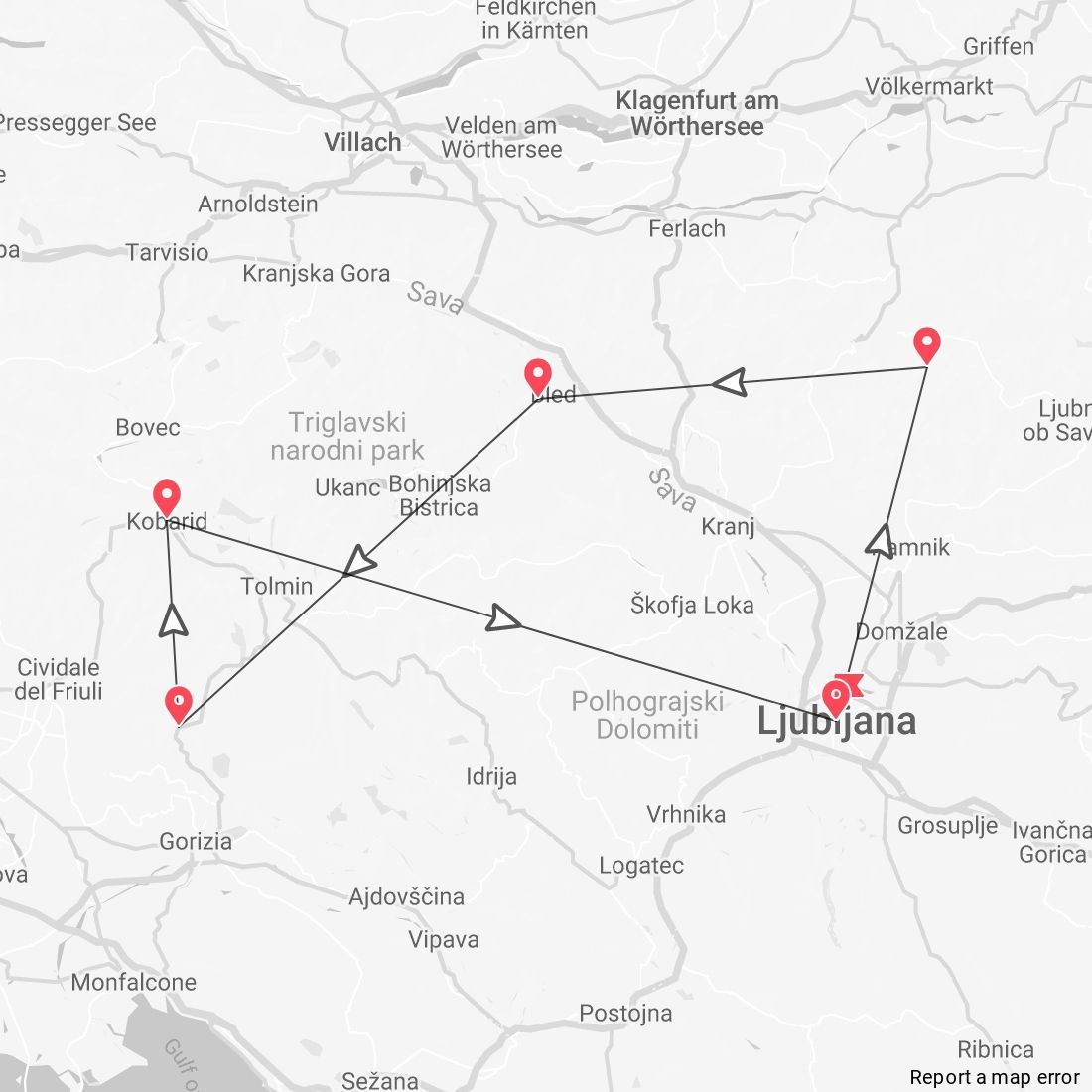 Show maps