Itinerary - Oman 360°: desert, beaches and sea turtles
Welcome to Oman
100 %
Check-in
Check-in at the hotel in Muscat. We are in one of the oldest cities in the Middle East and from the very beginning it's like we're in an enchanted world. We enjoy the sunset, perhaps near the Great Mosque of Sultan Qaboos, whose white marble contrasts with the pink sky.
Not included: Meals and drinks
From Rustaq to the Hajar Mountains
50 %
50 %
On the road
New day, new horizons! We collect our rental cars and say goodbye to the capital: we leave for Rustaq, a town in northern Oman where we stop to visit the fort, which gives us breathtaking views of the surrounding landscape. However, the real gem of this day will be an on the road that we undertake just after lunch: we travel 60 km of dirt road through the Hajar Mountains . It will be a real travel experience and on the way we will be able to stop to admire the incredible canyons that characterise this land.
Included: Car rental with driver support and local guide.
Money pot: Petrol and entrance fees.
Not included: Meals and drinks
Jebel Shams: the Grand Canyon of Arabia
100 %
Wadi Ghul: between cliffs and breathtaking views
Early morning, we head to Al Hoota Cave, a stunning 2-million-year-old cave extending 4.5 km. Inside, four lakes host a unique ecosystem, including blind fish found only in Oman. Our local guide shares the cave's history as we admire the mesmersing rock formations. Next, we drive to the Grand Canyon of Arabia, equally impressive as its American counterpart. A 3-hour trek leads us to a breathtaking panoramic viewpoint. Later, we settle in Nizwa for the night.
Included: Car rental
Money pot: Petrol and entrance fees.
Not included: Meals and drinks
Between Nizwa and the desert
30 %
70 %
The city of Nizwa and Bahla Fort
Good morning, Nizwa! We start early to explore this enchanting Omani town with an Aladdin-like feel. On Fridays, you can experience the camel market's tradition. If it's not Friday, don't worry. We'll visit the Bahla Fort, a UNESCO heritage site since 1987. In the afternoon, we head to the desert for an overnight stay.
Under the stars
At Wadi Bani Khalid, a famous Omani Wadi, we relax in its emerald pools and explore its perennial source. Later, we venture into the sandy desert, driving through dunes to reach the Bedouin camp for a magical night under the stars in Wahiba Sands. Unforgettable dinner, sunset, and stargazing await!
Included: Excursion in the desert, dinner and Bedouin night.
Not included: Any other meals or drinks.
Ras Al Jinz: relaxing by the sea in Oman
80 %
20 %
Time to chill
In the desert, we rise early to witness a mesmerising sunrise from the dunes. An adrenaline-filled morning follows, exploring the desert on jeeps and trying sandboarding for a unique experience. In the afternoon, we head to Sur on the Persian Gulf. Later, we visit the Ras Al Jinz Turtle Center to meet the sea turtles. Don't forget to stay hydrated and prepared for the sun's intensity!
Included: Sandboarding in the desert and car rental.
Money pot: Petrol and entrance fees.
Not included: Meals and drinks.
Turtle Beach
20 %
80 %
The Bimmah Sinkhole
After a delightful encounter with friendly turtles, we head to Wadi Shab, where nature's beauty shines amidst harsh deserts and rocks. A short walk leads us to the stunning Bimmah Sinkhole, a renowned spot in Oman. Embracing the temptation, we put on swimsuits and dive into the refreshing waters without hesitation.
Included: Car rental.
Money pot: Petrol and entrance fees.
Not included: Meals and drinks.
NOTE: Sea turtles follow seasonal routes and the best time to spot them is in the summer, from April to September.
Relax on the beach and return to Muscat
70 %
30 %
On the way to the capital
For the adventurous souls, an early morning sunrise at the beach awaits. The morning is free for beach relaxation. Later, we head back to Muscat, savouring the last moments of our journey to immerse in Oman's captivating culture. Exploring the city, we seek out a typical restaurant to indulge in delicious local dishes.
Included: Car rental.
Money pot: Petrol and entrance fees.
Not included: Meals and drinks.
Muscat
30 %
50 %
20 %
Exploring the capital
Our final day starts at the Mutrah fish market, with a chance to take a half-day boat trip for sea adventures or visit the Great Mosque and Opera House for cultural experiences. In the lively Mutrah souq, we shop for handicrafts and local specialties. A farewell dinner marks the end of this incredible journey. Let's cherish this last evening together!
Included:Car rental.
Money pot: Petrol and entrance fees.
Not included: Meals and drinks.
Check-out
We have to say goodbye: see you at the next WeRoad adventure! You are free to leave whatever time suits you on this day.
End of services. The itinerary may undergo some variations that differ from what is stated above. These variations may not be foreseen or dependent on WeRoad's control, i.e. climate conditions, national holidays, strikes, etc.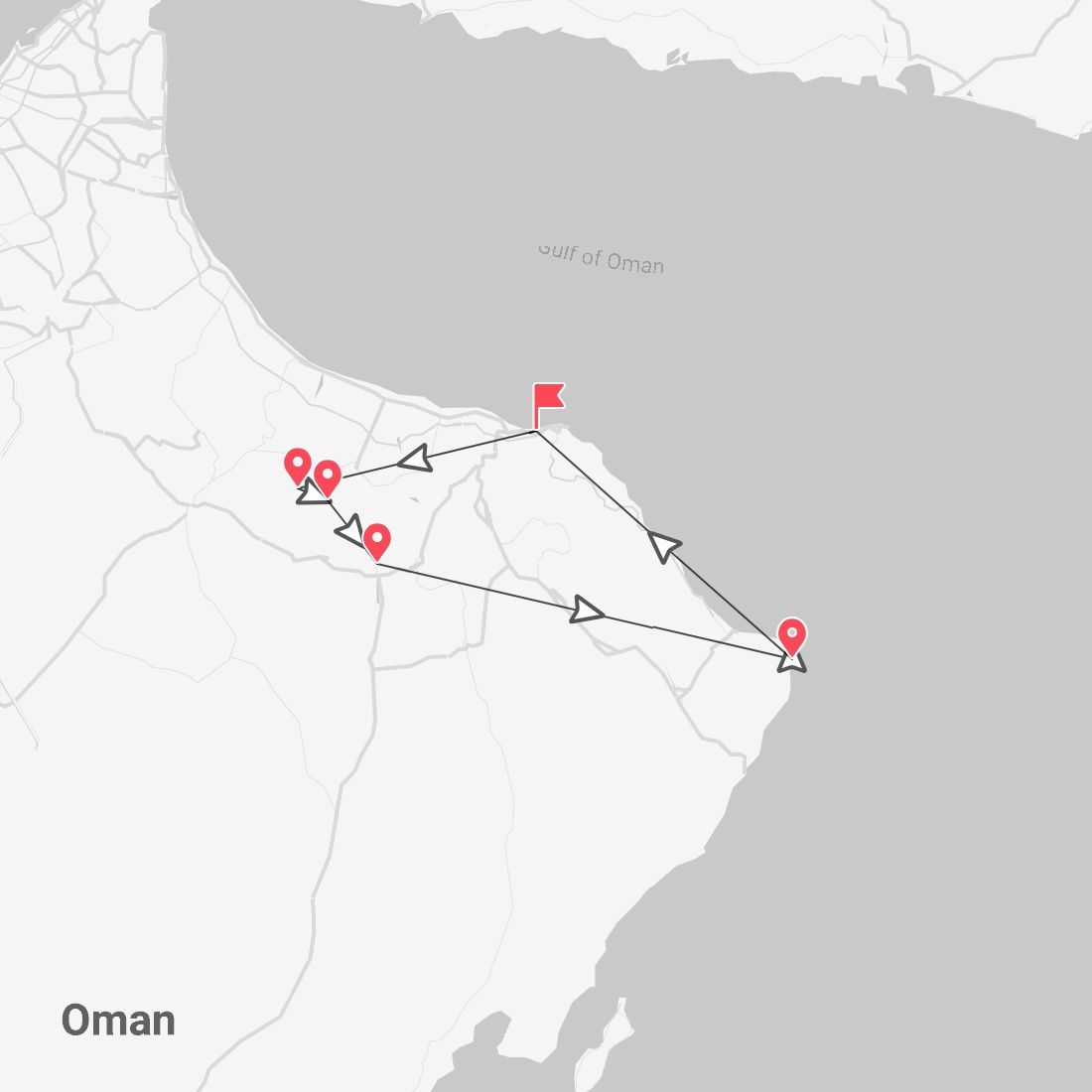 Show maps