Itinerary - Jordan 360°: Petra, Wadi Rum and the Dead Sea
Welcome to Jordan!
100 %
Check-in
Round trip flights are not included in the package, so you can choose from where and when you want to fly. This is to give you maximum freedom of choice!
Check-in at our hotel in Amman, then it's time to kick off this trip with a wander round the local souk, where there's always something for everyone!
Wadi Mujib and the Dead Sea
90 %
10 %
The Wadi Mujib River
Who's ready for some adventure? After a short journey we'll find ourselves in one of Jordan's most scenic areas: the Wadi Mujib River!
It is time to hike the Wadi Mujib, a river surrounded by a nature reserve with a majestic canyon. We'll be trekking against the current, clambering over the rocks (so let's be prepared to get wet!) until the grand finale.... a dip in the impressive waterfall! There are several routes of varying difficulty, so the group can decide what works best for them together!
Floating in the Dead Sea
And we're off to float in the Dead Sea to tick it off the bucket list! The Dead Sea water is ten times saltier than the ocean making it much more dense...sinking won't be an option but a rejuvenating natural mud bath could be!
Included: overnight stay, minivan with driver
Money Pot: local guide and admission fees (if any)
Not included: food and drinks

PLEASE NOTE: Wadi Mujib hikes are closed from October to March. For the departures between these months, the Travel Coordinator will organise alternative excursions.
Kerak Castle and Little Petra
100 %
Kerak Castle
It's an early start today because we will travel several miles towards Petra!
However, there will be chances to stretch those legs on the way, stopping by one of the many castles that dominate the picturesque scenery.
Kerak Castle is the second largest castle in the region and the most important crusader castle in the Middle East after the Syrian one. Ready to explore its fascinating history?
Little Petra
Siq al-Barid canyon is located a few miles from Petra and here we will admire architecture similar to the one in Petra, but smaller in size, hence the name of Little Petra. The atmosphere will immediately make us step back in time, with sculptures of ancient divinities carved from the stone.
For those in search of the perfect souvenir, now it's time to wander around the stalls selling handicrafts made by the locals. Tonight we have a wonderful experience: a dinner at the Jordan Heritage, a non-profit association, where we will have the opportunity to immerse ourselves in local history, traditions and culture.
Included: overnight stay, minivan with driver, dinner
Money Pot: local guide and admission fees (if any)
Not included: other food and drinks

Petra
60 %
40 %
Splendid Petra
And here we are in Petra, a sight that will leave us breathless!
A beautiful narrow gorge leads us to the famous Treasury, a carved stone structure, built to house the tomb of Areta III.
We will then continue our visit by entering the Street of Facades, where more than 40 tombs carved into the rocks can be admired. After that, we're off to the top of the Jebel Madbah and then down to see temples, tombs, a palace and a Byzantine Church, famous for its floor mosaics. The ancient Theatre boasts a capacity of around 3,000, whilst In the old Roman part of the city we'll be able to admire the Great Temple, dedicated to the Nabatean divinities, as well as the Qasr al-Bint ruins, the palace of Pharaoh's daughter and the medieval castle ruins.
Along the path that leads to the Monastery, we will see the biggest monument of the entire site: the Winged Lion Temple.
Selfie time, we're in one of the seven wonders of the modern world!
Included: overnight stay, minivan with driver
Money Pot: local guide and admission fees (if any)
Not included: food and drinks

Wadi Rum Desert
90 %
10 %
In the middle of the desert
More adventure awaits...Wadi Rum here we come!
Wadi Rum is an amazing desert surrounded by red-coloured rocks and impressive mountains. From the visitor center, we're off on a four-wheel drive vehicle to explore the desert of Lawrence of Arabia.
Among all the unforgettable hidden gems the extraordinary Um Fruth Bridge stands out – it's a suspended rock bridge in the middle of the desert and one of the most photographed spots in the whole of Jordan. After such an intense and exciting day, it's time for a typical Bedouin dinner and a chance to stargaze while sleeping in a Bedouin tent in Wadi Rum. Will we spot any shooting stars?
Included: minivan with driver, 4x4 excursion in Wadi Rum, Bedouin dinner, overnight stay in the desert camp, breakfast
Money Pot: local guide
Not included: extra food and drinks
The Red Sea
100 %
Aqaba
The last stop before heading back to Amman is the seaside city of Aqaba for a day of pure relaxation. The Red Sea with its crystal clear water is the ideal place for divers, as you can spot corals as well colourful fish and giant turtles. There'll be plenty of options to keep ourselves entertained: shall we opt for a water sport or a boat tour? Whichever our choice, let's end the day celebrating with a nice cold beer at sunset.
Included: overnight stay, minivan with driver
Money Pot: local guide and admission fees
Not included: food and drinks
Amman City
50 %
35 %
15 %
The Old City
We'll leave early in the morning to reach Amman, ready to discover the hidden corners of this fascinating city! Old Amman was built on 7 hills like Rome and, in fact, it boasts Roman ruins, like the columns of the Temple of Hercules. From a panoramic viewpoint we'll get a bird's-eye view of the Roman Theatre, the main square with its fountain and the Odeon, an amphitheatre where live music is performed every night!
The other side of Amman
Jabal Amman is a modern district just a few minutes away from the centre. On our way there we will stop at the King Abdullah Mosque, the only mosque in the city that is open to visitors. Shopping in Amman is a must, and we can find goods ranging from international designer clothes to locally produced items like precious stones and metals.
Rainbow Street
This is Amman's most vibrant street! Why not spend the last hours in Jordan hopping from cafés to souvenir shops and have some fun!
As our tour comes to a close, we gather for a memorable finale – a cooking class where we unlock the secrets of the local cuisine.
It has been an incredible adventure, immersing ourselves in a timeless culture and country. Here's to the unforgettable moments we've shared together, cheers!
Included: overnight stay, minivan with driver, cooking class
Money Pot: admission fees
Not included: food and drinks

Check-out and goodbye
Check-out and goodbye – until your next WeRoad adventure!
End of services. The itinerary may undergo some variations that differ from what is stated above. These variations may not be predictable nor depend on WeRoad's will, i.e. climate conditions, national holidays, strikes, etc.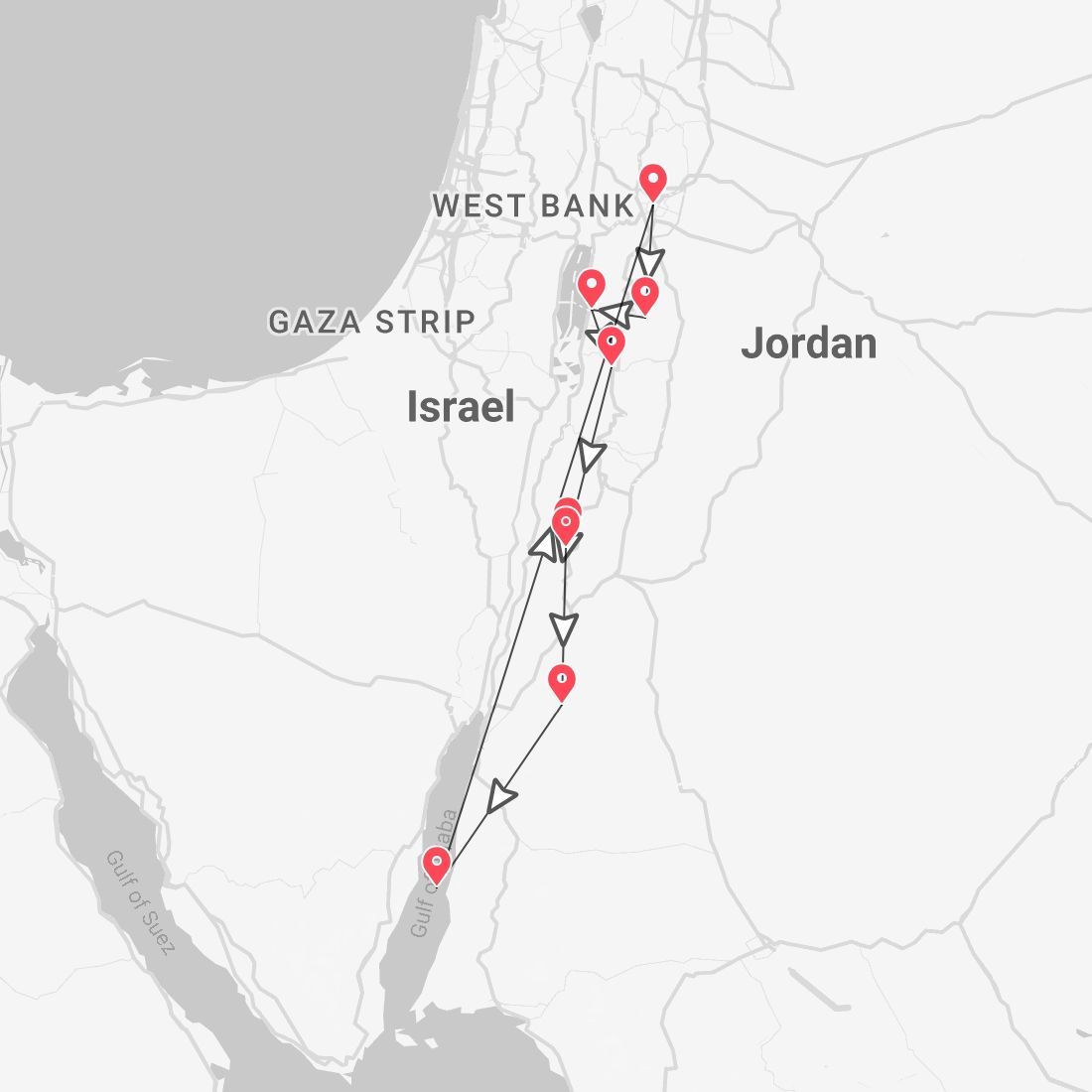 Show maps