Itinerary - Iceland: Northern Lights and the Golden Circle
Welcome to Iceland
100 %
Reykjavik
Round trip flights are not included in the package, so you can choose from where and when you want to fly. This is to give you maximum freedom of choice!
Check-in to your hotel in Reykjavik and then meet the rest of your group! What better way to get to know each other than over Icelandic culinary specialities in a beautiful setting? Meat and fish are excellent here, especially when accompanied by a good local beer. Here's to the start of your adventure!
Snaefellsnes Peninsula
100 %
Kirkjufell
Today, we pick up our rental 4x4 cars and head to the Snæfellsnes peninsula in Iceland. The Snaefellsjokull volcano, famous from Jules Verne's novel, awaits us.
For lunch, we visit Stykkisholmur, a picturesque fishing village with Danish-style houses, a charming port, a modern church, and breathtaking viewpoints. It's a delightful place with healing hot tubs to relax in.
Tonight, we're in search of the best northern lights. Kirkjufell mountain, known from Game of Thrones, serves as a stunning backdrop for capturing the aurora borealis.
Included: car rental
Money pot: petrol and any entrance fees
Not included: food and drinks
The Golden Circle
50 %
50 %
Geysir
The name already explains what we are about to admire: the word geyser in Icelandic means "emitting in streams" and that is exactly what we will see: boiling water "shot" tens of meters high at a constant rate!
Gullfoss waterfall
Completing the Golden Circle is a majestic waterfall, Gullfoss , formed by two falls totaling 32 meters in height. Often, thanks to favourable climatic conditions, it is accompanied by a brilliant rainbow. We arrive on foot, with an easy dirt path, after which… there will be only us and the beauty of the waterfall, in a wonderful contemplative silence.
Included: car rental
Money pot: petrol and any entrance fees
Not included: food and drinks
En route to Vik
100 %
On the road
We rise early to capture the beauty of dawn and then continue our journey towards Vik. With only a few hours of driving today, we have the luxury of taking our time and making several stops at the most photogenic spots along the way, particularly those offering breathtaking views of the Hekla volcano.
Black beach
Just before reaching Vik, we discover the Dyrholaey viewpoint, a rocky plateau adorned with a magnificent stone arch. Afterwards, we descend to the captivating black sand beach of Reynisfjara. Walking along this surreal dark surface is an otherworldly experience that leaves us in awe.
Hunting the lights!
The possibilities in this area are abundant, offering us a range of unforgettable experiences. During the night hours, we can embark on an aurora hunting adventure, visiting unique points of interest such as the majestic waterfalls of Skogafoss and Seljalandsfoss, the captivating Dyrholaey viewpoint, or the renowned Plane Wreck site. For the adventurous souls among us, a snowy trek leads to a free thermal water pool, open year-round, offering the perfect opportunity for a rejuvenating dip.
Included: car rental
Money pot: petrol and any entrance fees
Not included: food and drinks
Jokulsarlon Lagoon
100 %
On the road
After a hearty breakfast, we set out towards Jokulsarlon . Since the drive will be almost three hours, we will make some small stops : in Iceland the road itself, surrounded by endless green plains (in winter they will probably be covered with snow!), is an attraction to be admired!
The largest glacier in Europe
At last, we reach the mesmerizing glacial lagoon where Europe's largest glacier descends from the mountains and stretches to the beach. Here, it "dives" into the water, giving birth to numerous small icebergs that gracefully float in the bay until carried away by the current. This setting is simply unparalleled, exuding a unique and almost surreal beauty, especially when witnessed during sunset or in the midst of the night with the enchanting dance of the northern lights illuminating the sky.
Included: car rental
Money pot: petrol and any entrance fees
Not included: food and drinks
Skogafoss and Seljalandsfos
100 %
Skogafoss
An essential stop in Iceland is Skogafoss, a breathtaking waterfall that leaves you in awe. The interplay of light creates magnificent rainbows, both in the air and reflecting in the water among the rocks. A well-maintained stepped path allows easy access to the top, offering a panoramic view from above. Standing so close to the plunging point, we'll be overwhelmed by the powerful rush of water cascading onto the black beach. There's also a nearby tourist office with souvenirs and a refreshment point where we'll enjoy a lunch break.
Seljalandsfoss
Among Iceland's numerous waterfalls, Seljalandsfoss stands out as a unique spectacle. What sets it apart is the opportunity to witness it from behind. With the appropriate waterproof gear and sturdy footwear, we can venture to the back and marvel at the cascading water up close. This remarkable experience allows us to capture extraordinary photos from within a captivating cave, surrounded by black rocks. It's an exhilarating adventure that leaves a lasting impression!
DC 3 Plane
As we make our way towards Skogar, we mustn't miss the search for the DC 3 wreckage. This American plane crash site in the midst of the Icelandic black desert holds a captivating allure. Witnessing it during sunset or at night evokes a melancholic and poignant atmosphere. The sight of the wreck submerged in the black sands, so near to the seashore, is truly fascinating and leaves a lasting impression.
Included: car rental
Money pot: petrol and any entrance fees
Not included: food and drinks
Sky Lagoon
20 %
60 %
20 %
En route to Reykjavik
Continuing our journey towards Reykjavik, we'll have some free time to explore the city. We can indulge in shopping, with numerous flea markets to choose from, including the renowned Kolaportid. For those interested in culture, there are fascinating museums to visit. If relaxation is on our agenda, we can unwind at one of the well-equipped municipal swimming pools, such as those in Laugardalur Park or the thermal beach of Nautholsvik.
Sky Lagoon
In the afternoon, we relax in the thermal waters of Sky Lagoon, surrounded by a mesmerising lunar landscape. It's a truly amazing experience to soak in the hot pools, enjoying the stunning ocean view.
At night, we dive into Reykjavik's vibrant nightlife. Live music concerts and extravagant shows abound, keeping us entertained until the early morning hours.
Included: car rental and entrance to Sky Lagoon
Money pot: petrol and any entrance fees
Not included: food and drinks
Check-out and goodbye
Check-out and goodbye – until your next WeRoad adventure!
End of services. The itinerary may undergo some variations that differ from what is stated above. These variations may not be predictable nor depend on WeRoad's will, i.e. climate conditions, national holidays, strikes, etc.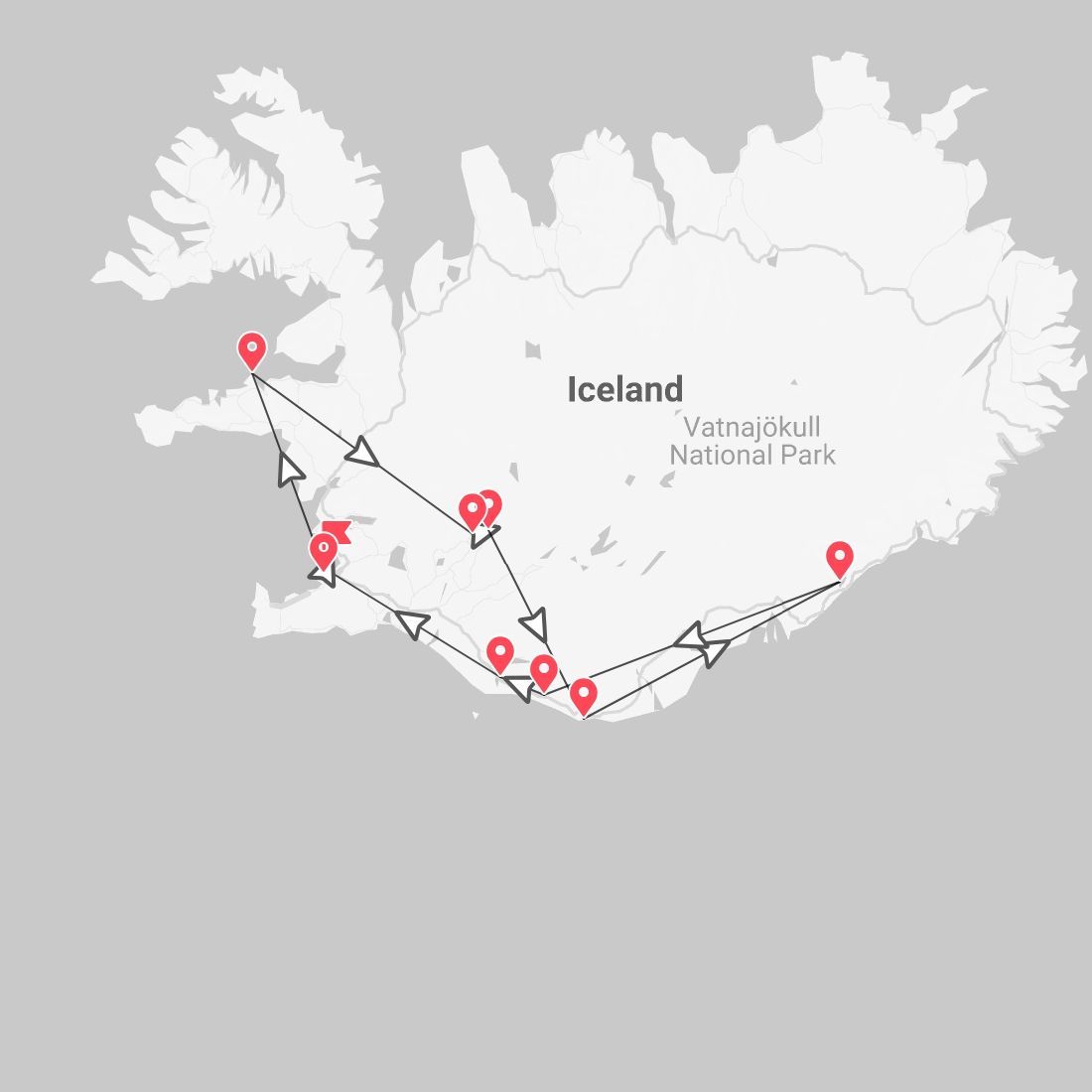 Show maps