Itinerary - Cuba 360°: from Havana to Trinidad
Welcome to Cuba!
100 %
Check-in
Flights to and from the UK are not included in the package, so you can decide from where and when you want to leave! This gives you complete freedom of choice to adjust your travel itinerary to your needs.
Check into your local homestay in Havana. Get ready, this is the start of our adventure in one of the most joyful and fun-filled countries on the planet!
Not included: Meals and drinks
Viñales
100 %
Heaven on earth
We set off from Havana to reach Viñales, a small town cradled by a nature reserve park and home to just a few thousand inhabitants. Surrounded by breathtaking scenery, Viñales is a typical example of Caribbean life.
World-famous Cuban cigars are predominantly produced in… yep, you got it right, in Viñales! When we're there it'll feel like the set of a film – WeRoaders on horseback, surrounded by stretches of tobacco plantations and mixing with the locals. Needless to say, not only will we see how the cigars are produced, but we'll be able to try them (and it's perfectly legally to bring a few back home, don't worry!).
What a better way to start getting to know each other than with Cuban specialities at our welcome dinner? Arroz con pollo, some ajiaco... and of course plenty of cuba libres to toast to the beginning of our adventure.
Included: transfer from Havana to Viñales, welcome dinner, horse ride, plantation entrance fee
Money Pot: local transport
Not included: meals and drinks
Cayo Jutías
100 %
Beach, nature and culture
We're off to the coast today! Just an hour away from Viñales, the white beaches and crystal clear water of Cayo Jutías await us, but first there is an unmissable stop: the Mural de la Prehistoria. This painting has gone down in history for being the largest open-air mural in the world – it took 4 years to finish! It was designed by ​​Leovigildo González Morillo and 40 people worked with him to complete it. A quick group photo and we're back the minivan on our way to our first Caribbean beach! We need to find the chiringuito (beach hut) that offerts the best piña coladas – served directly inside a coconut!
We will spend the day basking in the sun and enjoying the sea – or maybe having long walks to reach the mangrove forests that grow directly into the sea: the perfect place to take breath-taking photos which will make your colleagues back in the office so jealous! Alternatively, we can opt for a boat trip to Playa de Las Estrellas. This is an unspoiled white-sand beach with crystal clear water filled with so many wonderful starfish – but please don't touch them!
In the evening we'll return to Viñales where we will have the chance to experience the famous Cuban hospitality – and who knows, perhaps we'll be taught a few steps of salsa!
Money Pot: transport and entrance fees if any
Not included: Meals and drinks
Matanzas
50 %
50 %
Cuban vibes
After a nice breakfast we leave Viñales for a full day of history, culture (and a bit of nature): welcome to Matanzas! Known as 'the Athens of Cuba', this is a city of bridges where the musical genres of rumba and danzon apparently originated. On our way to Matanzas, though, a quick stop on Bacunayagua Bridge is a must-see to take in the best views of the Yumuri Valley.
Once in Matanzas in the early afternoon, a new adventure awaits. We take the back seat of a moped (with driver) for an relaxing 20-minute ride to the mouth of the Canímar River. Change of transport: off the mopeds, on board 4-seater small boats – and we'll be the ones in control this time as we explore the Canímar River in small groups. This will be an opportunity to discover indigenous culture and traditions from a different point of view.
So now let's go on a walk through the city – Libertad Square, the Cathedral and Vigia are enough to feel the real Cuba. A few minutes away from the town centre we could also visit Bellamar Caves, San Severino Castle and Monserrate Church. As night falls, why not sipping a drink by the bank of the San Juan River? Salud!
Included: transfer from Viñales and Matanzas
Money Pot: boat excursion with motorbike transfer, other transportation and entrance fees if applicable
Not included: meals and drinks
Varadero
100 %
Caribbean beaches to the full
Only 30 minutes away from Matanzas and here we are by the picture-perfect sand and crystal-clear water of Varadero – a 22 kilometre-long white-sand beach for a day of total relaxation. On our way to Varadero, we will also stop at Saturno's Cave or Playa Coral (the coral beach) for some snorkelling or diving. We'll have all day to enjoy the best of the Cuban sea, then it's back to Matanzas for dinner! Overnight stay in Matanzas.
Money Pot: Transport & entrance fees if any
Not included: Meals and drinks
Trinidad via Santa Clara
80 %
20 %
The heart of Cuba
Adiós Matanzas, next on our list is Trinidad. First though, let's stop in Santa Clara, which is famously known for the battle where the dictator Batista was defeated by Ernesto 'Che' Guevara and his revolutionary forces. We'll also have the chance to visit Che Guevara's mausoleum, where we'll be able to trace back all the key moments that shaped Cuba's modern history.
Later in the day we'll arrive in the pristine streets of Trinidad, which are peppered with colourful buildings and warm Cuban hospitality. The atmosphere of the streets is unparalleled – music fills our ears whilst our stomachs will be filled by the freshest fish and fruit. We'll have dinner on a terrace, enjoying a mesmerising rooftop view of the city. As the night draws in, the music gets louder, all set for the steady flows of piña coladas and mojitos!
Included: transfer from Matanzas to Trinidad
Money Pot: local transports and any admission fees where required
Not included: meals and drinks
Topes de Collantes Nature Reserve Park
40 %
40 %
20 %
Forests and waterfalls
Buenos días, it's time for more adventure! Topes de Collantes is a fascinating nature reserve park situated just outside Trinidad. We're off to the Cuban jungle today – here we'll be hiking accompanied by giant butterflies, vibrant hummingbirds and tropical plants. Yep, it probably will be hot and humid, but the sweat is definitely worth the views! Our destination is Caburní on a trail lined with thick, lush vegetation and breathtaking panoramic views. We'll walk through coffee plantations and traditional Cuban villages before arriving at the famous Salto del Caburní waterfall, where glinting natural pools await. Anyone up for a refreshing dip?
We'll then head back to joyful Trinidad for dinner and, if you remembered to pack your dancing shoes, it's salsa lesson time!
Money Pot: local transports and any admission fees where required
Not included: meals and drinks
Playa Ancón
50 %
50 %
Boat tour to Cayo Blanco
In the morning we'll be driven down to Playa Ancón, one of the most beautiful beaches on the Cuban coast. White sand, turquoise waters, beach huts, straw parasols and palm trees... Playa Ancón is the perfect place to wind down.
Right before lunch we'll get on on a catamaran to Cayo Blanco… feeling just like Pirates of the Caribbeans! It wouldn't be a proper day by the sea without a boat trip – which will be topped with mojitos and cigars all day long. Once we're back on dry land we'll just have to wait for the right moment: a group picture at sunset on the Cuban seaside is a must do!
Included: catamaran boat tour
Money Pot: local transports and any admission fees if any
Not included: meals and drinks
Snorkelling, diving and delicious lobster in Playa Girón
100 %
Playa Larga or Playa Girón?
We'll leave Trinidad after breakfast and in less than 3 hours we will be in Playa Girón. Playa Larga and Playa Girón are two beaches overlooking the Bay of Pigs, which is particularly sought out by diving enthusiasts! We'll be in the perfect place to practise our snorkelling skills, the sea is warm and crystal clear making the rainbow-coloured fish and corals a lot easier to see! We'll seek out a traditional restaurant for lunch, which provides the perfect opportunity to try the local seafood. Lobster anyone?
Included: transport from Trinidad to Playa Giron
Money Pot: local transports and any admission fees if any
Not included: meals and drinks
Back to Havana
70 %
30 %
Back to the capital
Once we get to Havana, we'll have a refreshing drink by El Malecón – the famous promenade is the perfect place to admire pre-revolution architecture, grab a bite from one of the many restaurants and even hail a Cuban bike taxi – just make sure you do some haggling!
Did you know that Cuba's most popular drink isn't actually rum-based cocktails, but beer? Fuerte Bucanero or a Cristal, the choice of cerveza is yours!
Included: transfer from Playa Girón to Havana
Money Pot: local transport and entrance fees if applicable
Not included: meals and drinks
Walking the streets of Old Havana
40 %
40 %
20 %
The magic of Old Havana
Our day begins with a guided tour of Old Havana, a UNESCO world heritage site. We'll try to capture the essence of this historic neighbourhood through its vintage American cars, the former party venues from the prohibition era and the Bacardí Palace where the renowned rum used to be produced. We'll explore iconic landmarks like the Payret cinema, the legendary Floridita bar, as well as and the captivating Plaza de Armas, Plaza Vieja and Plaza de la Catedral. Finally, we can relax sipping a mojito at Bodeguita del Medio, a cherished spot frequented by literary icons Hemingway and Neruda.
Vintage car tour
Our exploration continues as vintage cars drive us through the captivating streets of Havana for the next two hours. We'll visit the iconic Plaza de la Revolución, featuring the faces of Che Guevara and Camilo Cienfuegos, as well as the majestic memorial to Jose Martí. We will then move west towards the enchanting Fusterlandia district, adorned with colourful mosaics by artist José Fuster, which will transport us into a whimsical world. For a memorable finale, we'll go up to Morro Castle to watch a mesmerising sunset and perhaps witness the historic cañonazo ceremony.
Now let's find a nice local restaurant for our last dinner together in Cuba!
Included: guided walking tour and vintage car tour of Havana
Money Pot: local transport and entrance fees if applicable
Not included: meals and drinks
Check-out and goodbye
Check-out and goodbye – until your next WeRoad adventure!
End of services. The itinerary may undergo some variations that differ from what is stated above. These variations may not be predictable nor depend on WeRoad's will, i.e. climate conditions, national holidays, strikes, etc.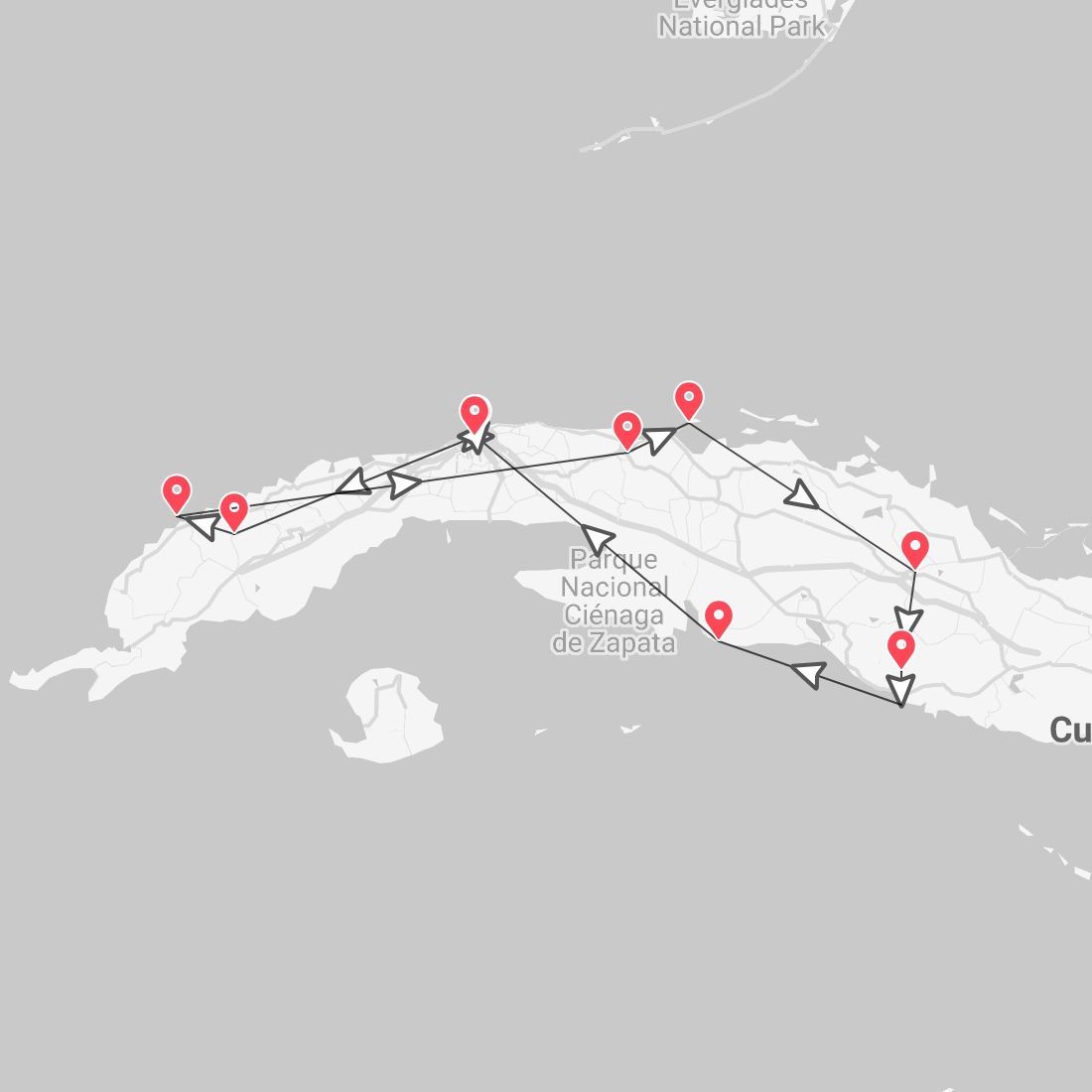 Show maps