Itinerary - Route 66: on the road from Chicago to LA
Welcome to the United States
100 %
Welcome!
Arrive and check-in at your hotel in Chicago. We are in the "Windy City", as Chicago is nicknamed . The wind here is actually a constant - but a little breeze that comes from the immense Lake Michigan , which the city overlooks, certainly doesn't scare us. Let's start exploring the city - with The Bean as our first stop! Then let's have a taste of Chicago's most famous dish… yes, you're right - the deep dish pizza! Will this pizza win us over or will we remain faithful to the original? We will find out!
Not included: meals and drinks
Chicago
50 %
30 %
20 %
Lets discover the city
We have a full day to explore Chicago and all it has to offer. We will take part in a guided tour - for sure the best way to discover the hidden gems of the city. Here, the skyscrapers are plentiful and the skyline decidedly iconic – among the most famous skyscrapers here is the Willis Tower , where you can take a stroll into the void - literally. Yes, in the observatory you can walk on a ledge made entirely of glass more than 400 meters high - definitely not suitable for vertigo sufferers! But if you enjoy a thrill, you will absolutely love this.
After seeing the city from the sky, let's get back down to earth and make another leap to Millennium Park to take a few more selfies in front of the big bean - then we can decide together what to do: we can go to Navy Pier, full of shops and attractions, or pop into one of the many museums. Another option: a mini cruise along the river past the skyscrapers, definitely a different perspective on Chicago! We then return to the hotel to take a quick shower before our first dinner - what will American cuisine offer us?
Money pot: entrance fees and excursions
Not included: meals and drinks
From Illinois to Mississippi: Pontiac, Springfield and St. Louis
30 %
70 %
40 %
But are we really on Route 66?! The dream come true
Finally today begins our real journey on the road : ready to head down Route 66 ? Where can we pick up the cars that will accompany us on the road, if not in Pontiac? We reach this suburb of Illinois which has the same name as that of Michigan where the first factories of General Motors were built, the famous US parent company, among others, of Cadillac and Chevrolet. Time to have the keys in hand, take a group photo in front of the mural that indicates the beginning of Route 66 and finally... we're off! The first kilometers will be the most exciting: we are on the most famous road in the world! We get to grips with the asphalt until we get to the small town of Springfield , the capital of Illinois, where we stop for lunch - grilled cheese everyone?
From Springfield to St. Louis
We take a stroll through Springfield, where President Lincoln also lived (in fact there are statues, murals and museums dedicated to him dotted around) and then we set off again, towards St. Louis , saying goodbye definitively to Illinois and entering the state of Missouri . This city sits along the banks of the longest river in the United States, the Mississippi , and is famed for its blues-related music culture - we've traveled a long way south and already notice the differences from more cosmopolitan Chicago. Let's take a walk around the city, starting from its symbol, the Gateway Arch (the tallest arch in the world) and perhaps choosing a place with live music for tonight.
Included: car rental
Money pot: petrol, tolls and excursions
Not included: meals and drinks
In the Heart of Missouri
30 %
60 %
Good morning America! We wake up early and are ready to hit the road: this morning the road takes us to the heart of Missouri , both figuratively and literally! We move immediately towards Cuba (no, not the island!), a town full of murals where we can stop for a coffee and then restart the engines and head towards the Meramec caves , impressive caves with spectacular rock formations! We return to the surface and get back on the road, reaching Rolla , where we stop for two reasons: the first, to visit the Totem Pole Trading Post, which is apparently the longest-running business on Route 66 in all of Missouri (established in 1933!); the second, we are hungry! So we stop to eat something - hamburger and fries (and milkshake, in good American tradition)?
On the Missouri / Kansas border
You won't believe it, but today we also stop… in Springfield (no no, it's not the same Springfield as yesterday!) After taking a look around, we then set off again to… another state! It seems impossible, but in 3 days we have already crossed two! We reach Galena , famous because here we can see scale reproductions of the famous cars from the film "Cars" - the customary photos are practically obligatory for everyone. We have dinner in this quirky town on the Missouri-Kansas border and then we arrive at the hotel - tomorrow we have a lot of miles to go and new places to see!
Included: car rental included
Money pot: petrol, tolls and any entrance fees
Not included: meals and drinks
From Kansas to Oklahoma: Catoosa, Tulsa and Oklahoma City
40 %
40 %
20 %
On the road
In case it wasn't clear: yes, we are traveling along Route 66, but we are also crossing three quarters of the United States, passing through what are perhaps its most eccentric and exciting places. This morning is no different: the first stop is in Catoosa , where we find a… whale ? Yes, a kind of work of art that has become one of the symbols of Route 66 has exactly the shape and appearance of a whale: we stop here and, as always… the ritual selfie! We get back on the road and say goodbye to Kansas, entering the state of Oklahoma - we are pushing further and further west, after having crossed the immense plains that make up the landscape of the centre of the States. There's no shortage of farms here, as well as cornfields - maybe we'll even see aliens? Hanz Zimmer is a must for the playlist.
Like cowboys: boots and hats at hand
We stop in Tulsa for a Mexican lunch - as well as going west, we've also moved south, meaning we are now in the land of cowboys, and we realise it in Oklahoma City , the state capital, where there is no shortage of cowboy boots and hats and that strange feeling of being in the middle of a film with Morricone's soundtracks. Here we have to stop in Stockyards City , a real western "village" where we can find everything - will any of us buy cowboy boots? We also stop in the city for the evening and take a stroll through the downtown district known as Bricktown - there is no shortage of restaurants here, and for sure we have to try something local. Steakhouses are hugely popular, as are fried chicken and deep-fried pickles - our arteries must be jumping for joy by now.
Included: car rental included
Money pot: petrol, tolls and any entrance fees
Not included: meals and drinks
The history of Route 66: Elk City, Shamrock and Amarillo
20 %
60 %
40 %
Time for Texas
Another day, another journey: this morning we reach Elk City , where we immerse ourselves in the history of Route 66 by visiting the museum of the same name. Inspired by those who have traveled this famous road before us, which runs from Illinois to California, we're back on the road - today we'll be on the road for lunch, so let's keep our eyes open in case we come across a typical diner that inspires us.
We will continue until we arrive at Shamrock - and yes, we have officially entered Texas ! If we bought cowboy hats or boots yesterday, the time has undoubtedly come to wear them and feel part of the local population! In Shamrock we stop at the U-Drop Inn , an example of art deco applied to a gas station - definitely unique! We continue along Route 66, enjoying the ride (undoubtedly the most beautiful part of this itinerary) until we arrive in Amarillo , a lively Texan town where we stop for the night - and to eat! Have we tasted pulled pork yet? One thing is certain: in these parts we will not be hungry.
Included: car rental included
Money pot: petrol, tolls and any entrance fees
Not included: meals and drinks
From Texas to New Mexico: Tucumcari, Santa Rosa and Santa Fe
50 %
50 %
New Mexico
We get up early and have a nice breakfast (one of the best things in the States!) with bacon and eggs and then, before setting off, we stop at the Cadillac Ranch , a monumental sculpture on display outdoors - a series of scrapped Cadillacs that seem to sprout from the ground, a tribute to Bruce Springsteen's album "The River". Let's take some pictures and then it is time to say goodbye to Texas. We continue our journey along Route 66 continues west and end up in New Mexico! We make a stop at the Blue Swallow Motel , one of the symbols of Route 66, and then head to Santa Rosa for lunch, which we do in one of the various Route 66 themed diners.
Santa Fe
In the afternoon we head towards the heart of New Mexico and reach Santa Fe , which holds lots of charm! Here, we park the cars and stretch our legs, taking a stroll in the centre, the Old Town, with the Cathedral Basilica of San Francesco d'Assisi and Santa Fe Plaza, the heart of Santa Fe. Here, we take a break from the hamburgers and fries and treat ourselves to a typical Mexican dinner in a traditional restaurant - if not here, where?!
Included: car rental included
Money pot: petrol, tolls and any entrance fees
Not included: meals and drinks
Relax in Santa Fe
60 %
40 %
It's time to relax!
We have now reached the middle of the journey and we can safely admit it… all these kilometers are starting to take a toll! Because of this, we have decided to not change accommodation for tonight so we can all chill out a bit. We will spend all day in Santa Fe, so we can relax a bit, do some laundry (yes, we know you need it!) and enjoy the city properly.
Included: car rental included
Money pot: petrol, tolls and any entrance fees
Not included: meals and drinks
From Santa Fe to Gallup via Albuquerque
40 %
60 %
Walter White, is that you?
Ready to step into a movie? Actually no, sorry... a TV series! We set off early in the morning and reach Albuquerque, which has become quite famous after the very famous series "Breaking Bad" - where it is set - and therefore if we feel a bit in the mood of the show, don't worry. The important thing is that none of us rent an RV and start producing meth in the desert. Clear?
We visit the Old Town, which reminds us of Santa Fe, and then we can go to the Rattlesnake Museum , a museum dedicated to the rattlesnake, one of the symbols of this area of ​​the United States. Then we move to West Park , a vast park that sits on the banks of the Rio Grande River, where we can lie in the sun and enjoy some peace and quiet.
Desert immersion
After visiting Albuquerque we will arrive in Gallup, a town close to the New Mexico border, where we stop to explore the surroundings. We can take a walk to Red Rock Park , where we can finally see the rock formations with the typical reddish colour of this area up close. We spend the evening and the night in Gallup, immersed in the desert.
Included: car rental included
Money pot: petrol, tolls and any entrance fees
Not included: meals and drinks
Finally in Arizona: Painted Desert, Petrified Forest and Holbrook
50 %
40 %
10 %
In the footsteps of the blues
Bye bye New Mexico, it's time to cross the Arizona border ! Can you feel the Pacific Ocean breeze from here? Metaphorically speaking, of course: we are in the middle of the desert! We certainly notice it in the Painted Desert , located in the eastern end of the Grand Canyon Park , which is today's first stop: ready to be amazed? This desert is composed of stratified faults that date back to the Triassic - erosion has since made all these layers visible, which make the rocks multicoloured.
After the painted desert, the petrified forest awaits us! The Petrified Forest National Park has the unique feature of containing an incredible amount of fossilised tree trunks, which date back more than 200 million years. A real open-air museum that will leave us breathless - we explore the park and then, very hungry, we reach Holbrook , where we stop to eat at the famous Joe and Aggie's Cafè (a must on Route 66) and to spend the night.
Included: car rental and admission to the Petrified Forest National Park
Money pot: petrol, tolls and any entrance fees
Not included: meals and drinks
At the edge of the Golden State: Sedona to Kingman
20 %
40 %
40 %
In the middle of the desert
Arizona is giving us the most unique landscapes: even this morning it won't leave us dry as we push towards Sedona. But we certainly don't stop in the city, we continue towards… a meteorite crater! We are in the middle of the desert , where, about 50,000 years ago, a meteorite crashed and in doing so has left its mark up to the present day: with a diameter of about 1,200 meters and a depth of 170, it is an incredible natural spectacle. Shall we bring breakfast all the way here? Because how many of us will ever be able to say that they drank coffee sitting on a crater created by a meteorite?
On the edge of the Golden State
The surprises don't end here: we continue in the Sedona area until we reach the Red Rock Crossing , where an easy trek awaits us that takes us in the presence of rock formations with an intense red colour, called Cathedral Rock , given their resemblance to imposing cathedrals. The show is guaranteed - especially if we stay until sunset. But let us remember that more than 3 hours await us on the road : tonight we have to get to Kingman , now on the border with California . Are we ready to enter the Golden State?
Included: car rental included
Money pot: petrol, tolls and any entrance fees
Not included: meals and drinks
The grandest of canyons
50 %
50 %
Yes, it's time for the Grand Canyon
Ready for another day of adventures? Today we head towards Flagstaff , a very busy town on Route 66 because it is on the road to what everyone considers to be the most famous park in the United States… the Grand Canyon ! We don't expect much from Flagstaff except the historic centre that has the old western vibe we've become accustomed to in recent days. But let's not stop for too long here, because today's real protagonist is another... we're obviously talking about the Grand Canyon. Sure, it's not on Route 66, so that would be out of the ordinary - but we've come this far, what's another hour and a half drive to admire this natural wonder?
The Grand Canyon cannot be described - it can only be experienced. To give you an idea: before your eyes appears this gigantic rocky fault that seems to have no end, and which extends as far as the eye can reach, with its thousand shades of red, ocher and brown. A unique show that we couldn't miss: we enjoy it to the fullest, perhaps walking along some paths to go further down, towards the canyon, and then staying until sunset, the most incredible time to be here. We then return to Flagstaff to spend the evening.
Included: car rental included
Money pot: petrol, tolls and any entrance fees
Not included: meals and drinks
We enter California: Mojave desert, Calico and Barstow
40 %
40 %
20 %
Welcome to Cali!
We wake up very energized: today we will have breakfast in Arizona and then have dinner in California . We have almost reached the end of our journey, kilometer after kilometer we have crossed 6 American states and the time has come to cross the border of the last one: welcome to Cali everyone! Even today we marvel at the natural beauty of the desert - whoever thought it was a boring expanse of nothingness, well: they were so wrong! We reach the Mojave Desert - which is vast and includes the incredible Death Valley . We stop even further south than this, where the desert is equally spectacular.
We continue in the afternoon towards Calico , a " ghost town " where it will feel like we are on the set of a western film . In fact, we find some original structures dating back to the gold fever, which attracted many to reach these dispersed and arid areas with the promise of enriching themselves and fulfilling the American dream. We take some customary photos, enter a saloon and then reach Barstow , where we spend the evening. Since tomorrow we will be in Los Angeles , today is the last night we will spend in the desert: let's enjoy the stars once more.
Included: car rental included
Money pot: petrol, tolls and any entrance fees
Not included: meals and drinks
End of the road: Welcome to LA
20 %
40 %
40 %
Arriving in LA
It's already been 12 days since we began our journey Chicago and since we've crossed three quarters of the United States: today the last on the road of this trip awaits us , so let's try to enjoy it to the fullest. We leave behind the straight, endless desert roads and head back to civilisation - and we do it with a bang, as the City of Angels is among the busiest in America! We arrive in Los Angeles around lunchtime , find a diner and sink our sadness into milkshakes, hamburgers and fries.
And...... relax!
We spend the afternoon in Santa Monica , whose Pier is in fact the final point of Route 66 - again, the usual photo in front of the sign! We have reached the Pacific Ocean, starting from Lake Michigan: being here, after this incredible journey, is a unique emotion that we can only experience once in a lifetime. Let's enjoy it to the fullest! We take a ride on the pier, perhaps experiencing the thrill of a roller coaster ride, and then we wait for the sunset with a drink in our hand. It will be sad to say goodbye, after all the emotions we have experienced together, but let's toast to us and to Route 66!
Included: car rental and drinks at Venice Beach included
Money pot: petrol, tolls and any entrance fees
Not included: meals and drinks
Saying goodbye
Time to ditch our rental cars and say goodbye; our trip to the States ends here: see you soon for another WeRoad.
Please note: The tour program may undergo variations, compared to what has been published, for unforeseeable reasons and external to WeRoad's will (weather conditions, holidays, strikes, etc.).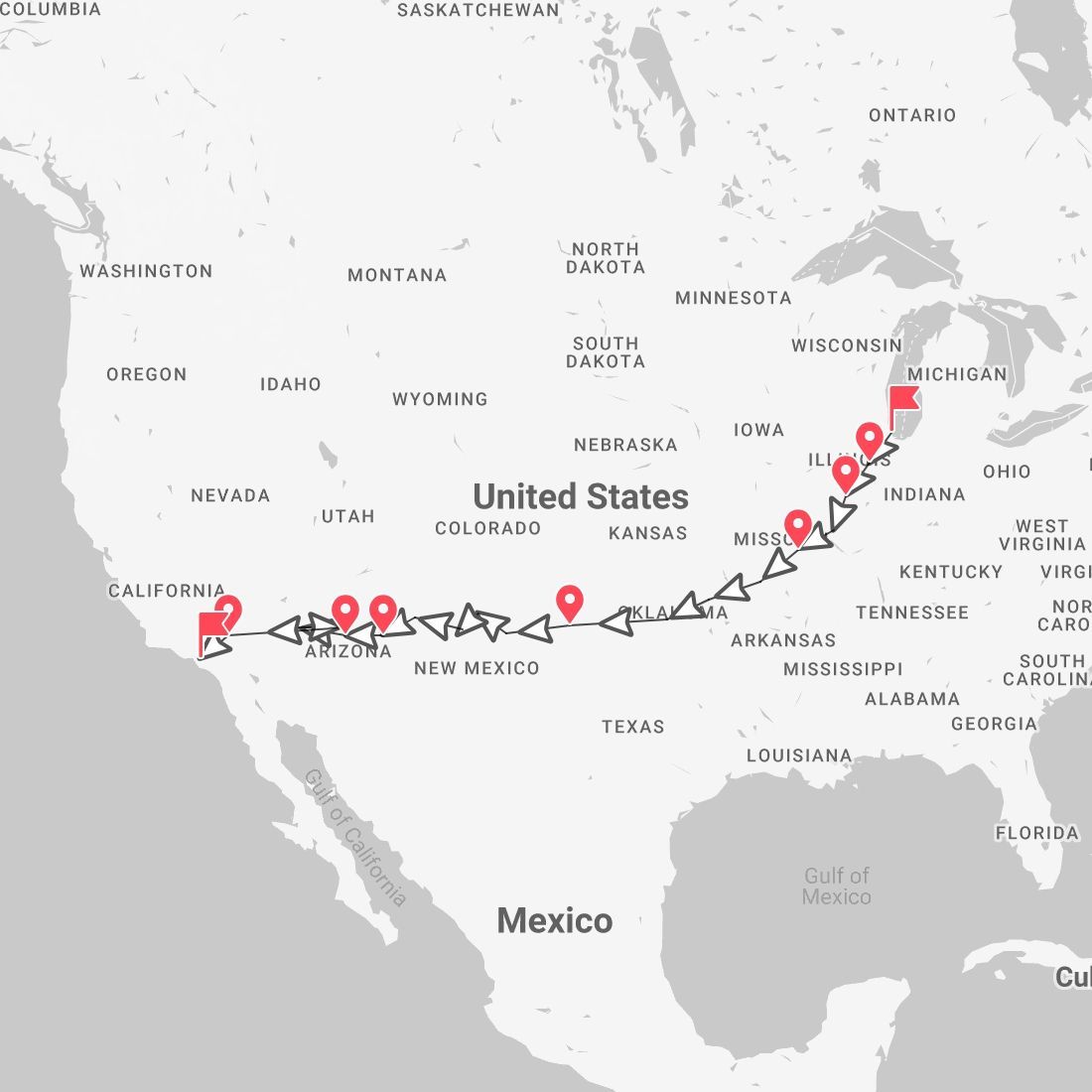 Show maps