Itinerary - India 360°: Delhi, Varanasi and the Taj Mahal
Welcome to India!
100 %
Check-in
Round trip flights are not included in the package, so you can choose from where and when you want to fly. This is to give you maximum freedom of choice!
Check-in at your hotel in Delhi and then it is welcome meeting time. Who's ready to experience the colours, the beauty, the spices, and the aromas? We know for a fact that for the next 11 days we are going to take you on an unforgettable tour of India, discovering all this amazing country has to offer. All of this, in the company of your new WeRoad friends!
The ghost town of Fathepur Sikri
50 %
50 %
A train journey to Agra
It's time to leave the capital city behind; this morning we jump on an early train all the way to Agra. Once we arrive, we get in our minivan to… the ghost town of Fathepur Sikri! The town took 15 years to build, and was completely abandoned after only 13 years; it was founded to be the crown jewel and the capital of the Mughal empire, but things didn't go according to plan. What happened? Well, come along on this tour and find out!
Afternoon in Agra
After visiting the ghost town and a tasty lunch (a bit spicy but much better than your local curry house, right?!) we head back to Agra. Tomorrow morning we'll wake up at dawn, because it's our day to visit the Taj Mahal! If we have time, we might take a walk around the park of Mehtab Bagh for a stunning view of the Taj Mahal.
Have a quick shower and then off we go: are you ready for our first dinner? Samosas, cheesy naan, biryani, tandoori chicken and even our beloved tikka masala… our mouths are watering already!
Included: train from Delhi to Agra, minivan journey from Agra to Fatehpur Sikri
Money Pot: admission fees if any
Not included: food and drinks
Taj Mahal: one of the seven Wonders of the World
Sunrise over the Taj Mahal
WeRoaders, another adventure awaits today! The alarm clocks are set at dawn, quite a common thing for this country. In fact, many tourist places state their opening hours as "from dawn to dusk", and it becomes quite hard to find exact business hours. All we can do is ask the locals what time the sun will rise tomorrow to know when the locals will head out!
As for the Taj Mahal, we won't reveal too much about it, especially its history of tragic romance, but gear up for a stellar experience!
From Agra to Gwalior
After our visit to the Taj Mahal, we head back to the hotel where a hearty breakfast awaits. We then check-out and enjoy a little tour of Agra, before heading to our next destination. The Red Fort is definitely worth visiting, as well as the little market nearby. Here you'll find colourful sarees at very competitive prices.
Before we go, we have the option to visit the Tomb of Itmad-ud-Daulah, sometimes called "Baby Taj". It's not as grand as its 'big brother', but extremely fascinating nonetheless!
Included: minivan transfers, Taj Mahal entrance ticket
Money Pot: admission fees
What's not included: food and beverages
The Medieval city of Gwalior
Discovering Gwalior
Today we are in Gwalior, a medieval city with a rich history and many points of interest to visit, including palaces and temples. Gwalior is best known for its imposing hilltop fort, which was famously described as 'the pearl amongst fortresses in India' by the Mughal emperor Babur. Gwalior is a true hidden gem, a city off the beaten track but definitely worth stopping by.
Another beautiful sight is the Jai Vilas Palace. It is the historic residence of the Scindia family, one of the most affluent families in India, which has helped shape its history for the past two centuries.
Included: transport
Money Pot: admission fees where applicable
What's not included: food and beverages
Let's cook some Indian food!
Good morning WeRoaders! Today we have a very busy day ahead of us, learning how to cook some delicious Indian food. The first stop is therefore….the local market, where we'll be searching for the right ingredients to add to our dishes. After cooking, we'll also be our own judges, tasting our wonderful creations. A true Masterchef experience! Plus, we can't explore the city on an empty stomach so enjoy this delicious lunch because in the afternoon we'll definitely walk it off around Orchha!
A stroll around the city
The historic town of Orchha is a place lost in time; its ancient palaces and temples contribute to the nostalgic beauty of this town, with their intricately decorated facades. Let's start our tour from the Palace of Raja Mahal, a holy destination for those devoted to Rama, and then continue to the Palace of Jahangir Mahal. To be fair, even a stroll through the streets and colourful bazaars of this town would be enough to leave you speechless!
After sunset, we'll be witnessing the evening Puja, a holy moment of prayer for all devoted Hindus. It is a deeply profound religious ritual and an honour to be able to witness such a ceremony here in Orchha, a hidden gem amongst Indian towns.
Included: cooking class and local guide
Money Pot: admission fees where applicable and transport if necessary
What's not included: food and beverages where not specified
The secrets of the Karma Sutra and overnight train to Varanasi
The Khajuraho temples: monuments to India's erotic art
Khajuraho is one of the most famous tourist destinations in India; here you can find the largest number of mediaeval Hindu and Jain temples in the whole country. The Khajuraho group of monuments was also added to the UNESCO World Heritage Sites in 1996.
One of the reasons why these temples are so famous is… the Kamasutra! The walls have been sculpetd with erotic scenes from the famous ancient Indian book concerning courtship, marriage, and love-making. You might let out a cheeky giggle, or perhaps take a selfie in front of them, but maybe don't send it to your grandma!
Overnight train to Varanasi
Trains are truly the most iconic mode of transport when you think of India. It's the preferred one for the locals, especially to travel long distances, as roads are not always paved. It often takes several days to reach the destination and people pack all sorts of things for their journey, from portable stoves to pillows, and sometimes… chickens and goats!
Sleeper cars are a truly local experience. Chai vendors selling tea, ticket inspectors with endless paperwork checking the bookings, men, women, children, and even a few animals: are you ready to experience India in all its authenticity? We'll catch the train in Khajuraho later in the evening and arrive in Varanasi the following morning. Bring it on!
Included: transfer from Orchha to Khajuraho and overnight train to Varanasi (2nd or 3rd class, subject to availability)
Money Pot: admission fees where applicable and local tour guides
What's not included: food and beverages
The holy city
The overnight train has taken us all the way to Varanasi, one of the oldest cities in the world and the most sacred one for all Hindus. It truly is the spiritual heart of the country; every Hindu must come here once in their lifetime to bathe in the Ganges river and they must plunge from at least five different ghats (stairs that end up in the river). We'll drop our backpacks at the hotel and then our tour of Varanasi starts right here, from the ghats. It will be a true privilege to be able to witness these holy rituals!
Ancient traditions
Varanasi is also famous for its cremation rituals; throughout the day, every day, there are funeral processions bringing loved ones to the designated ghats. It might happen that we stumble upon a cremation ceremony so please respect the families who are grieving their relatives and remember that taking pictures is strictly forbidden!
In the afternoon we'll head to Dashashwamedh Ghat, the main ghat in Varanasi, to attend the evening puja, also called Ganga Aarti. It will be one of the most beautiful moments of this tour!
Money Pot: local transport and admission fees where applicable
What's not included: food and beverages
A boat ride on the river Ganges at dawn
It's a-boat time!
We wake up before dawn and head to the river Ganges, it's time to admire the sunrise while we cruise down the river on a boat. Later we'll get back to the hotel and you'll have some free time to get some rest after such an early rise. For lunch, we'll enjoy some more yummy food. How about some tasty samosas?
The afternoon is pretty much free for us to choose what to do: we could continue sightseeing around Varanasi, stopping to buy some locally handcrafted souvenir stalls, or perhaps take part in a yoga lesson. A massage also sounds divine! And finally, a dinner overlooking the river Ganges seems the perfect way to end such a beautiful day.
Included: boat tour on the river Ganges
Money Pot: local transport and admission fees where applicable
What's not included: food and beverages
A flight from Varanasi back to Delhi
After a hearty breakfast, it's time to pack our backpacks and catch a flight back to Delhi where our adventure started. Once we get there, we'll leave our bags at the hotel, grab a bite to eat, and then we'll head off to Swaminarayam Akshardam, the biggest complex of Hindu temples in Delhi. Even though it's recently constructed, it's definitely worth a visit. It's very far from the city centre (it's chaos!) and there are very strict entry rules, a bit like an airport, so it's not possible to bring a mobile phone and other devices inside the temple. This way, you can focus on the breathtaking beauty of this place!
Included: domestic flight from Varanasi to Delhi
Money Pot: local transport in Delhi and admission fees where applicable
What's not included: food and beverages
Let's visit the city!
Today is our last full day in India so let's explore its beautiful yet chaotic capital city. Delhi is one of the most densely populated cities in the world, there are more than 16 million people living here! Let's start our visit from the mosque of Jama Masjid and the Red Fort before heading on to the market and the sikh temple of Gurdwara Bangla Sahib.
We start by visiting the Jama Masjid mosque, the Red Fort - in whose gardens we can find a moment of peace from the hustle and bustle of the city - and the market; we then continue to the Sikh temple of Gurdwara Bangla Sahib, having lunch inside the temple.
Delhi's beauty
After lunch we can decide whether to continue our tour of the city visiting Qutb Minar, the world's tallest brick minaret, or the Lotus Temple, a much more modern building shaped just like a lotus flower. The temple is open to all, and it is a place to worship and enjoy absolute silence. The rest of the day will be free, until the evening when we'll enjoy the farewell dinner. This will be the perfect time to recall the past few days together, the emotions and the excitement of discovering such a unique and beautiful country.
Money Pot: admission fees where applicable and local transport What's not included: food and beverages where not specified
Check-out and farewell
It is time to say goodbye until your next WeRoad adventure!
End of services
The itinerary may undergo some variations that differ from what is stated above. These variations may not be foreseen or dependent on WeRoad's control, i.e. climate conditions, national holidays, strikes, etc.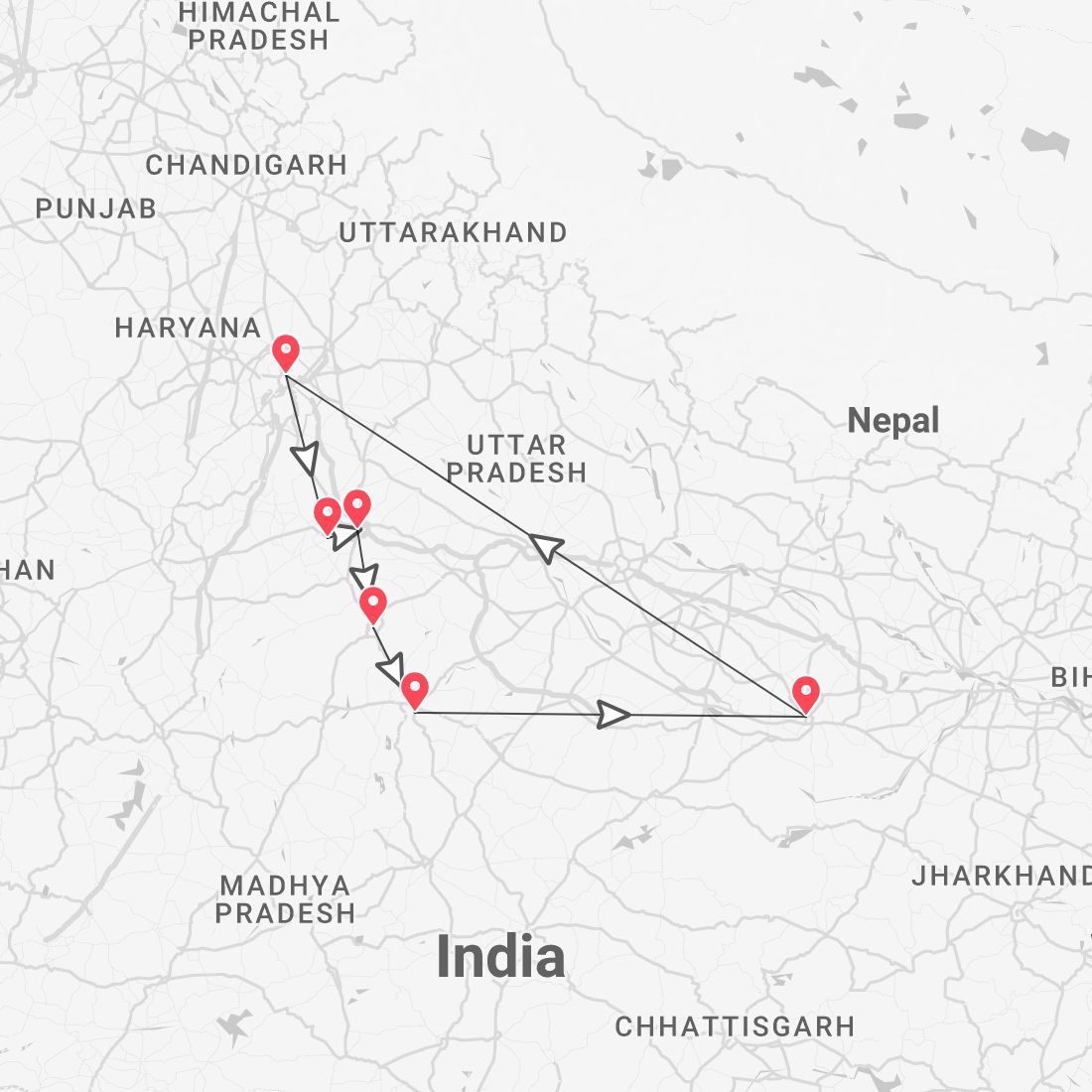 Show maps