Itinerary - Bali 360°: Kuta, Ubud and Seminyak
Welcome to Bali!
Flights to and from the UK are not included in the package, so you can decide when and where you want to depart! This gives you complete freedom of choice to adjust your travels to your needs.
Check-in at the hotel in Kuta and join welcome meeting to meet the rest of the group. We use the afternoon to settle in and recover from the jet lag! In the evening we go searching for the most characteristic restaurant to taste some typical dishes - coconut rice anyone?
Lake Bratan, temples and rice fields
50 %
50 %
Let's get lost in the rice fields
Good morning Bali! We get ready to start exploring the island. Let's start from the rice fields, undoubtedly one of the first things that come to mind when talking about Bali: we visit Jatiluwih, same of the most beautiful rice terraces on the island. They have also become a UNESCO World Heritage Site. We walk amongst the rice terraces and take our time to appreciate this landscape - and find the best spot to take some photos!
Indonesian temples
After lunch we leave for Lake Bratan, also one of the most iconic places in Bali. We cannot miss the Temple of Ulun Danu Bratan dedicated to the goddess of water Dewi Danu. We then continue to the Handara Gate, Bali's Gate! Make sure your cameras and phones are charged because we already know we'll drain the battery with all the photos we'll take.
Included: Private transport
Money pot: entrance fees to the sites and tickets
Not included: meals and drinks
Bali Swing and Waterfalls
80 %
20 %
A day full of adventures
We wake up early, ready for another day in Bali: first we go up to Wanagiri Hill, where we can go on one of Bali's famous swings. Afterwards, we will walk to the Sekumpul Waterfall, a majestic waterfall that emerges from the vegetation. Ready for a dip?
After lunch we will start our drive towards Lake Batur, a lake that is located inside a caldera of an active volcano, Mount Batur. Once we arrive we settle down, grab a bite to eat and then... let's call it a day, tomorrow's alarm is set very early!
Included: private transport and guide
Money pot: entrance fees to the sites and tickets
Not included: meals and drinks
Sunrise over Mount Batur and the mother temple of Besakih
50 %
30 %
20 %
A unique sunrise
We wake up around 2am (yes, it's early, but it is worth it!) and go out to enjoy a spectacular sunrise on Mount Batur. We then return to the hotel or, alternatively, we could go to the thermal baths of Toya Bungkah to relax big time – we have earned it!
Towards Ubud
After lunch we leave for Ubud, but first we will visit the Mother Temple of Besakih and the Tirta Empul Temple where there are pools we can bathe in and enjoy the purifying bath ritual. We arrive in Ubud in the late afternoon, where we have some free time at the hotel before we get ready to go out, looking for a place to have dinner and spend the evening at.
Included: Private transport included in the travel fee
Money pot: Entrance fees to the sites and any tickets. Mount Batur sunrise hike.
Not included: meals and drinks
Ubud: rafting, Monkey Forest and night markets
20 %
80 %
Rafting and temples
Good morning Ubud! Time to reach the River Ayung for an exciting morning of white-water rafting! And if the adrenaline makes us hungry afterwards, no worries: lunch is included! With a full belly we make our way back to Ubud, ready to explore the city; there are many temples scattered everywhere, so we can start from Pura Taman Saraswati and then go on to visit Puri Saren Palace. We can go to the Botanical Garden or walk along the Campuhan Ridge, a pleasant stroll that takes us just outside Ubud to a viewpoint from where we can admire the valley.
Monkeys are our friends
Another place that cannot be miss whilst in Ubud is the Monkey Forest! We enter this sacred place we are greeted by our new fury friends. But be careful: the monkeys are little thieves and they will try to steal our sunnies and hats in exchange for food!
In the evening we can explore the market where we can find local handicrafts - is it time to think about souvenirs?
Included: transfer to/from the Ayung River, rafting and lunch included in the travel fee.
Money pot: entrance fees to the sites and any tickets to Ubud are included in the money pot.
Not included: other meals and drinks
Cooking class and Uluwatu Temple
70 %
30 %
Cooking class

Let's get ready to immerse ourselves in the Balinese culinary traditions with a private cooking class in the village of Bongkasa! We'll cook local dishes like the 'Gedang Mekuah' soup and the 'Pepes Ikan' grilled fish wrapped in banana leaf.
Pura Uluwatu
After lunch we leave for the Bukit Peninsula to reach Pura Uluwatu, a temple perched on a rock along the coast. We will stay here to enjoy the sunset before making our way to Seminyak, ready for our last day in Bali!
Included: private transport
Money pot: entrance fees to the sites and any tickets
Not included: meals and drinks
Seminyak: relax, yoga and party
50 %
50 %
The last day
We wake up in the city where we started this journey, ready to make the most of our final day! This morning everyone can choose the activity they prefer: we could take part in a yoga class or choose total relaxation with a nice massage!
In the afternoon we have free time for some pre-departure shopping - or any other activity that pops into our minds! Last but certainly not least, our last dinner together before the end of the tour, so let's enjoy it to the fullest!
Money pot: entrance fees to the sites and any tickets
Not included: meals and drinks
Check-out and farewell
We have to say goodbye: see you on the next WeRoad adventure!
End of services. The itinerary may undergo some variations that differ from what is stated above. These variations may not be foreseen or dependent on WeRoad's control, i.e. climate conditions, national holidays, strikes, etc.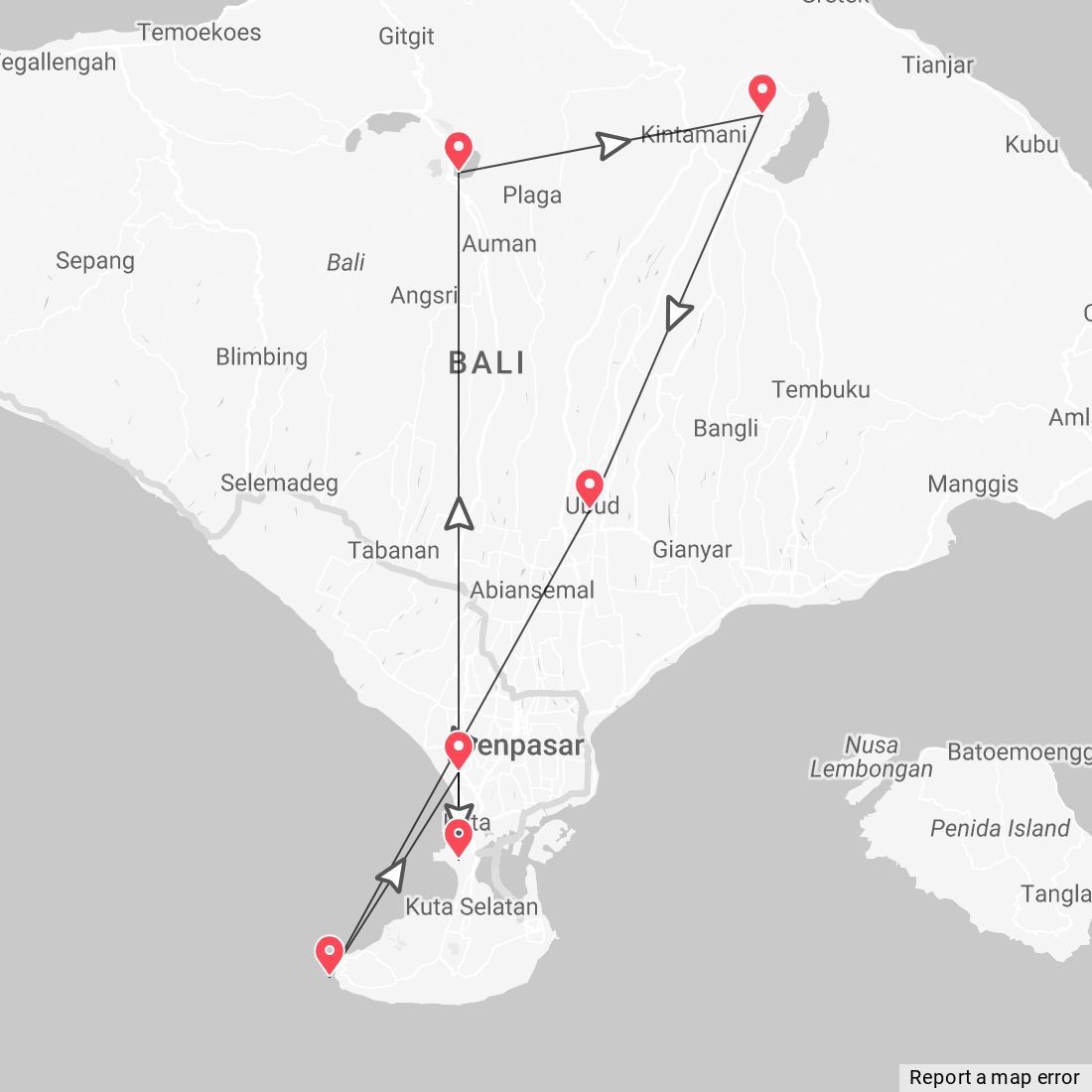 Show maps