Itinerary - Montenegro 360°: from the mountains to the coast
Welcome to Montenegro
100 %
Check in
Round trip flights are not included in the package, so you can choose from where and when you want to fly. This is to give you maximum freedom of choice! Once you arrive in Podgorica, it's time to check-in to your hotel and get ready to start the tour.

Rafting in the deepest canyon in Europe
100 %
Full adrenaline
After we eat breakfast, we'll grab our rental cars and head up north to check out some pristine nature. We're aiming for Zabljak, which is the highest town in the Balkans at a cool 1456m and also where Durmitor National Park starts. But first, we're making an important stop at the epic Tara River Canyon. This canyon is the deepest in Europe at 1300m deep! Time to go rafting - this is the best way to see this amazing natural wonder and start off our adventure in Montenegro.
After we catch our breath, we'll keep going towards Zabljak. Once we get there, we can chill out in our hotel and enjoy the amazing views of the Dinaric Alps.
Included: Rafting and car rental included in the trip fee
Money pot: petrol
Not included: food and drinks
A day in the mountains
100 %
Immersed in the Durmitor National Park
Hey WeRoaders, good morning! Today we've got the whole day to enjoy the mountains! Zabljak is surrounded by alpine forests, majestic peaks, and crystal-clear lakes. We're staying right on the edge of the Durmitor National Park, so we're in the perfect spot to explore the area and breathe in the fresh mountain air.
We can head into the park and choose from one of the many hiking trails, including the one that leads to the Black Lake - a beautiful glacial lake surrounded by a pine forest that reflects perfectly on the mirror-like surface of the water. Pretty cool, right?!
Or, if we're looking for another rush of adrenaline, we can head back to the Tara River and try out the zipline or even go canyoning...either way, we're guaranteed not to get bored!
Included: car rental
Money pot: petrol
Not included: food and drinks

The scenic road to Kotor
50 %
50 %
The monastery of Ostrog and Kotor
This morning, we're saying goodbye to the mountains and making our way to the Adriatic coast. Montenegro is known for its incredible winding roads, so we're taking the scenic route to soak up the views!
Along the way, we'll stop at the Ostrog Monastery - one of the holiest spots in Montenegro, which is miraculously built into a cliff face 900m above the Zeta valley.
Then, we'll visit the medieval city of Kotor - situated on the edge of a stunning bay and a real treasure of Montenegro. Finally, we'll reach Budva, where we can choose to start exploring the area or just chill with a drink and watch the sun set over the sea.
Included: car rental
Money pot: petrol
Not included: food and drinks
Let's explore Luštica
50 %
30 %
20 %
Discovering Luštica!
Local experience today! We head towards the old city of Bar, where we will meet centuries-old olive trees and among the ruins of the old city, we will discover the history of this ancient village together and together we will head back towards the coast to enjoy a nice lunch together overlooking the sea.
Our visit is over, but we could also decide to enjoy some well-deserved relaxation on the white beach of Zanjice , obviously surrounded by splendid olive groves.
Included: visit to the old city of Bar, lunch
Money pot: petrol and entrance fees
Not included: food and drinks
Budva: the "Miami" of Montenegro
50 %
50 %
Relaxation and nightlife
Today is all about chilling out in Budva, which is often called the "Montenegrin Miami"! It's a cool beach spot where locals love to hang out, soak up the sun and party all night long.
We've got lots of options for how to spend the day - we can hit the beach, do some water sports, check out the old town and enjoy the views from the Citadel. Or we could take a quick taxi boat ride to Sveti Nikola, a deserted island with a beautiful sandy beach where we can just relax.
When the sun goes down, we can get ready to experience the legendary Budva nightlife!
Included: car rental
Money pot: petrol and entrance fees
Not included: food and drinks
Cetinje, the Lovcen National Park and Podgorica
50 %
50 %
We return to Podgorica
Today is our final day in Montenegro, so let's make it count! We're heading back to Podgorica, but before we go, let's snap a few more souvenir photos.
Our first stop is the cool city of Citanje, where we can check out some of Montenegro's most important museums and palaces. And if we're up for it, we can easily get to Lovcen, another one of Montenegro's amazing national parks. It's named after the "black mountain" that gave the country its name, and at the top of the second highest peak is the Njegoš Mausoleum, which honors the guy who brought modernization and centralization to Montenegro. It's a really cool spot to hike and learn some local history.
On our way back, we gotta make a pitstop in the village of Njeguši to try their famous ham, cheese, and honey. Then it's back to Podgorica to return our rental cars and have one last group dinner to celebrate our amazing adventure!
Included: car rental
Money pot: petrol and entrance fees
Not included: food and drinks

Goodbye Montenegro
50 %
50 %
Check-out and goodbye
Check-out and goodbye – until your next WeRoad adventure!
End of services. The itinerary may undergo some variations that differ from what is stated above. These variations may not be predictable nor depend on WeRoad's will, i.e. climate conditions, national holidays, strikes, etc.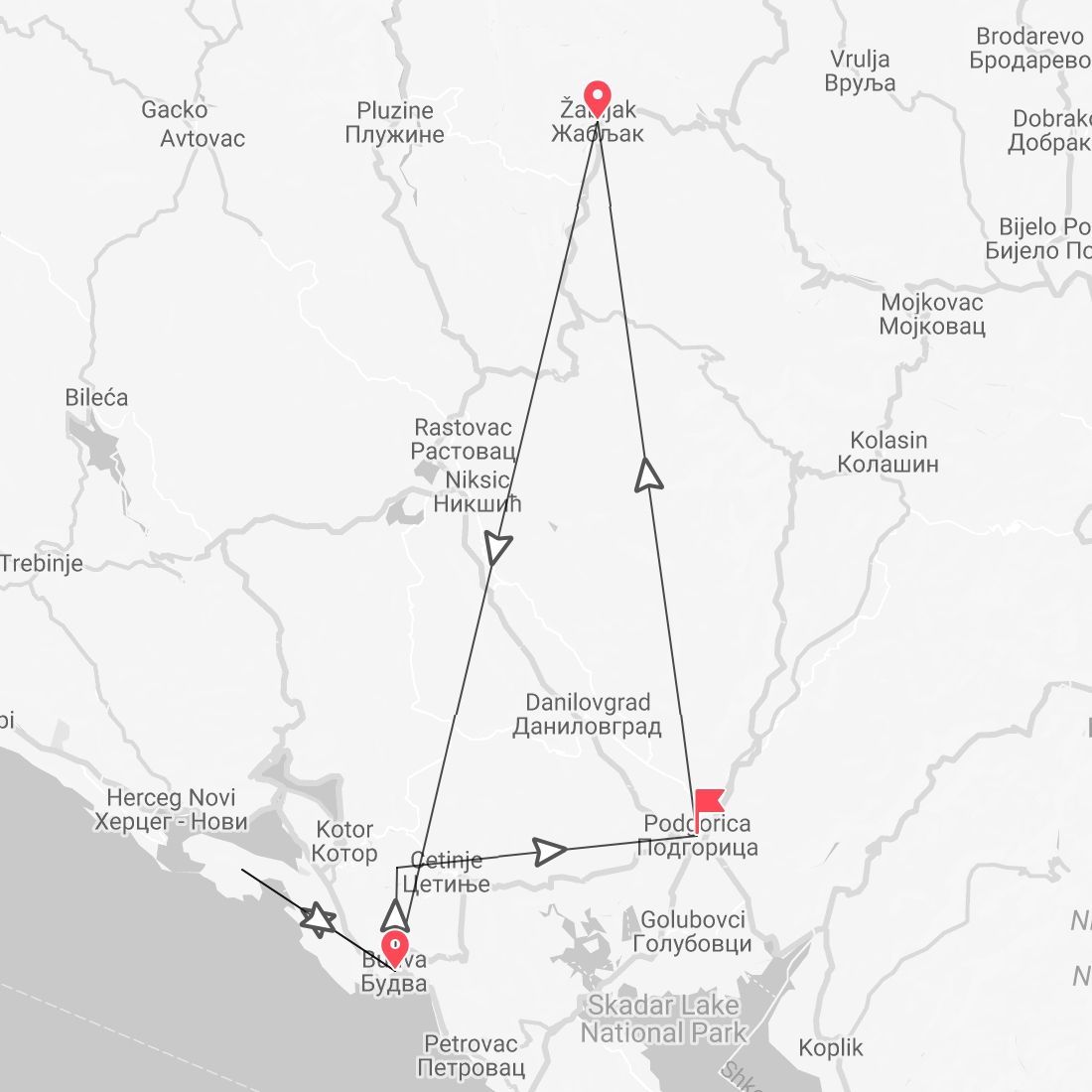 Show maps