Itinerary - Turkey 360°: from Istanbul to Cappadocia
Istanbul
100 %
Check-in
Roundtrip flights are not included in the package, so you can choose from where and when you want to fly. Check-in to your hotel in Istanbul and get hyped for your welcome meeting! Let's get this tour started with a stroll along the buzzing streets of Istanbul and the famous bazaar. Time to discover some of the most iconic local products on offer and then head towards the seafront, basking in the sun and waiting for our very first Turkish sunset.
Cappadocia
50 %
50 %
Welcome to Cappadocia!
It's time to head off on our adventures, but don't worry, we'll be back in Istanbul at the end of our tour. This morning we are off on a domestic flight to Kayseri. This city is right in the heart of magical Cappadocia. Positioned along important commercial routes, its strategic location is the main reason why it has often been historically occupied. Once we get there you'll see how these invasions have influenced the culture and story of this land. The town of Göreme is our destination which is situated amongst unique rock formations called "fairy chimneys". After a quick lunch (potentially an authentic shish kebab), we're off to see the epic Göreme National Park.
Göreme National Park
This national park boasts stunning rock formations, shaped by multiple volcanic eruptions, as well as wind and water erosion. It became a UNESCO world heritage site in 1985. The peri bacalari (fairy chimneys) and the kalelar (castles) are the result of natural phenomena, but the Open Air Museum is a clear example of how men have also contributed to the landscape. Here in fact, we can admire the remains of Byzantine culture in the churches, chapels and monasteries carved in the rocks. The most famous one is undoubtedly Karanlik Kilise, with its many paintings still intact today.
After a glorious day in the national park, it's time for our welcome dinner! This will be the perfect opportunity to taste some of the local delicacies as well as getting to know your travel buddies, surrounded by stunning views over the valley below.
Included: domestic flight from Istanbul to Kayseri, minivan woth private driver
Money Pot: other local transport, petrol and admission fees
What's not included: food and beverages where not specified
Cappadocia
70 %
30 %
Sunrise from a hot air balloon!
Rise and shine, WeRoaders! We are getting up before dawn but it's gonna be so worth it because we are going on a hot air balloon ride! Picture this: Göreme Valley below us, the peaceful morning air and the sun rising, literally in front of us. Bask in the peace and beauty of this experience. What a way to start the day! This afternoon it's time to visit Göreme Valley, and gain a whole new perspective on these charming landscapes. The day started at dawn so why not stay until dusk and watch a lovely sunset over the valley?
Included: minivan with local guide
Money Pot: petrol and admission fees
What's not included: Food and beverages where not specified. Hot air balloon rides are not included and are subject to availability (the excursions might be fully booked or unavailable for causes which may not be foreseen or under WeRoad's control, i.e. climate conditions, national holidays, strikes, etc.)
Cappadocia
70 %
30 %
Above… and underground!
The morning will be entirely dedicated to the exploration of the beautiful Ihlara Valley. This canyon is a gorgeous example of both natural and man-made wonders, from the carved rocks to the many churches. We'll decide which ones to visit and spend the day finding the cutest hidden corners to photograph. We can also enjoy a lovely horse ride around the valley if we fancy it.
In the afternoon, we will visit the Özkonak Underground City. There are 36 underground cities in Cappadocia and the widest one is Özkonak. The inhabitants of the region still use the most convenient places in the tunnels as cellars, storage areas and stables, which they access through their courtyards. While the underground city consists of 8 floors below ground, only 4 of them are open to the public today, in which the spaces are organized around ventilation shafts.
Included: minivan with local guide and guided visit of Özkonak
Money Pot: petrol and admission fees
What's not included: Food and beverages where not specified.
Istanbul
70 %
30 %
The Blue Mosque
It's time to say goodbye to Cappadocia… we are catching a domestic flight back to where it all began. Istanbul here we come! The city has had different names in the past, and it served as an imperial capital for the Roman, Latin, Byzantine and Ottoman empires. These various historical influences all contributed to the shaping of this wonderful city, from its bubbling culture to its remarkable architecture. After lunch, it's time to visit the Blue Mosque: the name comes from the hand painted blue tiles adorning the interior walls. Get your cameras ready, you won't be disappointed. After all, it is one of the most photogenic spots in the city!
Churches, mosques and bazaars!
Later in the day we are heading to Hagia Sophia, a wonderful example of Byzantine architecture. The former Church was one of the most iconic holy places for Christians, up until the 15th century when it was converted into a Mosque. We won't spoil too much about this place, but once inside, be sure to look up at the dome! Let's top it all off with a visit to the Grand Bazaar, the old market where you can find all sorts of things, from food to souvenirs. Don't forget to taste some freshly squeezed pomegranate juice and to try some amazing street food. For our first night in Istanbul we have plenty to choose from… how about a lovely dinner overlooking the strait of Istanbul?
Included: domestic flight from Kayseri to Istanbul
Money Pot: petrol and admission fees
What's not included: Food and beverages
Istanbul
70 %
30 %
The ancient Royal palaces
Our day starts with a bang: it's time to visit the Topkapı Palace, which served as the main residence of the Ottoman sultans during the 15th and 16th centuries. The palaces have hundreds of rooms but only the main ones are open to the public. Let's take some time to explore them all!
After, it's time to head underground again. We are going to visit the Basilica Cistern, to witness its perfectly symmetrical architecture. A quick lunch (street food, maybe) and then we can visit the Dolmabahçe Palace, the largest in Turkey. It was built as the new residence of the sultan, to replicate the modern style, luxury and comfort of European Palaces.
If Royal palaces aren't your cup of tea, then perhaps a free afternoon around the city could be a good option; it's really up to you to decide! Tonight will be another opportunity to savour some more Turkish delicacies and then we're off to the heart of Istanbul 's nightlife - İstiklal Avenue!
Money Pot: Local transport and admission fees.
What's not included: Food and beverages where not specified.
Istanbul
30 %
40 %
30 %
Istanbul off the beaten track
It's our last day in this beautiful city, but we can't leave without having explored its most authentic side. Put your trainers on because this morning we're off to discover the less known neighbourhoods of Istanbul. Colourful wooden houses, narrow lanes, cobbled streets and the smell of freshly baked bread… don't you just picture yourself right there already?
If you don't fancy going for a walk there's another way to learn more about Turkey - with a cooking class of course! The afternoon will be free for you to choose what to do, but we highly recommend you try an authentic hammam (Turkish bath). We meet up again in the evening for one last sunset and of course, our farewell dinner!
Money Pot: Local transport and admission fees.
What's not included: Food and beverages where not specified. The cooking class is not included and it's entirely optional.
Check-out and farewell
We have to say goodbye: see you on your next WeRoad adventure!
End of services
The itinerary may undergo some variations that differ from what is stated above. These variations may not be foreseen or dependent on WeRoad's control, i.e. climate conditions, national holidays, strikes, etc.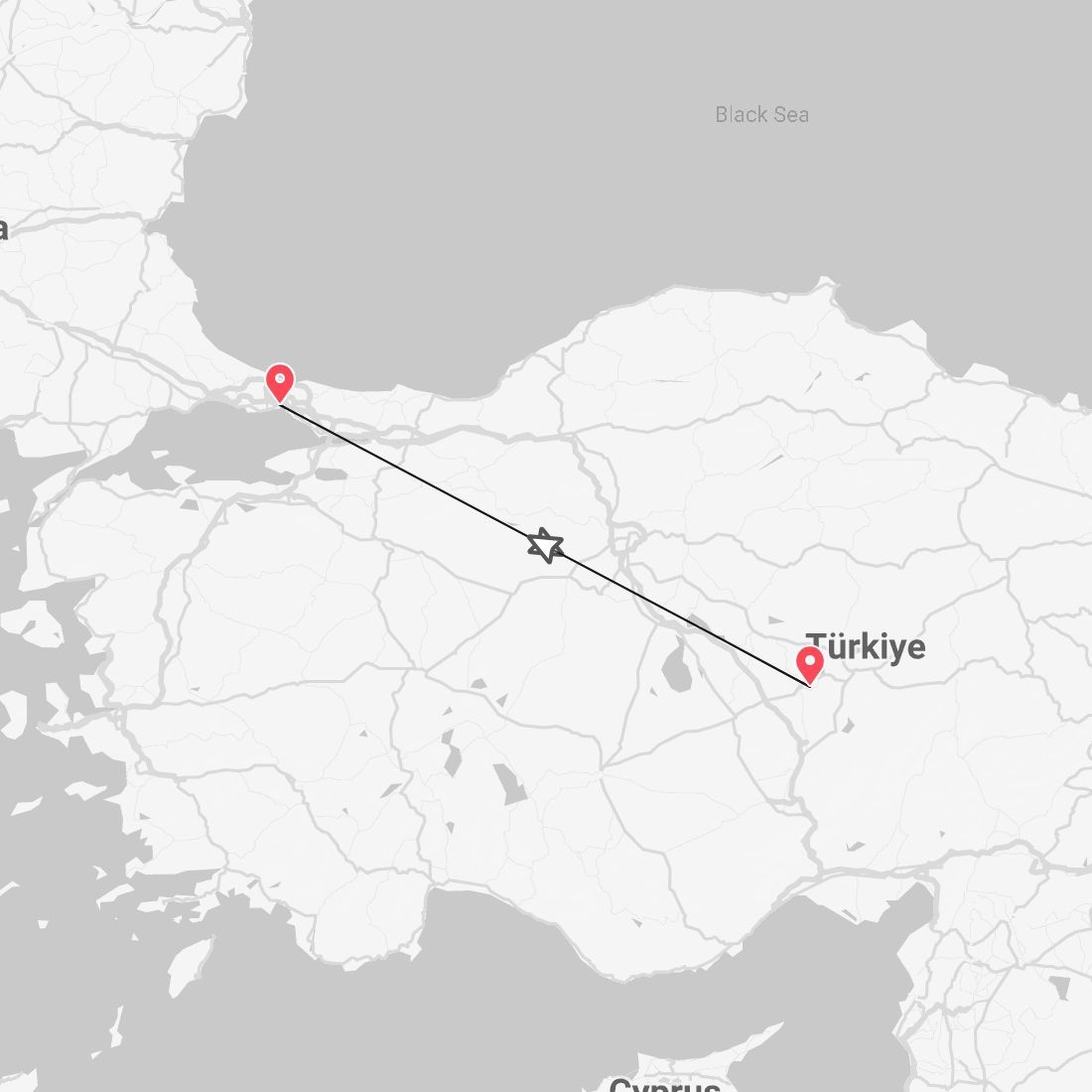 Show maps