Itinerary - Iceland Express: Reykjavik and the Golden Circle
Let's break the ice
Roundtrip flights are not included so that you can choose where from, when and with whom you want to fly. All of that is up to you! Hotel check-in and meet your travel coordinator. Ready to start this trip the best way possible? We're talking about food, obviously. Tonight we'll have dinner all together and we'll get the chance to have a first taste of the local cuisine - they say that fish and beer are pretty good here. Should we try them out?
Meals and drinks to be paid by the individual participants.
Golden Circle: Thingvellir, Geysir and Gullfoss
Between Europe and North America
We rise early and eagerly begin our adventure. Gathering our cars, we set off towards the Golden Circle, a region near the capital that showcases some of Iceland's most renowned natural wonders. As we arrive at Thingvellir National Park, a sense of pure immersion in the island's captivating nature overwhelms us. The landscapes, characterised by a harmonious blend of ice and fire, stretch endlessly before our eyes.
Within the park, we stumble upon a unique location that grants us an extraordinary opportunity. Here, we can choose to part ways: some of us opt to remain in Europe, while others embark on a journey to the Americas! This remarkable occurrence is made possible by the presence of the rift between two continental plates—the European and the American. With a simple step, we can effortlessly transition from one continent to another, traversing this geological boundary in a matter of moments. It's a truly awe-inspiring experience, allowing us to straddle two continents and relish in the wonder of such a rare natural phenomenon.
Geysers and waterfalls!
After enjoying a delightful packed lunch, our journey takes us to two more magnificent destinations where nature showcases its unparalleled beauty. Our first stop is Geysir, the oldest known geyser that has lent its name to this mesmerizing phenomenon. Geysirs are abundant in this area, and although Geysir itself is currently inactive, we won't be disappointed as Strokkur, situated nearby, promises a thrilling spectacle. With eruptions occurring every 4 to 8 minutes, we eagerly await the next thrilling burst of water and steam.
Continuing on, we make our way to Gullfoss, a truly awe-inspiring waterfall that stands as one of Iceland's most remarkable natural wonders. With a towering height of 31 meters and an awe-inspiring volume of water cascading down, Gullfoss commands our attention and leaves us in awe of its sheer power. Like many places in Iceland, Gullfoss is steeped in legend and folklore. It is said that the farmer Gygur's treasure may still lie buried beneath its cascading waters, adding a sense of mystery and intrigue to this already captivating site.
Included: Car rental
Money Pot: Petrol and parking
Not included: Meals and drinks
Discovering the waterfalls and the black beach of Reynisfjara
The most beautiful waterfalls in Iceland
Embarking on our excursion to the captivating south coast of Iceland, we bid farewell to Reykjavik. Our first destination is the remarkable Seljalandsfoss waterfall. Have you ever experienced the enchantment of standing behind a waterfall? Well, here's our chance! A cave lies nestled behind the majestic curtain of water, offering us the opportunity to witness the cascading beauty from within. Let's be prepared with our waterproof gear because emerging dry is not an option!
After our exhilarating encounter, we continue our journey toward our second waterfall of the day. As we venture through a landscape reminiscent of the mesmerising settings from the world of "Lord of the Rings," we encounter Skógafoss. This majestic waterfall stands tall at an impressive height of 62 meters and is undoubtedly a true gem of the southern part of the island. Legends say that those who take a refreshing dip in its invigorating waters may discover a long-lost and sought-after object. So, why not seize the opportunity and give it a try?
The black beach of Reynisfjara
Our journey takes us to the charming village of Vik, where we make a delightful stop for lunch, replenishing our energy for the adventures ahead.
Next, we ascend to the breathtaking Dyrholaey viewpoint. Perched upon a rocky plateau, this vantage point offers an awe-inspiring sight—a massive stone arch that rises majestically near the coastline. From here, we have the privilege of beholding its stunning beauty in all its glory.
Descending from the viewpoint, we embark on a remarkable barefoot stroll (for the daring among us) along the ebony shores of Reynisfjara. Walking upon this vast expanse of black sand is an almost otherworldly experience. The imposing darkness of the beach seems to engulf its visitors, creating an atmosphere that is both mystical and captivating.
Here, the only sounds that reach our ears are the howling of the ever-present strong winds and the relentless crashing of waves upon the shore. It is a truly immersive encounter with nature, where the untamed forces of wind and sea create a symphony that resonates deep within our souls.
Included: Car rental
Money Pot: Petrol and parking
Not included: Meals and drinks
From the Reykjanes Peninsula to the Sky Lagoon
The Reykjanes Peninsula
Our adventure takes us to the extraordinary Reykjanes Peninsula, a geological marvel where lighthouses outnumber the villages scattered across its expanse.
One of the peninsula's notable attractions is the Fagradalsfjall volcano, which has gained worldwide fame due to its recent eruption. This natural spectacle has captured the attention of people from all corners of the globe. The magnificent crater and the mesmerising lava formations provide a truly spectacular backdrop for our group photo, leaving us in awe of the Earth's raw power and beauty.
Continuing our exploration, we arrive at Seltun, a vibrant geothermal area nestled along the shores of Lake Krýsuvík. Here, a symphony of colors awaits us as we encounter bubbling mud pots, steaming fumaroles, and boiling springs. The landscape is a mesmerizing display of nature's forces, showcasing the dynamic and ever-changing nature of geothermal activity in the region. It's a captivating sight that truly immerses us in the wonders of Iceland's geological wonders.
Relaxing in the beautiful Sky Lagoon
As the day draws to a close, we make our way back to Reykjavik, looking forward to an evening of pure relaxation. Our destination for the night is the remarkable Sky Lagoon, an absolute must-visit on any Icelandic tour. Here, we find ourselves surrounded by a lunar-like landscape, a common sight in this captivating country. The tranquil setting is adorned with small black lava hills that encircle us, creating an otherworldly ambiance.
Immersing ourselves in the thermal waters of the Sky Lagoon, we are embraced by the soothing warmth of the intensely blue waters. As we soak away any lingering tiredness, the distance we've traveled over the past few days quickly fade from memory. The rejuvenating qualities of the hot springs wash away our fatigue, leaving us refreshed and revitalised. It's a truly unforgettable experience, where time seems to stand still as we surrender ourselves to the therapeutic embrace of Iceland's natural wonders.
Included: Car rental and admission to the Sky Lagoon
Money Pot: Gasoline and parking
Not included: Meals and drinks
Time to say goodbye
Time to go back home: see you again on your next WeRoad adventure!
End of services. The itinerary may undergo some variations that differ from what stated above. These variations may not be predictable nor depend on WeRoad's will, i.e. climate conditions, national holidays, strikes, etc.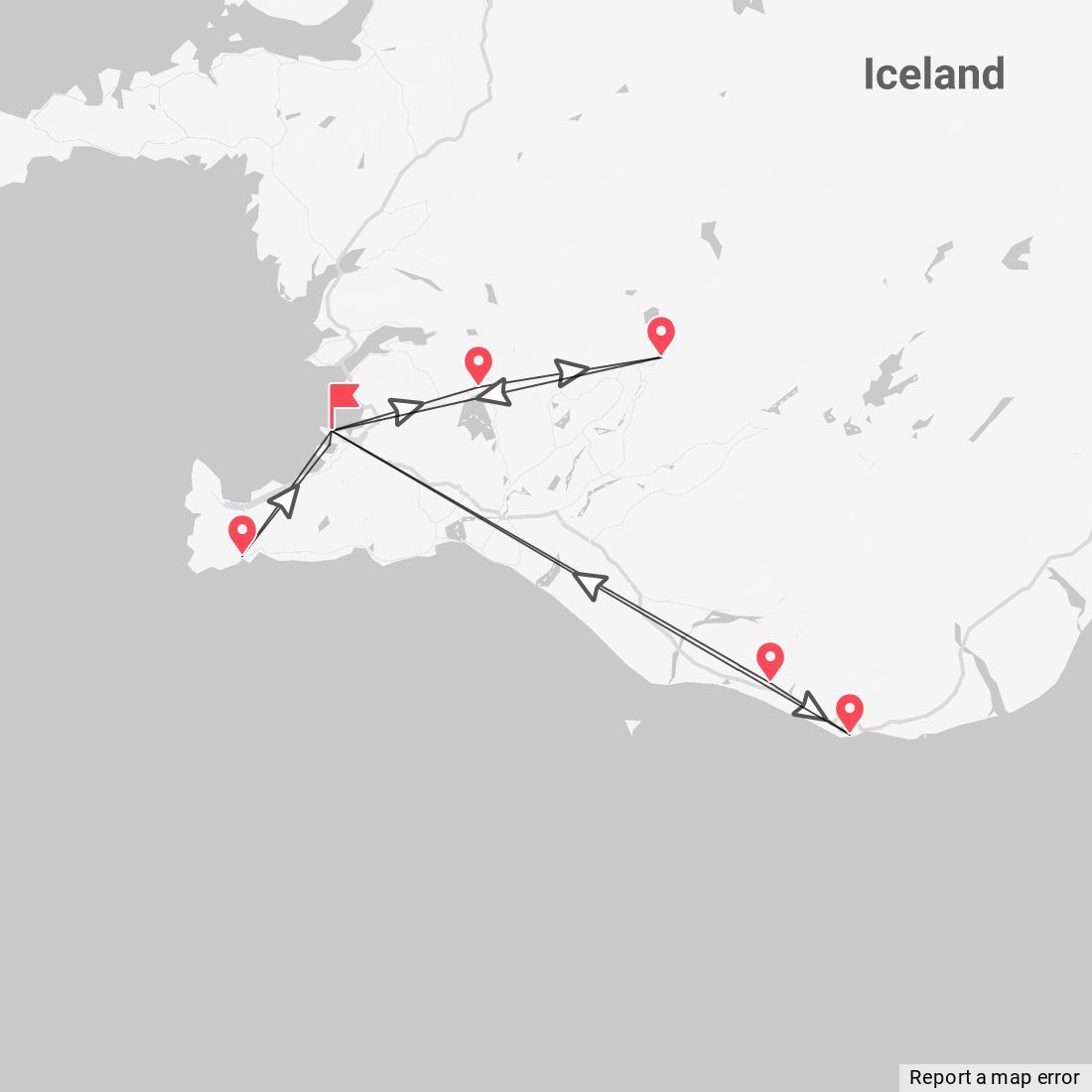 Show maps