Itinerary - Italy Express: Exploring the Amalfi Coast
Naples
80 %
20 %
Check-in
Round trip flights are not included in the package, so you can choose from where and when you want to fly. This is to give you maximum freedom of choice!
We find ourselves in Naples, right at the Central Station, where our adventure exploring the beauty of Southern Italy begins. After reaching our accommodation and dropping off our bags. Dinner promises a delightful feast of Neapolitan cuisine, featuring the delectable buffalo mozzarella. But the night doesn't end there; Naples' vibrant nightlife beckons us to its clubs and entertainment venues.
Included: overnight stay
Not included: meals and drinks
Pompeii and Sorrento
30 %
50 %
20 %
Pompeii
We kickstart our day bright and early with a hearty breakfast, indulging in more delicious Neapolitan pastries to fuel up for the exciting day ahead. Today's agenda is packed with adventure as we hop on a train to Pompeii. Once we arrive at this extensive archaeological site, there's no rush; we have plenty of hours to explore. Our must-see list includes the Forum, the House of the Faun, the Villa of the Mysteries, the Teatro Grande, the Teatro Piccolo, and the Garden of the Fugitives.
Sorrento
Having immersed ourselves in this remarkable piece of Italian and global history, we board our train back to Sorrento. A scenic coastal journey is the perfect way to wrap up this fantastic first day of exploration before we head back to Naples for another delightful evening in the city.
Included: overnight stay, entrance to Pompeii
Money pot: other entrance fees to museums or temples and any public transport
Not included: meals and drinks
Amalfi coast and Positano
80 %
20 %
Path of the Gods
In our quest for the perfect blend of history, sea, and delicious food, there's one more essential ingredient: nature. And in these parts, nature never fails to dazzle, especially along the breathtaking Amalfi Coast. After an early start and a hearty breakfast, we make our way to Agerola, ready to don our comfortable shoes for an exciting trek. Our destination? The renowned Path of the Gods, a trail immersed in Mediterranean foliage that exudes timeless charm. Our journey begins at an elevation of 600 meters above sea level, winding through quaint villages nestled in nature's embrace. Throughout our hike, the mesmerising deep blue sea accompanies us, beckoning us to pause frequently and capture its beauty in photographs.
Arriving in Positano
Lunch is a must, and we pick Nocelle for its unbeatable scenery. After relishing local specialties, we continue our hike, with Positano's colorful cliffside houses on the horizon. We reach Positano, enjoy a swim if the weather allows, grab a seaside aperitif, and then head back to Naples for the evening. Tonight, maybe sausage and broccoli?
Included: overnight stay
Money pot: entrance fees any public transport
Not included: meals and drinks
Naples
40 %
40 %
20 %
Exploring the city
Today is all about Naples! We'll explore this unique city with visits to iconic spots like the Veiled Christ and the underground Naples. Our guide will lead us through the city's maze-like Quartieri Spagnoli, revealing the authentic Naples – a blend of chaotic streets, daily life, and mouthwatering street food, all set against an artistic backdrop.
As the day wraps up, we'll grab dinner, savouring Neapolitan delicacies. And don't forget, Naples comes alive at night with its stunning views!
Included: overnight stay, walking tour with local guide
Money pot: entrance fees and any public transport
Not included: meals and drinks
Naples
100 %
Check-out and goodbye
Check-out and goodbye – until your next WeRoad adventure!
End of services. The itinerary may undergo some variations that differ from what is stated above. These variations may not be predictable nor depend on WeRoad's will, i.e. climate conditions, national holidays, strikes, etc.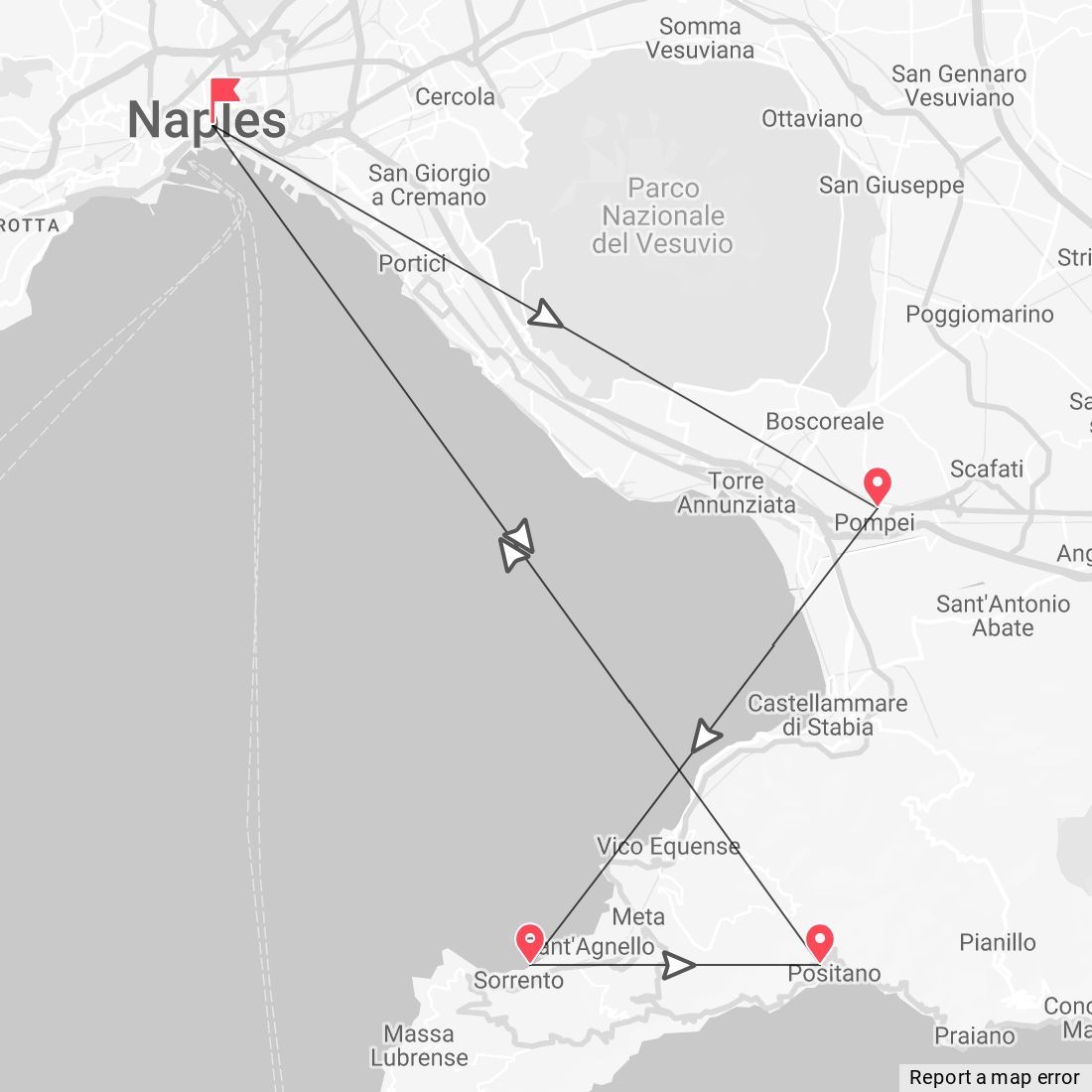 Show maps