Itinerary - Corfu Beach Life: beautiful beaches, sunshine and Blue Caves
Welcome to Corfu
100 %
Check-in
Round trip flights are not included in the package, so you can choose from where and when you want to fly. This is to give you maximum freedom of choice!
Hotel check-in and welcome meeting in Corfu. For dinner we could already taste the local pita gyros – which may soon become our favourite dish on the trip – and then choose a place in town to start off our first night in the best possible way!
Sidari: Canal d'Amour and the Blue Lagoon
50 %
50 %
Vive l'amour
Early wake-up guys, today we're heading to Sidari! This little village has something we simply can't miss: the Canal d'Amour (Channel of Love) – a rocky area surrounded by thick vegetation, that homes a collection of bays and canals. According to tradition, all couples that swim there will be in love forever. From Sidari we could also travel to the Blue Lagoon and spend the day dipping in the crystal clear waters of northern Corfu.
Included: car rental
Money Pot: petrol, any admission fees
Not included: food and drinks
Glyfada Beach: spectacular sunsets
70 %
30 %
Glyfada Beach
Let's get ready for a lazy morning lying on velvety golden Glyfada Beach, where we can rent parasols and sunloungers. Not far from the beach we'll find a rocky area with some beautiful natural pools. Anyone up for a dip?
Pelekas
Pelekas is a traditional nearby village perched on a rock and surrounded by olive trees. This is truly one of the few places where mass tourism has not spoilt its authenticity or the landscape. The charming central square is peppered with typical Greek taverns where we can sip a Mythos, the most popular Greek beer.
Kaiser's Throne
On the way back to Ypsos, we'll stop to watch the sunset from a strategic spot – Kaiser's Throne, on one of the highest mountains on the island. This place is famous for the ruins of an ancient observatory where the German Emperor Wilhelm II used to admire the superb panorama of Corfu as he meditated.
Included: car rental
Money Pot: petrol, any admission fees
Not included: food and drinks
Palaiokastritsa: boat trip to the Blue Caves
40 %
60 %
Palaiokastritsa Beach
Wake up WeRoaders, another wonderful day awaits us! Our main stop is Palaiokastritsa Beach, one of the most stunning pebble and sand beaches in Corfu. On the way up there we'll stop by Palaiokastritsa Monastery, a masterpiece and living testimony to Greek monks' way of life. It is located on top of a promontory overlooking the village. The Monastery is still inhabited, so we need to be dressed properly and respect the monks who live here. From Palaiokastritsa Beach we will then go on a boat ride to discover Paradise Beach and its caves.
Included: car rental, Palaiokastritsa boat ride
Money Pot: petrol, any admission fees
Not included: food and drinks
Paxos Island: the pearl of the Ionian Sea
100 %
An unmissable paradise
We have an early start today, but it's totally worth it – we'll catch the ferry heading for Paxos, a precious gem in the heart of the Ionian Sea. This little island boasts only a few square kilometre of exquisite coastline, adorned with charming villages, quaint harbours and idyllic pebble beaches. To the west, majestic ivory cliffs plummet into the glistening turquoise waters, while to the east, a number of small coves gradually descend into the serene emerald waters. At the centre of Paxos, a lush oasis of olive groves, oleanders and cypress trees thrives. Paxos is undoubtedly a paradise that we simply cannot afford to miss, and we won't let the opportunity slip away!
Included: car rental and cruise to Paxos
Money Pot: petrol and admission fees if any
Not included: rental of beach items, food and beverages
Issos Beach: relaxing on a white-sand beach
100 %
Issos Beach
And here we are at this pristine golden beach stretching for miles, which also boasts sand dunes, reminiscent of the desert.
...or Barbati Beach?
If we were to get bored under the beach umbrella, we could do something more active on another wonderful beach – Barbati! We are spoilt for choice here: kayaking, windsurfing or jet ski excursions... before we get to enjoy another sunset by the sea.
Included: car rental
Money Pot: petrol, any admission fees
Not included: food and drinks
From Sissi's Palace to Corfu Town: shopping and food
20 %
40 %
40 %
Achilleion
A few kilometres from Corfu Town, we'll admire Princess Sissi's summer palace, a mansion that was designed by an Italian architect and which was inspired by the myth of Achilles. Today it has been converted into a museum of Greek mythology and it offers wonderful sea views as well as beautiful gardens with tall palm trees and flowers. Did you know the palace was also used as the set for the 12th James Bond film?
Corfu Town
It's time to explore Kerkira – this is the name of Corfu Town in Greek. Here the large main square divides the town centre from the old city. Corfu Town is a maze of narrow streets, leading into small squares surrounded by typical cafés and traditional restaurants. A must-see is the old district, with a 16th-century fortress, small chapels, craft shops and colourful markets. The Royal Palace overlooking the sea is home to the Art Gallery and Asian Art Museum. The old town is characterised by typically Venetian architecture, whilst French inspiration can be seen in the Liston Palace. The local churches hark back to the Byzantine Empire, while the temple of Artemis is Doric in style.
Included: car rental
Money Pot: petrol, any admission fees
Not included: food and drinks
Check-out and goodbye
Check-out and goodbye – until your next WeRoad adventure!
End of services. The itinerary may undergo some variations that differ from what is stated above. These variations may not be predictable nor depend on WeRoad's will, i.e. climate conditions, national holidays, strikes, etc.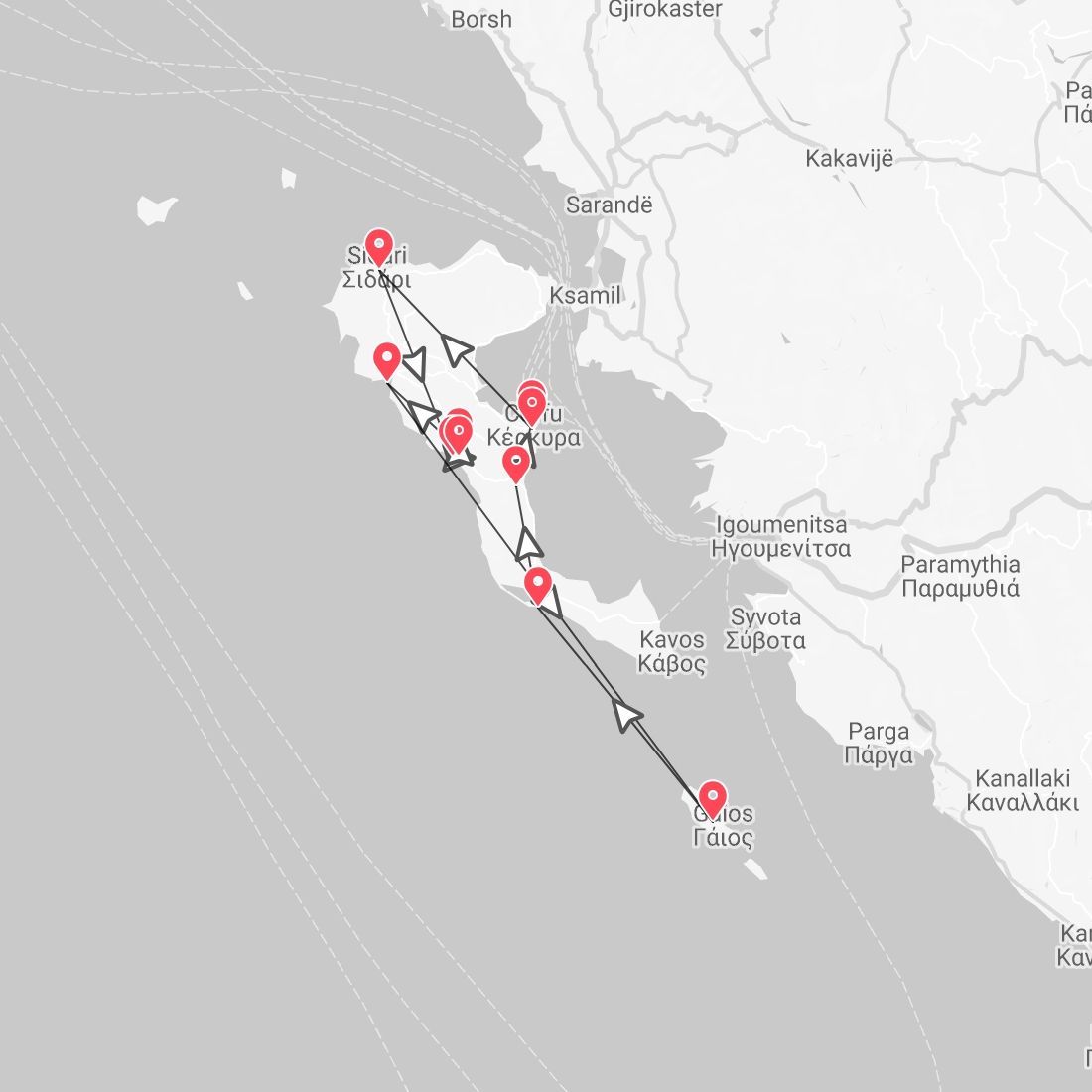 Show maps