Itinerary - United Arab Emirates 360°: from Dubai to Abu Dhabi
Welcome to Dubai!
70 %
30 %
Hello UAE
Flights from/to the UK are not included in the package so you can choose where from, when and which airline to fly. This is to give you maximum freedom of choice!
Check-in at the hotel in Dubai and welcome meeting. What can we say… we're in one of the most cutting-edge cities in the world! Skyscrapers are true masterpieces and they'll make us feel teeny-weeny! Today we'll just imagine what it must feel like to be on top of one of those giants, but there will be time for that later on our tour!
Exploring Dubai
70 %
30 %
A walk in the city
First things first – let's meet our local guide who will stick with us throughout the morning. Then, we'll jump on a minivan and head towards the old city. Dubai is more than just a modern city, and we'll get to experience that at first hand. We'll start off in the old residential area and check out the hustle and bustle of the souks, where we can find all kinds of goods and fragrances. We'll also learn about the history and culture of the United Arab Emirates. We'll be doing a fair bit of walking today, so we'll have to make sure we wear comfortable shoes! After that, we'll continue exploring the historic Al Fahidi district and grab a bite at a typical restaurant. We might even get to try manakish, which is a local version of pizza.
On top of the world
We'll keep exploring the city, but this time we'll jump ahead in time – and go up in altitude! We'll get the chance to visit the Burj Khalifa, the tallest skyscraper in the world – almost 830 metres tall. It's not only the tallest man-made structure but also one of the most impressive buildings architecturally speaking. There are fountains dancing to the rhythm of the music outside, whilst inside the entire design is by Armani Home. We'll head up to the panoramic terrace on the 124th floor and take in the incredible view from up there. After that, we'll go back down and check out the Dubai Mall, the world's largest shopping centre, which is worth visiting not just for the shops but also for the architectural marvels inside. We'll even find the Dubai Aquarium here – as well as an amusement and arcade area with over 200 attractions and videogames!
Included: overnight stay, breakfast, transfer to the old city, local guide
Money Pot: public transport
Not included: food and drinks
Entrance to the Burj Khalifa is optional and paid for by individual participants. The travel coordinator will provide all the information on how to visit and where to buy tickets.
From Dubai to Ras Al Khaimah
50 %
50 %
Beach day!
We'll kick off the day at Dubai Marina and make our way to two of the city's most well-known beaches, Kyte Beach and Sunset Beach. Taking a photo with the Burj Al Arab in the background is must-do – this iconic hotel is one of the most luxurious in the world and its sail-shaped architecture is one of the city's symbols. For lunch, we'll stick around the Dubai Marina area and grab some delicious street food – there are options to suit everyone's taste!
In the heart of the desert
In the afternoon, we'll bid farewell to the hustle and bustle of the city and head out for an adventure in the desert. We'll get on our minivan and set off for Ras Al Khaimah. As we leave the city behind, the skyline will become more and more distinct, with the Burj Khalifa towering over everything else. We'll have plenty of opportunities to stop on the way and walk on the sand – selfie time everyone!
But we need to arrive before dusk – we can't miss our sunset desert dunes ride on 4x4! We'll then round off this amazing day with a dinner in the desert, under a sky full of stars. We'll spend the night here, away from everything and everyone – let's make the most of these peaceful moments!
Included: overnight stay, breakfast, transfer, 4x4 excursion in the desert and dinner at the tented camp
Money Pot: entrance fees (if any)
Not included: food and drinks
Destination Abu Dhabi
20 %
80 %
Abu Dhabi, here we come!
After staying the night in the desert, we'll be fully recharged and ready to head back to the city. So let's meet up with our guide and make our way to Abu Dhabi! It'll take us about an hour and a half to get to the capital of the United Arab Emirates, where we'll once again be surrounded by towering skyscrapers. We'll drop off our backpacks and grab a quick bite to eat – we have a busy afternoon ahead of us!
Mosques, museums and local markets
After lunch, we'll have the opportunity to visit the Sheikh Zayed Grand Mosque, which is considered the most important place of worship in the country. It was built by the will of Sheikh Zayed and completed in 2007. We'll undoubtedly be amazed by its architectural beauty and grandeur – it can accommodate as many as 40,000 faithful! After that, we can choose to visit the Louvre Abu Dhabi – a museum of art and civilization – or have a stroll through the Iranian souk, which is a traditional market where we'll find a wide variety of handicraft products. Hold on, let's not forget Qasr Al Watan, the presidential palace of the UAE – another architectural gem that we definitely shouldn't miss out on!
Included: overnight stay, breakfast transfer from Ras Al Khaimah to Abu Dhabi and local guide
Money Pot: entrance fees (if any)
Not included: other food and drinks
Abu Dhabi
50 %
50 %
(More) beach time!
Today is a very relaxed day, in fact, we'll spend the morning and afternoon by the beach – Abu Dhabi is famous for its stretches of white sand and crystal-clear water, so let's put on our swimwear and go soak up the sun! Our destination is the beach on Saadiyat Island, where we can take advantage of the sunloungers and parasols to relax and forget about everything else! And for those who are more active and don't feel like spending the day lying in the sun, there's no shortage of water sports and activities to enjoy. Everyone will find something that suits their interests!
Included: overnight stay, breakfast
Money Pot: transport and entrance fees (if any)
Not included: food and drinks, any extra activities chosen by individual participants
Back to Dubai
100 %
A chilled last day
We say farewell to Abu Dhabi and make our way back to Dubai for our final day in the United Arab Emirates. We're in no rush, so let's leisurely enjoy the scenic transfer back and once we arrive, we check into our accommodation and change into our swimsuits once again. Dubai, just like Abu Dhabi, boasts picturesque beaches, so we have plenty of options to choose from. We spend the morning basking in the sun and perfecting our tans, while in the afternoon we can either choose to continue lounging on the beach or head to one of the many theme parks in Dubai, depending on our preferences.
Included: overnight stay, breakfast, private transfer from Abu Dhabi to Dubai
Money Pot: other local transportation (if needed)
Not included: food and drinks
Check-out and goodbye
Time to say goodbye – till our next WeRoad adventure :)
End of services. The itinerary may undergo some variations that differ from what stated above. These variations may not be predictable nor depend on WeRoad's will, i.e. climate conditions, national holidays, strikes, etc.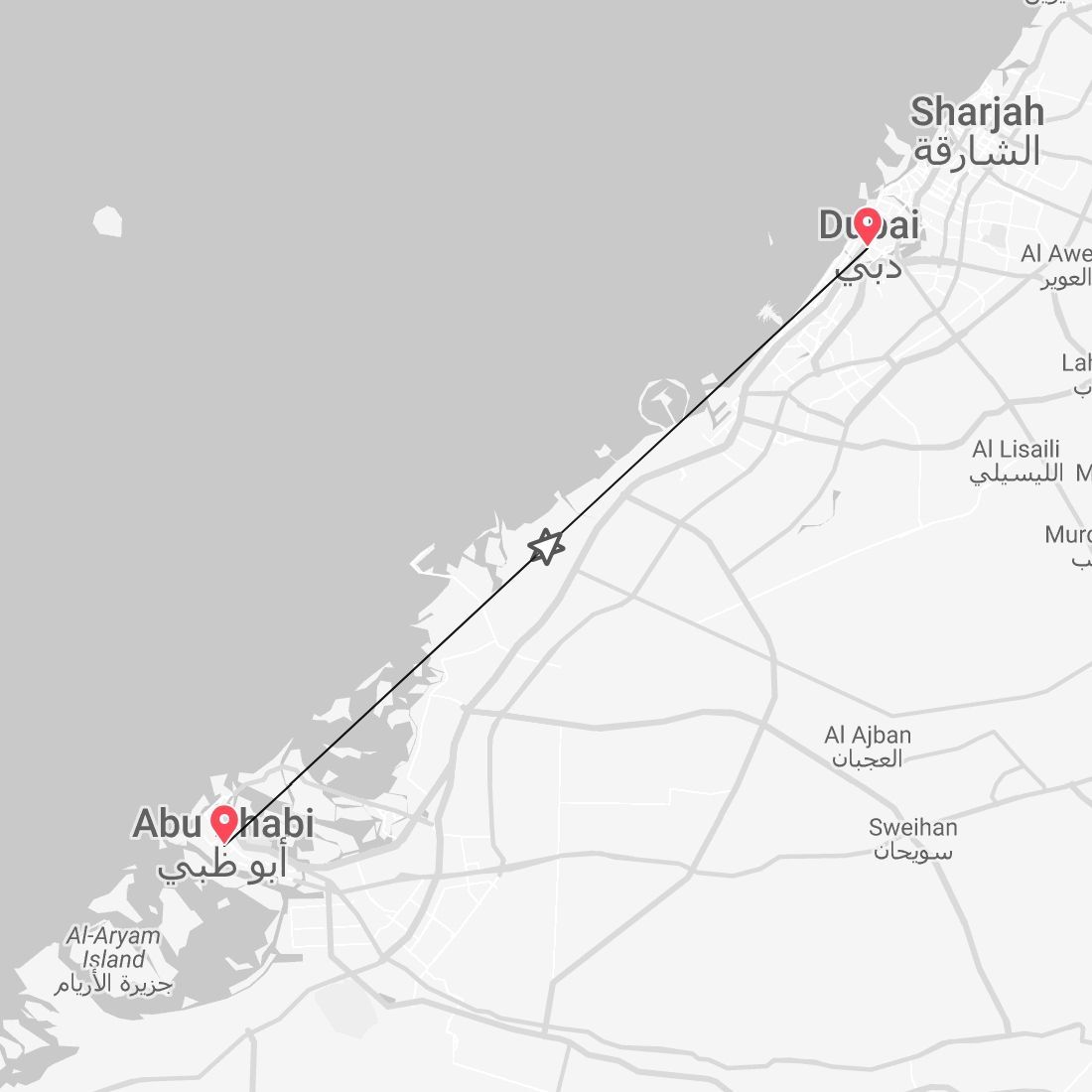 Show maps