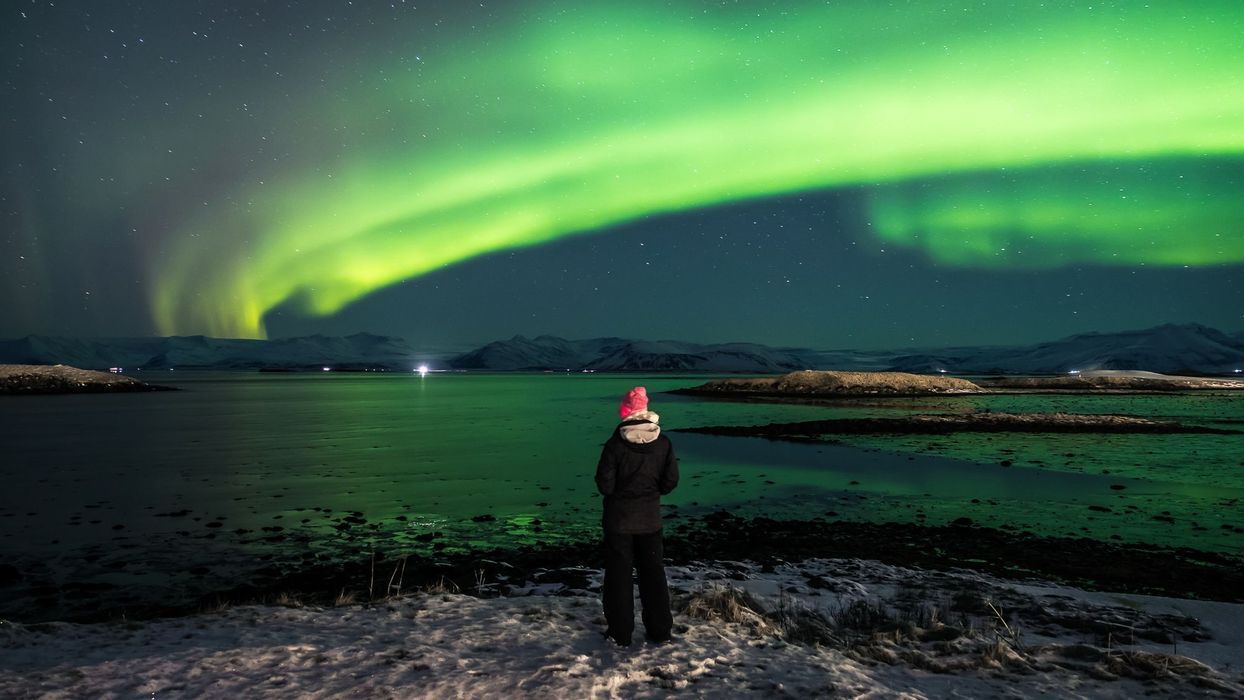 Iceland: Northern Lights and the Golden Circle
Reserve your tour by paying a deposit of
£

100
Klarna Available.
Iceland: Northern Lights and the Golden Circle
Frequently asked questions
Nature and adventure
100%
Monuments and history
10%
The trip in a nutshell
Self-driven tour

This is a self-driven tour - it isn't compulsory to drive, however if you are willing to, then please tick the box when booking your trip.
Embark on an extraordinary journey to Iceland and be mesmerised by the captivating Northern Lights. From October to March, witness this celestial phenomenon in all its glory. But that's just the beginning. Explore snowy landscapes, walk behind majestic waterfalls, trek on immense glaciers, and unwind in Icelandic spas.
Starting in Reykjavik, we'll capture the iconic Kirjufell and experience the power of Gullfoss waterfall in the Golden Circle. Discover the dramatic black beach of Reynisjara and marvel at Vatnajökull, a massive glacier where icebergs roam in Jökulsarlon lagoon. Skogafoss and Seljalandfoss waterfalls will leave you in awe.
Returning to Reykjavik, explore its charming city centre before embarking on thrilling Northern Lights hunts each night. Unpredictable yet unforgettable, these magical displays will leave you breathless.
Don't miss the chance to join us on this incredible adventure in Iceland. Nature's wonders and celestial beauty await. Let's make memories together!
Trip type
Northern Lights - be ready for early wake up calls, long nights and cold temperatures to witness this magical phenomenon! Make sure to bring warm and waterproof clothing with you.
Physical rating
MODERATE - this itinerary may involve hiking or other activities that require a moderate amount of physical effort. Be prepared for some potential long transfers and early wake up calls!
Entry requirements
For UK nationals, please visit the gov.uk website. For all other passport holders, please refer to your national government website.
Arrival and departure
This trip will begin and end in Reykjavik. Aim to arrive on the first day by 5pm - on the last day you are free to leave whenever!
Accommodation
Nordic hostels, small hotels and traditional wooden cottages.
The no-sharing room option is not available for this trip.
The first hotel will be shared with you at least 2 days before your departure by your Travel Coordinator!
Iceland

8 days

• Departure on 02 Dec
Reserve your tour by paying a deposit of

£

100
Pay the outstanding balance of £ 1,399 by 02 Nov
The deposit option is only available if you book this tour before 02 Nov.
Klarna Available.
What's included
7 nights accommodation in shared bedrooms

Visit the iconic Seljalandsfoss and Skógafoss waterfalls

See the largest glacier in Europe

Visit the black sand beach of Reynisfjara

Marvel at the captivating Snaefellsjokull volcano

Entrance to the Sky Lagoon on day 7

Travel coordinator services

Free cancellation with 100% refund up to 31 days before departure
Money pot?
Find out more!
---
Frequently asked questions
Skogafoss and Seljalandsfos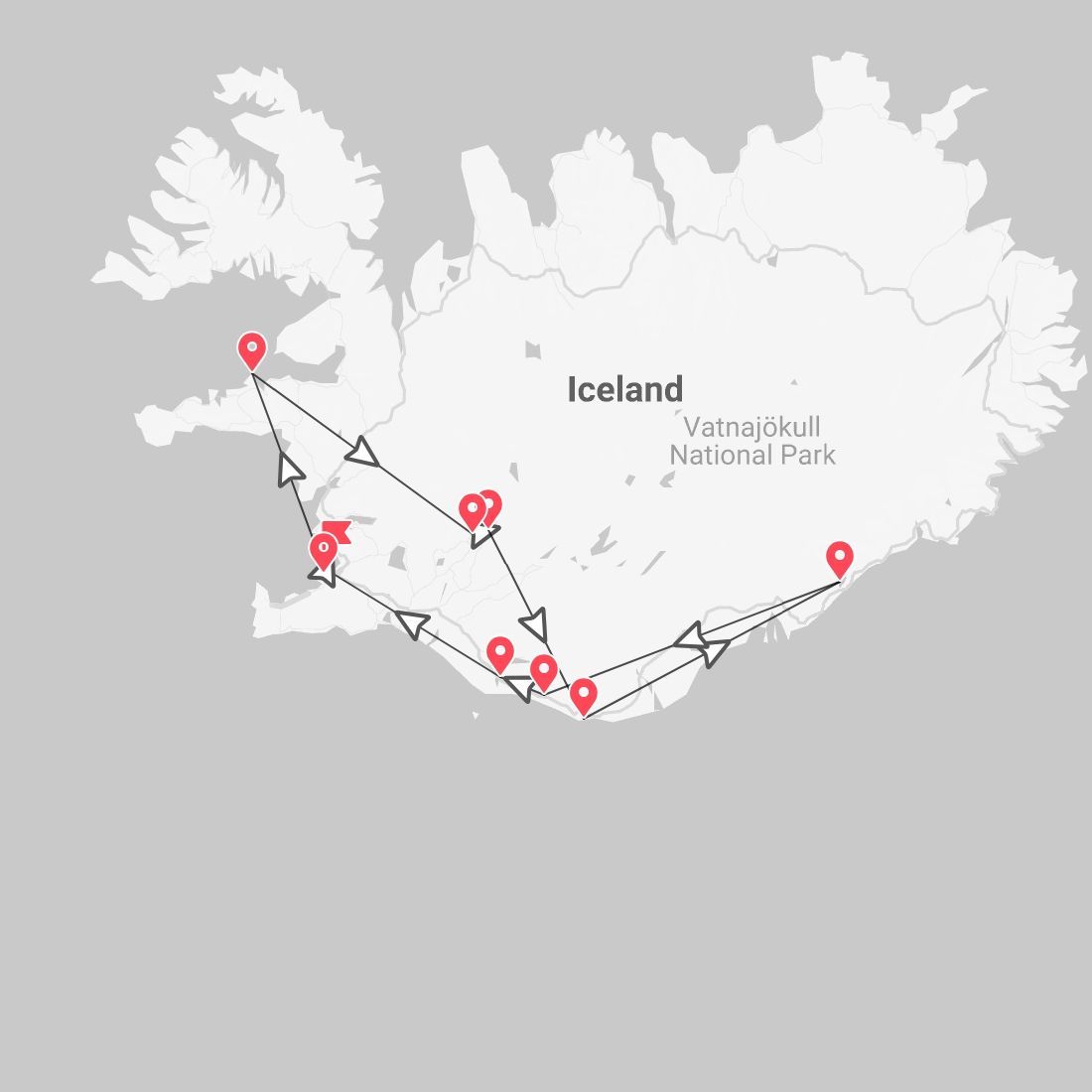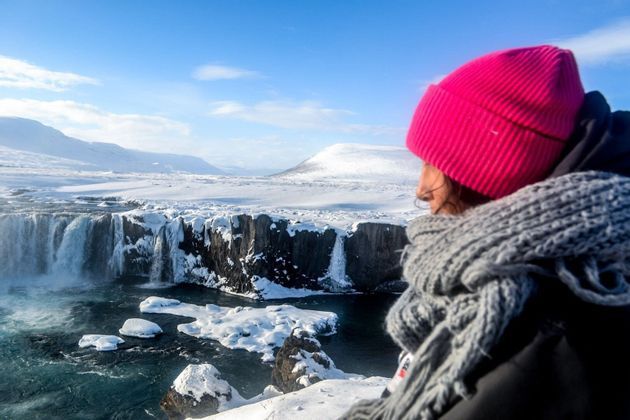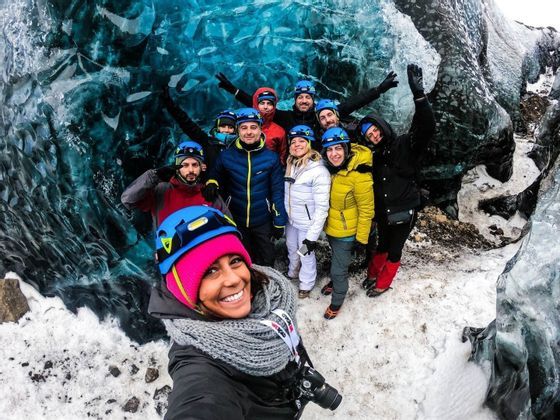 Hi, I'm Yaiza
Travel coordinator of this tour
---
Hey I am Yaiza, Spanish with a touch of English influence, the best of both!! Movement, mind and travelling drive my life. Busy huh! but how can we do to have it all? Because we only live once so let´s make every experience count, are you ready?
Info to know
Staff

Our trips are led by a Travel Coordinator who has been specifically trained by us to lead group travels to ensure you have the best time. A WhatsApp group with all travel participants will be created two weeks prior to departure by your Travel Coordinator.

Visas and Vaccinations

Before booking, please ensure to check what documents, visas, and vaccinations are required to enter the country you are visiting. If you have any questions, please contact us.

Visas and Vaccinations

Before booking, please ensure you check what documents, visas, and vaccinations are required to enter the country you are visiting. If you have any questions, please contact us.

Luggage

Backpacks are mandatory to allow easy transfers - we recommend a 45L backpack for our trips.